Chinese Soups and Teas
Slimming Tea
Ingredients:
20gms dried haw
20gms shelled dried longans
10 red dates and 12gms goji berry
Rock sugar
Preparation:
Boil the water and put all ingredients (except rock sugar). Cook over low heat for 20 minutes. Season with rock sugar and serve. (Note: Remove the seeds of red dates before cooking).
Health benefits:
Dried longans, goji berry and red dates are all herbal tonics. This tea reduces blood fat and blood pressure.
Sweet Potato and Ginger Dessert Soup
Ingredients:
2 big sweet potatoes
4 slices of ginger
2 pieces of brown sugar (for seasoning)
Preparation:
Peel the sweet potatoes and cut it into big pieces. In a saucepan, add sweet potatoes and ginger slices. Cook for 20 minutes over medium heat and add brown sugar. Cook until the sweet potatoes are completely boiled.
Health benefits:
This dessert soup is very popular among Hongkongers due to numerous health benefits. Sweet potatoes contain carotene which helps in removing free radicals and transforming them into Vitamin A. It protects the skin as well as eyesight.
Noble Tea
Ingredients
20 – 30gms lotus seeds
15 – 20gms dried lily bulbs
10 pieces red dates
12 pieces gingkoes
20gms shelled dried longan
60gms rock sugar
Preparation:
Rinse all ingredients and core the lotus seeds. Shell and core the gingkoes, then pit the red dates. Put all ingredients in 1.6 litres of hot water and let it boil for 45 minutes.
Health benefits:
Red dates are dry and hot in nature. Pitting them would generate heat within the body which releases vital energy. It promotes the regeneration of red blood cells and enhances blood circulation.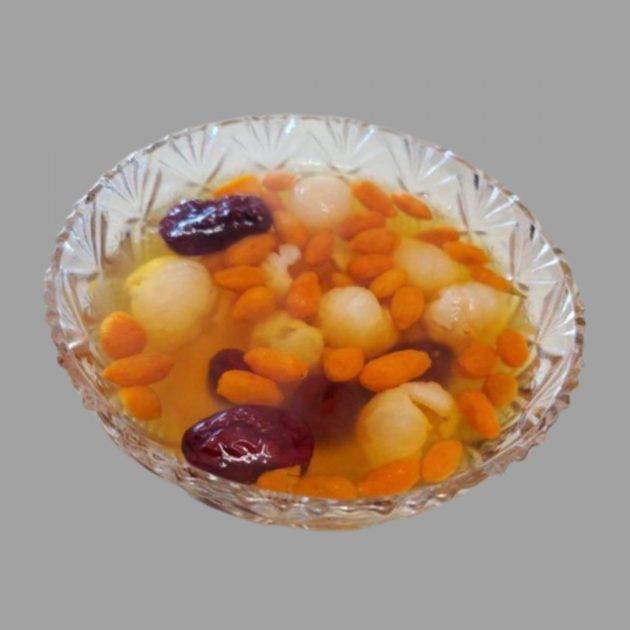 Article and photos by: Polly BK