The healing touch of a paint brush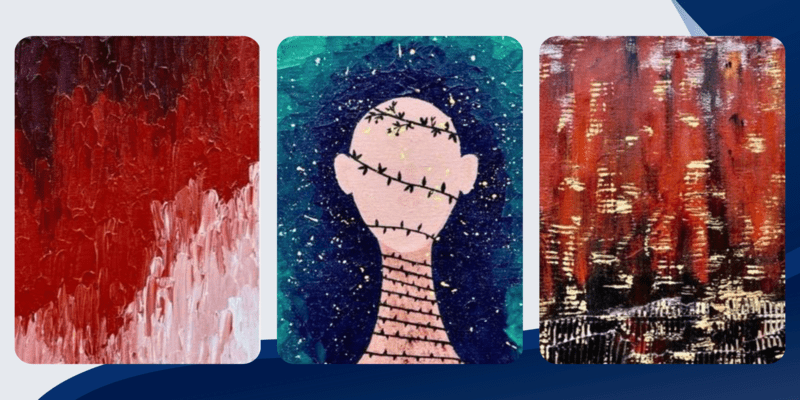 Every work of art has some story or inspiration behind it, mine was no different. The pandemic has rattled us all for good and while we try to understand more about what's to come, sanity is at its brink. To find a solution to this onslaught, I tried to revisit my childhood days and bring back some positivity. Immediately, I was reminded of the days when I could draw anything without much care. From doodling on books to drawing garments and jewellery to painting sceneries, I had the vision and the will to express my skills. And with that thought, another realisation dawned upon — in the race for a successful career, I had forgotten the simple little things that brought a smile to my face.
To pursuit that lost happiness, I took the brush in my hand and let my emotions flow on the canvas. After my first painting, it became clearer that the process helps me breathe and gives me the freedom to express myself. It was not only therapeutic but something that added value to my life and highlighted a part of me that I had neglected for long. Soon, that one painting made way for several more. Experimentations began and I started using different colour schemes as well as patterns. While I may not be a professional to create masterpieces that are auctioned for millions, the joy that was derived from the process and how it helped me lift my spirits was unparalleled. Here are some of the canvases that were created in the last few months — some only with acrylic paint, and some with waste products. Derive your inspiration from these or find an outlet that'll help in restoring your mental peace.
1. Dark Forest
Medium: Acrylic paint on canvas; Dimensions: 51cms X 41cms
I began this painting with my younger brothers — one being four-years-old and the other being 21 years old. I gave them some spoons and asked them to join me while I paint. This was the most fun painting as everything was conflicting yet it seemed in harmony. When they thought it was over, it gave me a different perspective and I repainted it keeping the same colour scheme. It signifies ray of hope in the dark forest creating an aura. The colour scheme is dark and the use of lemon yellow manages to tone it down to create a balance.
2. Untitled
Medium: Acrylic paint on canvas with cardboard; Dimensions: 31cms X 26cms
Sometimes, art drives you and there's no message behind it. This is one such artwork which was created using waste cardboard. They add texture to the painting and compliment the shades of blue, burnt orange, black and white.
3. City Lights
Medium: Acrylic paint on canvas with cardboard; Dimensions: 40cms X 35cms
Dual layers of waste cardboard were used to create textures on the canvas along with hues of black, burnt orange and tinge of gold. The artwork presents buildings and lights in a bright orange sky. It reminds me of my city during the evenings.
4. Haldi Kunku
Medium: Acrylic paint on canvas with plastic, bubble wrap, modelling paste, and antique gold glass pieces; Dimensions: 31cms X 23cms
Created using waste bubble wrap and plastic from the packaging, this artwork represents two strong colours of turmeric and kumkum. Both the colours symbolise married women in Hindu religion. The grey area represents vibhuti — sacred ash made of burnt wood. The artwork depicts colours that are used on a woman's forehead in the Hindu religion.
5. Tree of Life
Medium: Acrylic paint on canvas; Dimensions: 31cms X 31cms
Started with a single leaf and gradually ended up with the Tree of Life. The painting has an interesting use of warm and cool colours that create a balance. It also represents growth which comes over a certain period of time. With every season as in different stages of life, you'll learn and evolve.
6. Emotions
Medium: Acrylic paint on canvas; Dimensions: 31cms X 23cms
Emotions represents the state of mind I was in while painting. I was angry about life and was questioning the concept of existence. By simply using red and its shades and tints, an ombre was created using a butter knife.
7. Monochrome Drama
Medium: Acrylic paint on canvas with clothing tags and modelling paste; Dimensions: 31cms X 23cms
Composed out of waste clothing tags and modelling paste, the painting has monochrome hues – black and white – that create different shades and textures. Amid black and white, shades of grey are formed naturally. The greys depict neutrality among the two extremes.
8. Story of Survival
Medium: Acrylic paint on canvas; Dimensions: 26cms X 21cms
Story of Survival is one of the very first paintings that I made this year. The face represents an individual and the struggles that one goes through when they are in depression. Eventually, it fights the inner demons and darkness makes way for colouration. It shows how one can be strong and conquer the darkness by emitting light.
9. Meshed
Medium: Acrylic paint on canvas with waste net; Dimensions: 41cms X 31cms
It was created using waste nets by pulling the net through the paint, stamping and finally sticking it. It is one of my personal favourites as I followed my instincts and created it within 10 minutes. The visual appeal is enhanced by the hues.
10. Ignis
Medium: Acrylic paint on canvas with carton waste, modelling paste and gold foil; Dimensions: 46cms X 36cms
This painting has been made from carton waste of a cherry box. The carton was soaked in hot water and mashed to create drama on canvas. Ignis is Latin for fire which denotes the colour scheme of the artwork.