Mango Cheesecake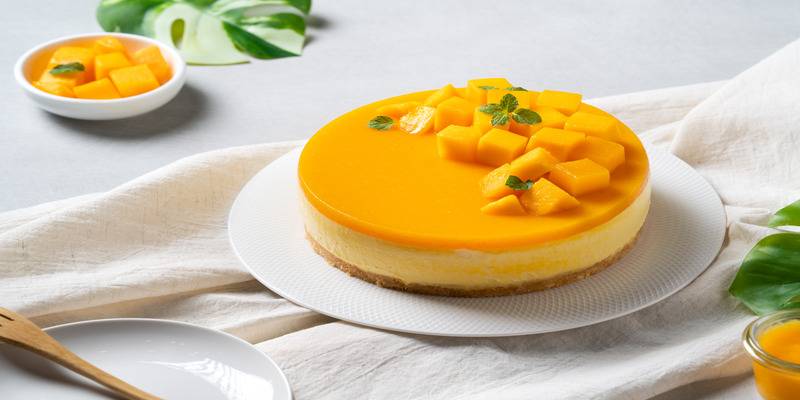 Ingredients:
For the crust:
200g digestive biscuits. You may also use regular biscuits instead of digestive biscuits which may result in minor changes to the texture and flavour
100g unsalted butter (melted)
For the filling:
600g cream cheese (softened)
150g caster sugar. You can also use regular sugar which you may need to mix longer to ensure it dissolves properly
3 large eggs
1 teaspoon vanilla extract
200g mango puree
For the topping:
1 ripe mango peeled and sliced.
1 tablespoon lemon juice
2 tablespoons caster sugar
Instructions:
Preheat the oven to 160°C. Grease a 20cm springform cake tin. If you do not have a springform cake tin any cake tin will do. Line the tin with parchment paper to easily lift the cake out when it is done.
Crush the digestive biscuits in a plastic bag using a rolling pin, or in a food processor, until they form fine crumbs.
Mix the melted butter into the biscuit crumbs until well combined. Press the mixture into the base of the prepared cake tin.
In a large mixing bowl, beat the cream cheese and caster sugar together until smooth. Add the eggs one at a time, mixing well after each addition. Stir in the vanilla extract and mango puree.
Pour the mixture over the biscuit base and smooth the surface with a spatula.
Bake the cheesecake for 45-50 minutes, or until set around the edges and slightly wobbly in the centre. While the ideal temperature to bake would be 160°C (325°F). It's always a good idea to keep an eye on your cheesecake while it's baking and adjust the temperature or time if necessary to achieve the desired consistency.
Leave the cheesecake to cool to room temperature, then chill in the fridge for at least two hours.
To prepare the topping, place the sliced mango, lemon juice, and caster sugar in a small saucepan. Heat gently until the sugar has dissolved and the mango is slightly softened.
Spoon the mango topping over the chilled cheesecake and serve. Enjoy!
Recipe by: Shobha Ramkumar