What goes on off the field with Shanzeen Shahzad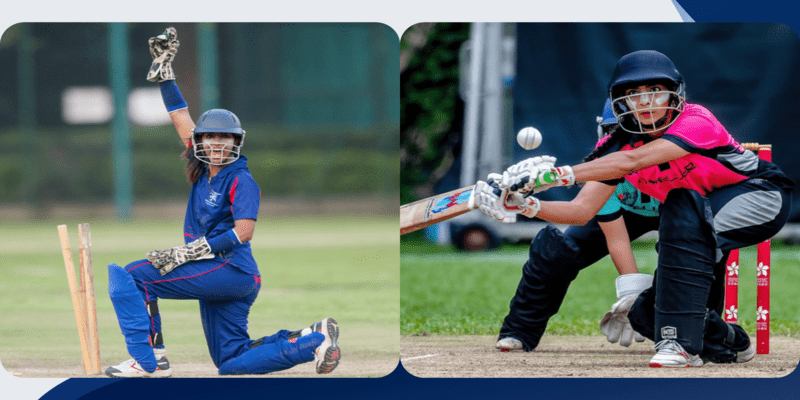 Professional sport is a tough path to pursue in a financial city like Hong Kong. Couple that with the hardships faced by ethnic minority citizens, the common notion may be to sacrifice one's dreams in favour of earning a living. However, through their drive, determination, and love for the game, these individuals are pursuing their passion for cricket against all odds. Find out more in this series, showcasing the journey of these Cricket Hong Kong players and coaches, their pride in representing their nation and their hopes for the future.
Shanzeen Shahzad is a member of the Hong Kong national women's team. She has been playing cricket for many years and is one of the best female players in the city. A formidable batter and wicket keeper, Shahzad has worked hard to develop her game from scratch. She is the captain of her domestic team, the DLSW Wasps, and is a role model for many young girls. Due to the lack of women's contracts, Shahzad balances cricket with a full-time job to support her family financially. However, such challenges have not deterred her from following her aspirations, as she dreams of making it big in cricket.
How and when did you start playing the sport?
When I was in my senior year of secondary school, one of the school staff asked me to join a school league match as they were short of players and preferred someone athletic to fill in. I had zero knowledge about cricket and had never even played before. I just joined to help the school girls' team for their remaining matches. Afterwards, some girls from my team were picked for an emerging squad, which was a pathway to the national age-group system. I happened to be one of them. Ex-national player Tabarak Dar, who was coaching the squad, asked me to go for U19 trials that were happening at the time… that's how the journey began.
How did you make your way into the national team?
After the trials, I got selected for the national U19 squad and started training. From there, I got selected into the senior national squad. It was not easy as I was still learning the game and training with the seniors was challenging. But maybe, that's what made me push myself to learn faster. That same year, I also joined the Diasqua Little Sai Wan Cricket Club with some of the school team girls. From there on, there was no stopping for me. For the first few years, it took a lot of time to learn the basics, as I lacked cricketing knowledge, having never even watched the game before. But thanks to my coaches, I was able to learn and improve, and am still learning and improving to this day. In cricket, there's always something you can improve on.
What do you love the most about cricket?
I love everything about cricket. Grounds, pitches, teammates, batting, kits, fielding, everything. The love and passion I have for cricket is indescribable. It is just love. Especially, while playing the game, you can never predict what's going to happen next. That's what makes it amazing, thrilling, and exciting to play. Being in a team has taught me taking responsibility, supporting, and passionately fighting together as a unit for a common goal. When someone comes up to me and tells me that I'm their inspiration (to play), that's what drives me. Sometimes, it's even my old self telling me what I love about the game, other times it's my teammates.
How do you balance your job with your cricket commitments?
I would say I am very strict with my work selections. I mention upfront in the interviews that I have to attend my training, whether I am working in a restaurant or office. I only choose to work at places where I am allowed to at least train on some days. At the same time, I have been sincere at my work, and that has given me the freedom to choose my shifts. I always try to finish my work beforehand so that I can focus on my training and the matches afterwards. Sometimes, it is not easy as both weekdays and weekends are packed. The challenge is to find a balance.
What were the challenges you faced and how did you overcome those?
In the initial years, it was very tough. I used to get purple fingers and bruises while batting and fielding. Once, I even cried when I got hit by a fast-paced ball while batting. I couldn't control my tears as it was that painful, but the coach told me that I needed to be tough. If I couldn't even handle that, then cricket was not for me, as it's only for tough athletes. Hence, I learned to be tough. I had to overcome many challenges by myself… by keeping a strong mindset and being determined. Sometimes, my friends helped me overcome them. I don't think I would be here if I thought that any challenge was too big for me to handle. So, it's up to you how badly you want it.
Has playing cricket helped you understand different cultures?
Since I started, I have been learning Cantonese from teammates and it has helped me understand the local culture as language was the initial key for me to communicate with them. After I learned Cantonese, I made more friends, and we exchanged our cultural thoughts and began to understand each other's cultural values. Learning Cantonese helped me express my feelings easily towards my local friends, while also understanding their views. All this happened because of cricket.
Does your family support you in playing the sport?
While some people may not support their sons and daughters who play sports for various reasons, there are supportive families as well in our community. My family is one of them. My brother sometimes even carries my kit home from the station when I'm too tired. When I first started playing, they were not sure (about me playing), as, in our society, some people may not support girls taking up sports. However, my mom was very supportive of me, and she handled all external pressures on my behalf. I'm very grateful for that as I might not have been able to go through these things myself. She's been backing me up ever since and that's why I can play freely.
How do you manage to stay true to your goals while possibly being expected to conform to a stereotypical 'women's role'?
I think, I don't have to conform to this stereotype the same way as other girls, because I have an understanding mother who has always supported me. My fiancé also supports me with cricket. In this way, getting married would't be a barrier for me. Having a family is one of my wishes as well. If I work hard, I feel that after having children, I can still make a come-back. I want to clear a misconception that culture and religion are the same thing. For instance, my family follows the Pakistani culture and my religion is Islam. Our religion, Islam, gives full freedom to women to do whatever they want but to maintain modesty while doing so. Many Muslim women take part in sports and other activities wearing a hijab and that is their choice.
However, in some cultures, women are expected to be caretakers of the households and have interests that are 'not manly'. As it is believed that sports is 'manly', women shouldn't be seen doing it. This is one of the reasons some families do not accept their daughters or wives to play sports, as it could cause them to lose 'face' or respect.
What can your community and the wider Hong Kong community do to support women's cricket?
All my community needs to do is give freedom and support for women to play. Families can come and watch games so that they understand that the environment we play in is suitable. Hong Kong as a city can support cricket by understanding and being involved in the game… watching our matches. More crowds will greatly benefit cricket in Hong Kong. I also think more cricket facilities, such as cricket nets should be built around the city so that kids can easily practice near their homes. Right now, a majority of people travel a long way to access nets and grounds. Moreover, local matches such as Premier Leagues or international matches can be broadcast live on television. The Internet can also be a platform to engage youngsters, as it is one of the most used forms of media.
What advice do you have for aspiring sportswomen like yourself?
I would like to tell them that they should be clear in their mind that "achieving your dreams" is never easy. If you want to achieve something, you need to work hard for it. I used to work so many hours to support myself and my family. I have worked in many different fields — F&B, NGOs, and trading companies and yet I am still working and playing cricket. Sometimes you do have limited resources, but you have to make the most of what you have. That is what I have learned while playing in Hong Kong where cricket is still developing. Please don't give up on your dreams due to limited resources or funding.
What are your future goals?
I would love to continue to play for the national team or at a higher level. I would love to take Hong Kong to a higher stage in the women's game. If we can become full-time players that would be the best thing. I would like to play in the big leagues during my career, while also learning more about cricket as there is always space to improve. I would like to take cricket as my career in playing, coaching, or umpiring so that I continue to inspire upcoming players.
Watch out this space for more as the next interview will be with Niaz Ali.
Series by: Ruchitha Venkatesh