What goes on off the field with Ehsan Khan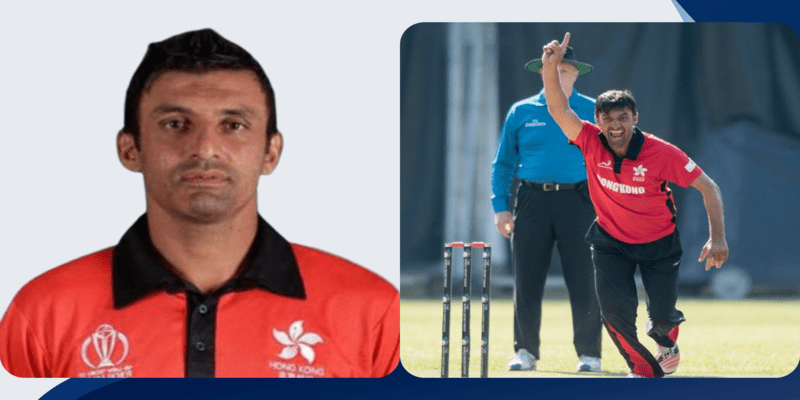 Professional sport is a tough path to pursue in a financial city like Hong Kong. Couple that with the hardships faced by ethnic minority citizens, the common notion may be to sacrifice one's dreams in favour of earning a living. However, through their drive, determination and love for the game, these individuals are pursuing their passion in cricket against all odds. Find out more in this series, showcasing the journey of these Cricket Hong Kong players and coaches, their pride in representing their nation and their hopes for the future.
Ehsan Khan is currently a player in the Hong Kong men's national team as well as a local coach who has developed many key players. Born and raised in Pakistan, Khan started his career playing List A cricket for Rawalpindi before moving to Hong Kong in 2012 as a player/coach for Diasqua Little Sai Wan Cricket Club. He eventually made his way into the national team in 2016 and has represented Hong Kong in all formats since then. The 36-year-old is currently one of the best bowlers in associate cricket, being famously known for getting the wickets of MS Dhoni, Babar Azam, and Rohit Sharma during the 2018 Asia Cup, among many other accolades.
When did you start playing cricket?
I first started playing cricket with the leather (hard) ball in 1998. I started my training at the Siddique E Akbar Memorial Cricket Club where current Pakistani cricketers Shadab Khan and Mohammad Nawaz also trained. We played together under Sajjad Ahmed who helped us a lot in developing our skills. At that time, one of the Hong Kong players asked me to come to the city with the aim of representing Hong Kong in the future. I came here in 2012 as a coach cum player and qualified for the national team within four years.
What does it mean for you to represent Hong Kong?
When I came here, there was only one thing on my mind that one day, I will play international cricket for Hong Kong. All my friends and coaches know how hard I trained every day to make a career in cricket. All through these hard training days, I kept on thinking that I want to play cricket. I play cricket for Hong Kong and I am proud of that. I am proud to be an international player.
What are the challenges that one faces while making a career in cricket in Hong Kong? How did you overcome those?
Hong Kong is an expensive place. If you don't have money, you can't even buy equipment. Playing cricket here is tough and there are many challenges that you face at every stage. Despite all that, I made sure that I focused on my game and did whatever was required to support my family, such as taking up extra coaching jobs. You need to find a way to get yourself and others through hard times.
Having played cricket for over 20 years, how do you keep yourself mentally and physically fit?
As a player, I know it's all about fitness and mental strength. You can get physically fit by doing extra work at the gym. However, you have to be mentally strong and understand each situation. You should know about your strengths and weaknesses and that of your team members. You should be able to motivate your teammates and back them at all times. If someday you are not able to perform well individually, support your team members and get the best out of them.
What kind of relationship do you share with your teammates?
Trust is important between you and your friends or teammates. If you have good friends and they really want you to succeed, they will support you. I'm someone who adjusts everywhere he goes so, I make friends very easily. While on the field, you need to trust your team members for anything and everything. As Hong Kong is a small city, everyone knows everyone. We train together and get to know a lot about each other. We are all good friends and as a team, we share a good relationship.
Which is your favourite cricketing moment to date?
There are quite a few. An unforgettable moment would be getting former India captain, MS Dhoni, out for a duck at the 2018 Asia Cup in UAE. When he came out to bat, the whole stadium was cheering for Dhoni, but as soon as he got out, there was silence in the crowds. My family is very proud of me for this achievement. I also got the wickets of Rohit Sharma and Babar Azam in the same tournament. The whole Asia cup was a very special moment for me. Getting the wicket of Fakhar Zaman on the very first ball was also very special.
As a coach, you played an important role in bringing up many women's teams and players. Tell us about your experience.
I have a lot of experience in coaching. In Pakistan, I worked as a PE teacher and coached various age groups of boys and girls in Khaldunia High School. After coming here, I started coaching the women's teams of schools and clubs. Some of the players I coached include Maryam Bibi, Shanzeen Shahzad, Mehreen Yousaf, Akasha Yousaf, and Jaswinder Kaur, all of whom are in the national system. Recently, I have been working with one spin bowler in the national women's team. I am happy to support any player in whatever way I can.
What are your thoughts on the future of women's cricket in Hong Kong?
For women's cricketers in Hong Kong, it is very tough to be dedicated to the sport as there are no contracts for them as of now. They get fewer opportunities to train on turf wickets but despite all that, there's a lot of talent. I recently watched a few of the women's games and saw some good performances in all the departments. I feel the players have a good future and with tournaments such as FairBreak Global, they'll get more exposure that will help them grow. I believe that if they work a little harder, the women's team can qualify for the World Cup.
What are your future goals?
I want to see Hong Kong getting its ODI (one-day international) status back. If this doesn't happen during my playing days, then after retirement, I will work hard as a coach and motivate youngsters to make Hong Kong proud. The city has given me a lot and I want to give it back to the city by grooming and training the future talent of Hong Kong.
Watch out this space for more as the next interview will be with Maryam Bibi.
Series by: Ruchitha Venkatesh