What goes on off the field with Niaz Ali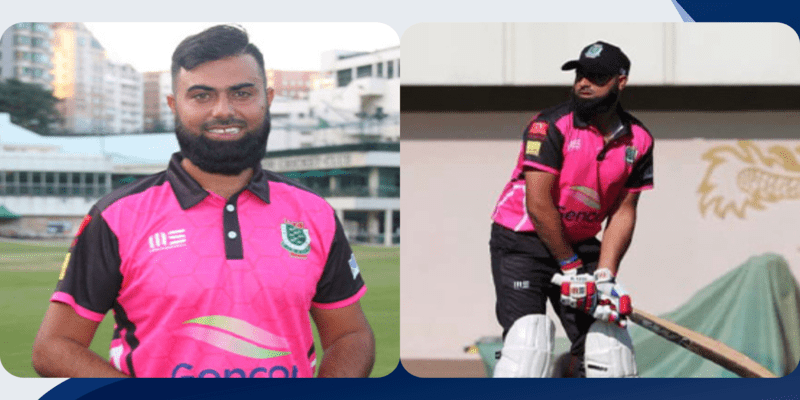 Professional sport is a tough path to pursue in a financial city like Hong Kong. Couple that with the hardships faced by ethnic minority citizens, the common notion may be to sacrifice one's dreams in favour of earning a living. However, through their drive, determination, and love for the game, these individuals are pursuing their passion for cricket against all odds. Find out more in this series, showcasing the journey of these Cricket Hong Kong players and coaches, their pride in representing their nation and their hopes for the future.
One of the most successful players at the domestic level, Niaz Ali has been recalled into the national system after having previously represented Hong Kong at age-group and senior levels. As a local coach, he has developed many players and teams around Hong Kong. He is now getting more involved in women's cricket by coaching several domestic teams and by being a high-performance coach in the women's national system.
How did you get involved with cricket?
I got involved with cricket when I was nine-years-old in primary school. I represented Hong Kong at the age group level and eventually played for the Hong Kong national team as well. It's been a long and interesting journey.
Tell us about your coaching experience so far.
The experience so far has been great. I started coaching at the school level where I worked with both boys and girls. Then, I moved on to club cricket and then to the women's national cricket team. I am enjoying the roles I have undertaken so far.
What do you feel is the most rewarding aspect of being a coach? Which is your proudest moment?
The most rewarding thing is to see my students perform well in the matches. It gives me immense pleasure when a player from my coaching programme makes it to the national team. My proudest moment as a coach was being awarded "Cricket Hong Kong School Coach of the Year" for my performance at Delia Memorial School Glee Path. I put years of hard work into training the junior and girls' teams and we produced excellent results in a short span of time. Winning this award was indeed a proud moment.
What should be the most important quality in a coach? Alternatively, what are the ideal qualities you would like to see in a player?
The most important quality of a coach should be clear communication. Clear communication means setting defined goals, giving direct feedback, and reinforcing the key messages. As for a player, I would like them to put in the hard work and be passionate about the game.
As coach, what has been the most difficult task so far? How did you overcome that situation?
A few years back, I was assigned to travel with the Hong Kong women's national team to South Korea. The challenge was to adapt and perform my duties as a coach at the national level, as that was my first assignment. I was fortunate to have a great head coach in the form of "Wilson" (Chris Pickett) who guided me throughout. The support from the team made it easy to overcome the challenges of executing my role at the highest level.
What are your goals for the teams that you coach?
That depends on the team I am coaching and the league that they are competing in. I always make sure that the team combination is set in terms of the roles different players play. My aim is to make the team better from the time I took over as coach. I assign individual roles to the players and set goals for them so that it helps the team in the long run. By doing so, there's clear communication and transparency.
Can you shed some light on the women's club teams that you have been with?
I am currently coaching CCC Fung Wong, Lantau Ladies, and have worked with the Women's Premier League team Jade Jets. Fung Wong has been a great team to coach as the girls are local Hongkongers. It is pleasing to see the locals taking up the sport. I admire their passion, hard work, and their attitude to learn which motivates me to work harder as a coach. I see this team as one of the strongest teams in future to play against.
80% of the players in the Lantau Ladies' team are under the age of 19. They are naturally talented and their understanding of the game is commendable. I see them making it to Division 1 in the coming years. The Jade Jets made me proud by lifting the Premier League trophy last year. That team can beat any associate team on their day.
What can the community do to support cricket, especially women's cricket?
I think a community can play a huge role in supporting cricket. The first thing would be moral and financial support. It would be great to see people coming out in large numbers and investing in these talented cricketers who want to make Hong Kong proud. Another important aspect would be to have more grounds and training facilities in the city to take the game further.
What's your advice for aspiring players, especially for those who are from ethnic minority backgrounds?
Being an ethnic minority myself, I understand it is hard for players like us to get family support. As most people in Hong Kong don't believe in a career in sports, I understand the parents' perspective of encouraging kids to take up education. I would recommend aspiring players to maintain a good balance between sports and studies to gain support from families. Hard work and determination would make it easier to achieve your goals. Most importantly, dream big and give your best to achieve it.
Series by: Ruchitha Venkatesh