Explurger – an application that rewards you for social media engagement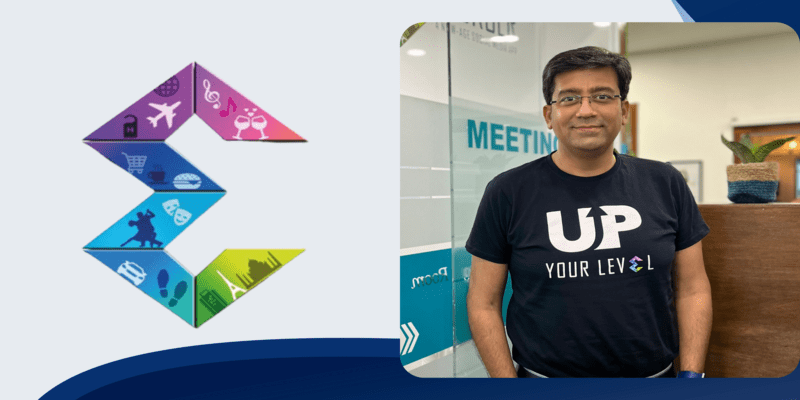 With over two decades of experience in the field of tech, Jitin Bhatia set out to build an application that is native to India but has a global appeal. From a software developer to being one of the leading entrepreneurs in the world, let's find out more about Mr. Bhatia and his application Explurger which is based on three revolutionary cores — Automatic Travelogue, Gamification, and Rewards.
Tell us about your formative days and the vision that brought you so far.
I was born and brought up in Delhi. I have always had a business heart and an IT soul. With over 20 years of experience in the IT and investment field, I wrote my first software programme in 1998. It was to help Delhi Police with its FIR system. Later, I got the opportunity to develop systems for the Ministry of Rural Development and the National Crime Records Bureau. In 2004, I diversified and founded Globule Consulting, a headhunting firm for executive roles in the IT field. It helped international companies hire talent from India. I have delivered several E-commerce projects to international clients. In addition to that, I have also headed and handled several mergers and hedge fund projects for many international business houses.
We all know the power of an Indian IT brain. Name any IT giant and you'd have an Indian at the helm of things. As a tech guy myself, it hurt to see that there was not a single India-based global social media application. I wanted to see a social media application built in India for the world to use, even if it required me to create it. That's how Explurger came into being — an application that has been built using cutting-edge artificial intelligence.
What was the idea behind Explurger?
My work requires me to travel a lot. In 2017, when I returned from a business trip, my staff told me that it was my 30th business trip of the year. That got me thinking if there was a way to keep a count of the number of times one travelled, miles covered, or how many cities or countries someone visited… that would be a great asset. It was my 'Eureka moment'. Besides, I also observed that there was a sense of exclusion for most of the users on many social media platforms. Despite the growing number of talented content creators, only a handful (less than 0.5%) are verified. I wanted to give users the power to create their brand and recognition, based on their engagement. With that thought, we became the first social media platform to introduce the concept of gamification.
I also realised that most of the influencers do not or are unable to make money from social media. Such influencers are creating fantastic content but are not gaining anything from the platforms. So, that's how the idea of 'Rewards' was born. The more you engage on the application, the more rewards you unlock.
What are the prime features of the app?
Automatic Travelogue Creation:
According to a study, over 76% of the people on the Internet enjoy sharing their trip experiences on social media platforms. However, every time a photo or video is uploaded, it receives a few likes and comments, and then it fades into the background. Explurger is the first and only social networking platform, where a user's travelogue is automatically built using artificial intelligence as they share photos and videos. Therefore, at any given moment, the user has full access to their journey — be it the number of miles travelled, or the countries and cities visited.
Gamification and Rewards:
For every user activity such as sharing posts, pictures, Explurge-ins, Kudos, or a follower earned — the user earns Explurger Counts. The higher the counts, the higher the level of a user goes. Therefore, offering users thrill and a sense of achievement or recognition on the platform. It rewards users for being socially active or for spending more time on the application. In return, users can enjoy amazing discounts on several popular brands. The same can be accessed through the application's rewards section. We have already partnered with 30+ Category A merchants to provide benefits to our users.
Bucket List:
The feature allows you to save pictures and posts shared by anyone, from any interesting place. You can add it to your bucket list with a single click. The app pops up a reminder whenever you are near, so that you don't forget to visit.
Future Travel Plans:
When you feel like sharing your travel plans with the world, you can do it even before you start your travel. All you need to do is select a destination, enter the future date of travel and tap 'Spread'. A 'Live Countdown Timer' will engage everyone. It will encourage travellers and communities to collaborate with ease.
Social media can be a boon as well as a bane. Where do you think your application lies and what problems is it solving?
Social media has brought people closer. It has made this world a global village. During the pandemic, it was social media that kept us all connected. People network, communicate, and stay connected through social media. It has created jobs for many, while some have become entrepreneurs. However, excess of everything is bad, social media included. Consume social media, do not get consumed by it. Verify the authenticity of the information you receive. Do not let one-sided information affect you. Our application stands apart because we have the user at the centre. We reward your engagement and the application's AI helps you save time and network better.
What is growth for you and how do you evaluate the company's growth?
So far, organically and with very limited paid marketing efforts, we have been able to get a user base in more than 40 countries. After this initial traction and user build-up, validating the inherent virality of the product, we are now focussing on launching a powerful marketing campaign to acquire more users. Our vision is to be one of the 'Top 10' social media applications in the world in the next three years. There are about four billion social media users in the world right now, we want a big pie of that number.
We have raised US$ one million in pre-series A from a clutch of investors. The funding round was led by Ruchirans Jaipuria (Managing Director, Jaipuria Group), which saw participation from Lovkesh Arora (Founder and CEO, Phithos Technologies), Piyush Jain, and other notable angel investors through the LetsVenture platform. The first capital raised by us will power team expansion, product enhancement, and user acquisition through invigorating marketing campaigns.
Tell us an experience that gave you more strength to excel in your career.
I still remember that on the first day of my first job, my mother told me, "work as if you are working for your own company". After many years when I founded my company, she told me, "work as an employee, and not a boss". These lines have helped me stay focused and grounded.