What goes on off the field with Maryam Bibi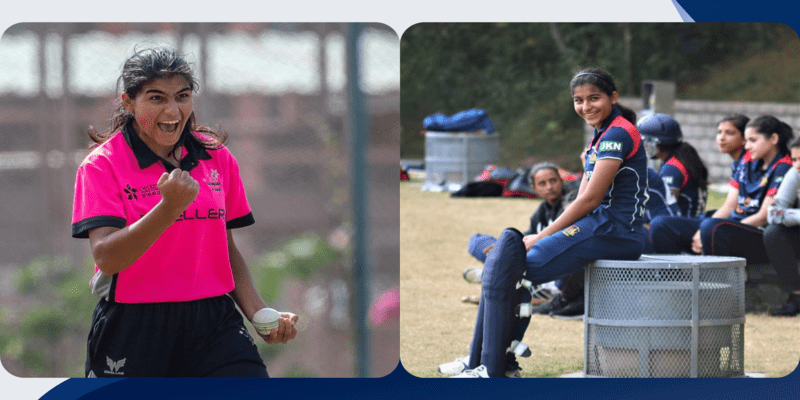 Professional sport is a tough path to pursue in a financial city like Hong Kong. Couple that with the hardships faced by ethnic minority citizens, the common notion may be to sacrifice one's dreams in favour of earning a living. However, through their drive, determination, and love for the game, these individuals are pursuing their passion for cricket against all odds. Find out more in this series, showcasing the journey of these Cricket Hong Kong players and coaches, their pride in representing their nation, and their hopes for the future.
18-year-old Maryam Bibi, who has just completed her final year of secondary school at Delia Memorial School (Broadway), is an upcoming player in the Hong Kong women's national team. Her raw talent, spotted at a young age, coupled with her determination and hard work, saw her quickly progress into the senior national team. She is also developing her leadership skills, having captained several teams at the domestic level.
When did you start playing cricket?
I started playing cricket because it's one of my passions. I just wanted to play because it's a fun game and a community sport among South Asians. I was introduced to it in primary school where I used to play with a tape-ball. I started playing with a hard-ball in 2015. After performing well, I was introduced to Sai Wan (Diasqua Little Sai Wan Cricket Club) and have been playing for them for the last five years now.
How did you get involved with the Hong Kong national system?
I performed well in club cricket and after that, I started being a part of the national training. I attended each and every training session and was then selected for a tour to Thailand (2018 ASEAN Cup). That's how my national career began.
Was it always your dream to play for the national team?
Of course. It's a big dream to play for your nation. I was born in Hong Kong and am proud to represent it. It means a lot to me. Even while I'm doing other things such as studying, I mention cricket as my profession, because I think I can achieve a lot in the sport by representing Hong Kong.
How do you balance your academics and playing commitments?
I balance my time by training in the morning and studying in the evening. I use my free time to play cricket, as it's also part of my enjoyment. Along with a part-time job, I balance both studies and sports. The job is for me to be independent so that I understand the value of things. Sports equipment are really expensive to afford. I want to pay for these things myself so that I know how much it costs and I value them more.
Does your family support you?
My family fully supports me in everything, even if I don't earn money. They also support me emotionally, whenever I am not feeling well or am injured. They sacrifice their wants by giving me transportation fees to train.
What do you love the most about the game?
I love the aggression and passion that each player brings. Everyone wants to win the game. It's not only the team you are on, but even the opposition wants to put up an equal fight. So, we all are fighting for the win. It's not easy as both teams are hungry for the trophy. On the field, I love taking wickets of important players and celebrating. Off the field, I enjoy spending time with my teammates.
What are the challenges you faced during your journey and how did you overcome them?
Living in Hong Kong has a lot of challenges. Travelling and paying for transportation fees are the biggest ones. We (women players) don't get paid by Cricket Hong Kong. However, we still make sure to attend each training session on time, even on early mornings. These are small challenges that I overcome by doing a part-time job so that I can earn some money. There are on-field challenges as well like not getting selected for the games. During the South Korea tour in 2019, I was sitting out. But this motivated me to work harder. Instead of just sitting there and complaining, I make sure to train, work hard, and win the position I want.
How do you manage to stay true to your goals while possibly being expected to conform to a stereotypical 'women's role'?
I am so grateful that my parents are supportive and they don't push these things on me. They know what I want and they fully support me. I am a Pakistani and my religion is Muslim. Many Muslim girls are not allowed to go outside and play sports because of family restrictions. Parents are normally very concerned about the clothing (used during sports) or even the (late training) timings. However, my parents are very open-minded and want me to follow my passion and go forward in life. They allow me to wear the sports clothing/uniform of cricket as its full sleeve, it covers your whole body and allows women to maintain modesty. Also for timings, my parents know that sometimes I get late, but I inform them about it before it happens. This is one kind of respect I give to them and they give me in return. I am proud to be a Pakistani and I am also proud that I am following my passion, which my family supports.
What can the Hong Kong community do to support women's cricket?
It would be good to have more facilities such as turf pitches so that we can train in similar conditions to what we play internationally. We currently don't have much access to proper pitches to play on regularly, which makes it harder to adjust when we go on tours. The community can support women's cricket by encouraging more South Asian girls to play. Parents should encourage their children to follow their passion.
Any advice for young girls who dream of playing sports at a high level?
Follow your passion and work hard for it. If you have any problem, talk to someone close, such as a parent, friend, or mentor for support. You can also convince your family to let you take up sports by working hard in your studies so that you are respecting their wishes as well. I am a great example for girls who want to achieve something. Sports is very important for girls. It's a healthy and positive way to connect with people and allows me to follow my passion.
What are your future goals?
My goal is to play professionally. I want to finish my high school diploma and then possibly work for Cricket Hong Kong. I also want to finish my bachelor's and become a P.E teacher.
Watch out this space for more as the next interview will be with Shanzeen Shahzad.
Series by: Ruchitha Venkatesh