The era of Glamping – glamorous camping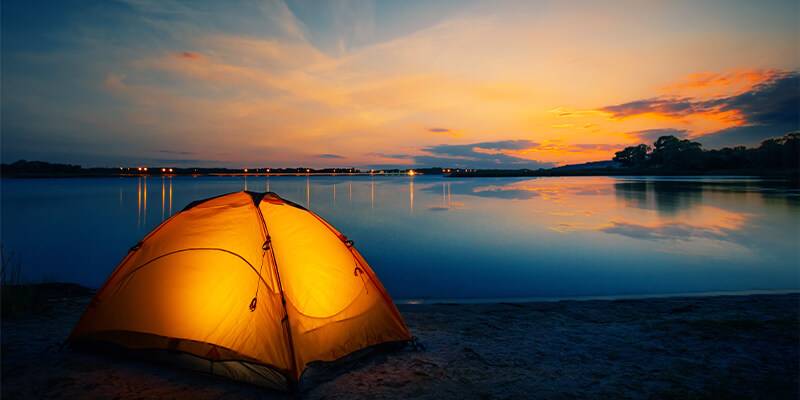 Nature has always been the primary attractor for tourists across the world. To dwell within the laps of nature, in its most unadulterated form, has seldom been viewed through the lens of luxury without juxtaposing its purpose. Until glamping came into focus. As the portmanteau suggests, "glamping" is "glamourous camping" at its best. Relatively new to the sphere of tourism, glamping is a huge step above the good old practice of camping, since tourists get to enjoy both the bounties of nature and the comfort of plush amenities that a luxury hotel stay offers. Of all the times you gave up the idea of camping for the fear of being feasted on by mosquitoes, not finding the floor beds appealing to rest your head on, or very simply, and most ardently, not wanting to compromise hygiene on (going au naturel in the wild); glamping is the knight in shining armour to your rescue.
Though the term is historic in being centuries old, it, however, dates back to 2007 as the year it made its debut in the world of mainstream tourism, with it firmly establishing its roots in 2013. Two events have been elemental in pushing glamping from the arena of a passing trend to a steady holiday bet — the recession of 2008-09 and subsequently, the COVID-19 pandemic in 2020. While the economic recession of 2008 had forced people to review their everyday expenditure, especially the lavish international holidays that could very well be substituted with a budgeted local glamping trip, the pandemic only reinforced the charm of glamping further with their hygienically safe and socially distanced features adding to its overflowing pool of plus points.
Even before the pandemic, the shift in travellers opting to shell out money for eco-resorts and nature inspired quaint accommodations was on the rise. But the incessant variants of Coronavirus acted further as a catalyst in pushing tourists to explore remote natural locations, distanced from the old and the conventional. Here are some of the prominent reasons why the era of glamping is here to stay:
Redefining Luxury
The definition of luxury has changed for many across the globe, with the new luxury for modern-day consumers being redefined from larger-than-life exuberance to feeling at peace. A luxury afforded only when you are cut off from city life, travelling to remote locations with lesser network coverage, having undivided attention and the bandwidth to spend quality time with your near and dear ones. Space, time, and the simplicity of being present in the moment are all viewed from the lens of luxury now. This is not to say that the old word loses its place in glamping. Rather, it awards its consumers with the new version, while also rewarding them with the old luxury offered in opulent design, amenities, and gastronomical feasts.
Not without Nature!
Glamping would not last a day as a popular holiday option if it wasn't for nature. The whole and sole purpose of glamping rests on bringing consumers closer to serene getaways, rooted in local culture and accentuated by climate. Topographically speaking, glamping accommodations near beaches, mountains, forests, lakes, and deserts are the most attractive to tourists for a range of activities such as trekking, swimming, safari, etc. that they can partake in.
Swift and Sustainable
Global warming hasn't shied away from making its presence felt in the most adverse ways. Day by day, marking itself poignantly in every field of our third-dimensioned human life. With this, the awakening to be environmentally conscious amongst people is increasing too. Thus, a huge component in the rise of glamping as the preferred mode of vacation for many consumers today is its intrinsic value of accommodating both sustainable development and accessible tourism. Falling under 'Ecotourism', glamping is statistically proven to have one of the lowest impacts on the environment, and yet meets all the leisure criteria for tourists.
Some of the key attributes of glamping having a positive green footprint are:
It allows glampers to connect with nature and stay close to the outside environment
Recycling or upcycling as a business strategy is reflected in a lot of vintage and retro-based glamping accommodations. Usually, sustainable material is used in the building of glamping accommodations, with very little to no adverse environmental consequences.
A local glamping accommodation helps tourists support the flygskam movement; i.e. to travel via road, thus escaping flights and subsequently the carbon footprint caused by them.
Most glamping businesses have their gastronomical delicacies made from authentic ingredients and are supporters of organic farming, as opposed to processed foods. This helps in promoting the local economy.
Because of the nature of their business, glamping accommodations are very driven to consciously use environment-friendly products and services, and are energy efficient by maximising renewable energy for their units from solar and wind power, amongst others.
Extreme Glamping
Catered especially for those tourists who want the best of both worlds, extreme glamping pertains to uber-luxurious camping that houses extravagant tents/abode, are situated at the best locations in the world, and have the finest amenities made possible. One of the most popular extreme glamping sites currently exists in Northern Polar Circle, Norway. In addition to the scenic Arctic Ocean and snowcapped hills, the glamping sites are ameliorated in experience with adventure activities such as luxury saunas, hot springs, dog/wolf sledging trails, etc.
Wellness Tourism
In addition to ecotourism, glamping also sheds light and subtly nods to another kind of tourism on the rise, i.e. wellness tourism. Many glamping sites offer wellness treatments and activities. While some offer these activities as an additional magnetism for tourism, others have them at the core of their philosophy. Statistically speaking, the wellness tourism industry grew by 6.8% in the years 2013-2015 alone, and the growth rate has only accelerated further since.

From Safari Camps in Botswana, Africa, Whitepods in Switzerland, luxurious yurts in Utah, USA, to the Aman-I-Khas Jungle Safari camp in Ranthambore, India; some of the world's best glamping sites see an influx of tourists daily. Descending our sights from global to local, below is a list of the top three glamping localities in the world's most expensive city in the world (2022) — Hong Kong.
Lau Fau Shan Ha Pak Nai
What says luxury better than the luxury of choice? At Lau Fau Shan, themed tents are all the rage where guests have the option to choose from three outdoor sceneries — stargazing, sailing, and tribal themes. While glampers have all the luxurious comforts of air conditioning, finer linens, and barbeque meals in the glamping retreats here, the best attraction arguably remains the proximity to Ha Pak Nai Beach, T Park, and the Lok Yau Yau Strawberry Farm for outdoor activities. Ha Pak Nai is one of the best places in the city to take pictures of the sunset. The beach, the setting sun, and the mangroves form the perfect backdrop for an evening to remember.
Lantau Island
Another destination sublime for glamping in Hong Kong is Lantau Island. The Cheung Sha beach is famous for adventure sports and water activities such as kayaking, windsurfing, paddleboarding, and skimboarding, among others. Luxury caravans have been set up near Welcome Beach for glamping, replete with amenities for a cosy staycation.
Cheung Chau Sai Yuen
A little further up ahead of Lantau Island is Cheung Chau Sai Yuen where glamping takes an adventurous turn with the attraction of Cheung Po Tsai Cave and Reclining Rock at the Saiyuen Camping Adventure Park. Visitors are spoilt for choices with a variety of glamping accommodations such as the African Safari Tents, Sunset Vistas, Native American Teepees, Mangolian Ger, Stargazing Geodesic Domes, and Romantic Tree Cocoons.
With the trend here to say, glamping has effectively shifted gears from being an occasional tourism option to a household Instagram hashtag for your mini staycations. So where is your next glamping trip going to be: national or international territory?