Ahoy, Amsterdam: my home away from home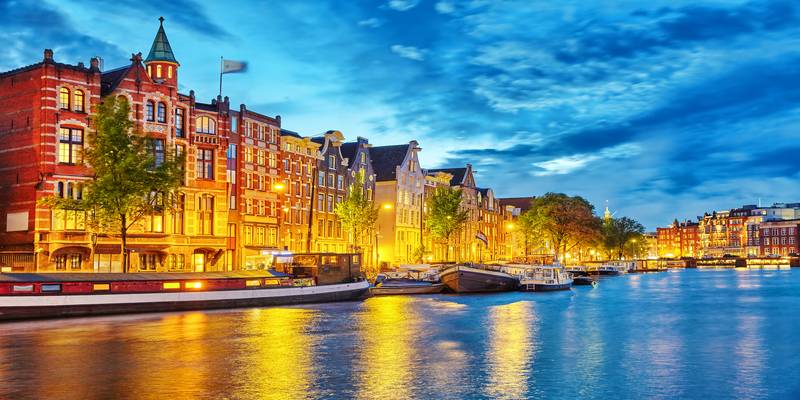 When I was a little kid, my brother got me a painting of a canal side with buildings in the backdrop that were situated in Amsterdam. That was the first time I was introduced to the city, and with that sight, I couldn't help but wonder whether such a perfect city actually exists. A world-renowned destination that leaves visitors spellbound owing to its beauty and postcard-perfect images, Amsterdam is the capital and the most populous city of the Netherlands. Aged canals, gabled buildings, museums, progressive culture and a free-spirit lifestyle, greet you as you walk through the streets.
With these thoughts on my mind, my desire to visit Amsterdam grew intense with every passing day. Familiarising myself with its history, its traditions and places to see, the city had long been part of my bucket list with its name right at the top. When my solo Euro trip was being materialised in 2018, regardless to say, Amsterdam was the first stop. With Antwerp as the base, I set out to Amsterdam, Paris, and other nearby places. This article recounts my two-day visit that felt like a lifetime owing to the memories I made.
The city derives its name from the Amstel dam and is a UNESCO World Heritage Site as it houses a large number of canals. My first impression of the place was no less than what I had envisioned. Amsterdam is one of those places that offers much more than your expectations. There was a glint in my eyes as I was amazed at how everything looked just like the postcards had depicted them. Not even for a second did I feel out of place, and everything seemed familiar, like it was home away from home. Whether you are a history buff, luxury traveller, romantic couple, or a solo backpacker, there's something for everyone that the city has to offer.
Spring is the best time to visit most places in Europe. Amsterdam is no different. One couldn't ask for better weather that's perfect for biking around the city or if you like indulging in long walks along the canals. Also, how can one forget about tulips? Tulips bloom during spring, and it is a sight to behold. It may not be on the list of seven wonders of the world, but it is worth witnessing in person. You'll be transcended for sure! For my stay, I picked an Airbnb right opposite Amsterdam Central Station as I wanted to be in the centre of the city to explore as much as I could during my limited stay. There's no dearth of hotels and places to opt from, so one can shortlist as per their budget.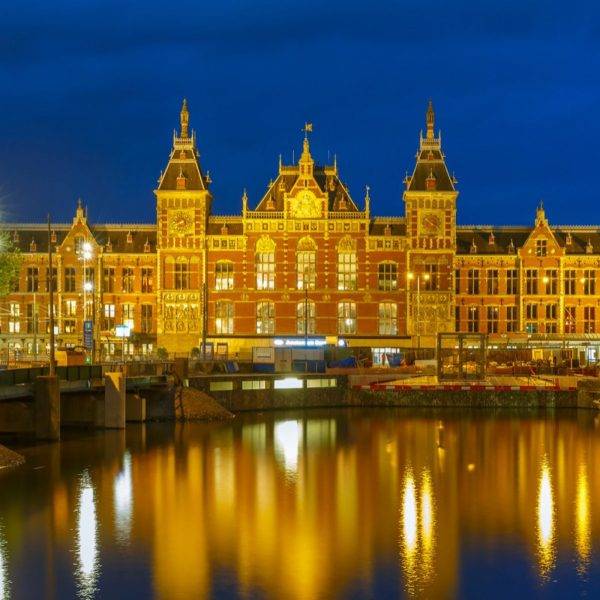 Trying to imitate the Dutch, I would usually start my day with a cup of coffee and some mind-blowing Dutch pancakes. By noon, it would be a can of beer with hot dogs or sandwiches, and by night, it would be a couple of beers with some more amazing street food. I availed public transport for my commute as it is very well-connected and gave me a peep into the soul of the city. One of the many amazing restaurants that impressed me was De Kas as the concept of eating farm-to-fork stood out for me.
What and where:
Anne Frank House
To see with your eyes what you have read in all her books, see her melancholy bedroom and, of course, her diary… visiting Anne Frank's House was a surreal experience. Located on the canal Prinsengracht, Frank's house was converted into a museum in 1960. For those who don't know about the author's history: Anne Frank hid from Nazi persecution during World War II. While she did not survive the war, her works and hiding place became a part of the museum, which is one of Amsterdam's most significant attractions. Book your tickets in advance as the waiting goes on for months.
Van Gogh Museum
Netherland's most-visited museum which recorded a footfall of 2.3 million visitors in 2017, is dedicated to Vincent van Gogh. The life of the Post-Impressionist painter wasn't as merry as he would have hoped as he suffered poverty and depression that led him to commit suicide at the age of 37. However, what survived were his 2,000+ artworks that were not only recognised and appreciated across the globe but went on to become a significant part of the evolution of art. From landscapes to portraits to still lifes that have bold colours and expressive brushwork, the museum has an abundant collection to go through.
Rijksmuseum
The largest museum in the country, Rijksmuseum houses one million objects that date from 1200 – 2000. Located near the Van Gogh Museum, the structural magnificence of this space calls for your attention even if you aren't a history buff. The art and history museum is a rich source of knowledge and it doesn't come as a surprise that it is one of the most frequented places by tourists.
Heineken Experience
Ever wondered why the Dutch love their beer? If you want your query to be answered, visit the Heineken Experience. The facility served as the primary brewing facility from 1867-1988 and became a visiting centre for the public in 1991. One can see the entire process of how beer is made from scratch and shrug off the day's excursion by having a round or two of cold beer. While you are here, make sure to book the complete tour and follow it up with a boat ride to A'dam Lookout for a perfect sundowner swing and a breathtaking panoramic view of the city.
The Amsterdam Red Light District
One of the most infamous places in the world, Amsterdam's Red Light District has been legally approved for prostitution since 1811. De Wallen, the oldest neighbourhood in the city, spreads across 6,500 square metres where the doors and windows are lit with red-coloured lights. Be reminded that tourists are not permitted to take pictures or videos of the workers. There's a lot more to the area than just prostitution, one can visit several bars and eateries that liven up the place around evening.
Canals and cycles
Wherever you go in the city, you'll find yourself near a canal or someone on the cycle. The most important and satisfying thing to do in Amsterdam is canal cruising. They have always been a living part of the city and there is no better way to admire the gabled buildings, bridges, and the lifestyle of the locals. Take a late afternoon ride or even an evening ride under the stars (especially, if you visit during the winter and want to admire the holiday lighting) and it's going to be the best experience of your life. As far as commuting goes, cycle around the city because when you are in Amsterdam, you should do what the locals do! Hire a bike and get to know the real city while also avoiding the traffic as you can swoosh through the bylanes. 
Keukenhof
Lastly, the trip to Amsterdam won't be complete if you don't visit Keukenhof to see the tulips bloom. Known as the Garden of Europe, the place is open to the public for a span of eight weeks (mid-March to mid-May) to witness seven million tulips in full bloom. The colourful flowers are bound to leave a lasting impression. Along with tulips, there are flower beds of daffodils, lilies, roses, carnations and other flowers as well.
My tales of Amsterdam are never-ending, so, I leave it up to you to visit the place and make your own stories. Happy travelling!