The father who laid the foundation for his son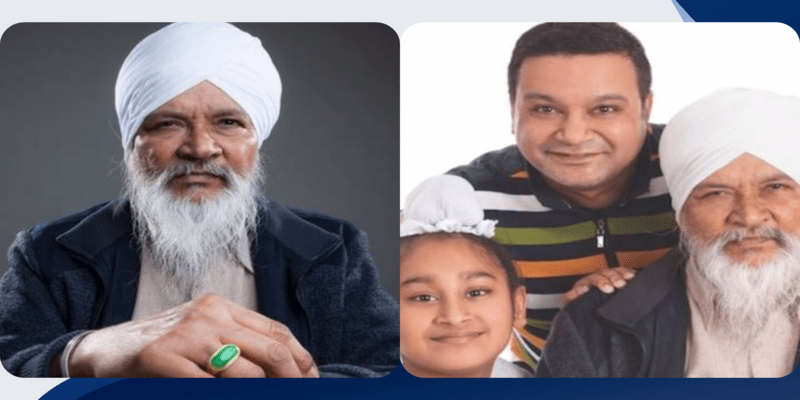 When Raghbir Singh set foot in Hong Kong for better opportunities, he knew that he would have to fight all the odds if he wants to give his family a platform to excel. Five decades later, he is all but content when he sees how things have panned out and his family is with him to cherish it. Often, he can be seen beaming with pride when success stories of his son, Karmjit Singh, are brought to the fore. However, Mr. Raghbir's journey, like any ordinary man, saw many ups and downs. From leaving his hometown Thatian (Amritsar), Punjab in India to working multiple jobs in Hong Kong, the 73-year-old has seen several changes that the city has undergone. His son, on the other hand, has gone on to change the fortunes of the family and dedicated everything to his father for his struggles over the years. Let's uncover more about this father-son duo who have not only conquered the Hong Kong and overseas market but also the hearts of those who have had the pleasure of knowing them.
Raghbir Singh
When did you come to Hong Kong?
I migrated to Hong Kong in 1966 when I was 18 years old. I started working at a factory and was later offered a position in the security department. After that, I worked in a security company and had to undertake two-three jobs in the day to support my family.
What was Hong Kong of then like?
In terms of development and standard of living, the city has continuously progressed over the years. New businesses started flourishing in the 60s as half of the population at that time was less than 25 years old. Several opportunities presented themselves and eventually, Hong Kong went on to become a financial hub that connected Asia with the world.
What were the challenges that you faced during the initial years?
Language and communication was the biggest barrier. It was difficult for the locals to understand my language as I was also not that well-versed in English and most people spoke Cantonese. Getting accustomed to local food was also a difficult transition. Apart from these day-to-day struggles, the biggest challenge was sustaining the family. At that time, the price of the Hong Kong dollar was lower than Indian rupees. So, whatever money you were making was not enough. For those initial years, I had to work extra hours so that I could make a living and take care of my family. I used to visit my family back in India once in three-four years in order to save money. It was only in 1990 when I was able to get my whole family settled in Hong Kong. It wasn't easy but in hindsight, it was all worthwhile.
How do you feel about your son's success and what do you think is the mantra?
As a father, it gives me immense pleasure to see how things are. Of course, I am very proud of how my son has worked hard and achieved all this. We all have done menial jobs before starting the family business. Our family has always backed each other and been together since the beginning. I believe that the most important thing is to believe in yourself and work hard towards your goals. Even today, I want everyone to be disciplined and dedicated to the cause. If you are honest and committed to your work, you can never go wrong.
What would you advise youngsters who are planning to migrate to other countries?
Education is very important. Times have changed and now you wouldn't just want to move to another country to do menial jobs. If you are planning to migrate, complete your education and look for jobs that will help you grow in other countries. You can't have the mindset that you'll become rich in one day. Everything takes time and it is a process where you have to work hard and prove yourself time and again. If you do the basics right, things will fall in place and success will follow.
Karmjit Singh
Despite being born in Hong Kong in 1976, Mr. Karmjit, also known as Johnny Sandhu, spent most of his formative days in his native village in India due to the family's financial situation. However, one thing that the 44-year-old learnt very early on was that there are no shortcuts to become successful. The family upbringing that preaches and practices humility and honesty gave him a solid foundation and he went on to build a million-dollar empire that he has dedicated to his parents.
When did you start working and what was your first job?
I studied till eighth grade in India and completed my higher secondary in Hong Kong. After completing school, I decided to work rather than pursue further studies. I began my journey by working with a trading firm Shivalaya in 1997. I learnt a lot about the profession while working in different roles and by the grace of God, within a few years, I was handling all the operations by myself.
Tell us about Multi Lines and how it all began.
Multi Lines was formed in 2006 with a very low budget. I started the business with a low investment in LED lighting for large businesses. It was a tough phase as building trust in the industry is the most challenging aspect of any business. I started with small deals and after a few hiccups, the company was able to expand slowly. Today, we have diversified into several categories such as decoration lights, solar lights, health and beauty products, gifts and gadgets, electronic accessories, quality control, certification and shipping, among others. We have grown exponentially every year since we started. From being a trading company with a vision to solve customers' problems, we have gone on to become their one-stop solution. I believe, our main attraction is that we are not selling products but a customised service that forms a special connect between the consumers and us. We try to understand the nuances of the business that helps us in operations. We have our own research, designing, merchandising and sourcing team. Every department focuses on the roles assigned to them and together, we aspire to expand our business further as teamwork is integral.
How did you combat the initial struggles?
My parents' values have helped me become the person that I am. I knew we weren't well-off while I was growing up. I was determined to bring about a change and thankfully, things unfolded that way. There were instances when the company had huge debts to settle and I was almost left with nothing. Whenever I am in doubt or I am facing a troublesome situation, I look up to my father. It is because of him and his upbringing that I can face any challenge. Without him, nothing would have been possible. He is my guru and I dedicate my success to my parents.
What are the future plans for the company?
From trading, we have already diversified into different categories. We are currently involved in property, retail and investment. There are sub-categories within these verticles. I want to thank Hongkongers who are known for their honesty and dedication towards work. From one office we have expanded to multiple branches all over the world and currently have over 300 employees in Hong Kong and China. We just want to continue doing what we are doing with the right approach.
Apart from being humble and grounded, they are also known for making generous charitable contributions. Family members as well as company representatives don't hesitate in serving the community and have time and again come to the fore be it via monetary help or physically being present to lend their support. What makes them stand apart from the crowd is that they don't seek attention while they try to help others. They help others because they genuinely want to make a difference and not garner headlines. Owing to this belief, most of their contributions are made anonymously.