Fixing your financial woes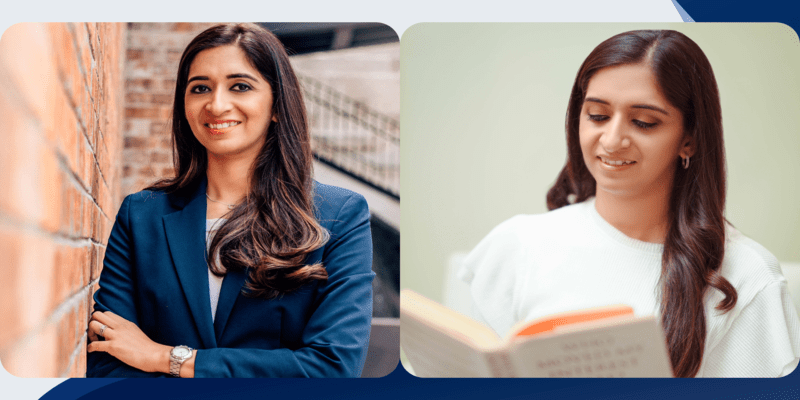 We start developing emotions and behaviours around money at a very young age. Most of these are impacted by factors such as our family background, financial background, and education. These emotions often have a powerful influence on how we make our financial decisions. When it comes to how we spend and save, we often fail to recognise and correct our behaviours. This clubbed with the lack of financial education at the grass root level and tools being too technical to understand for all, makes money management a task everyone dreads. With Mindful Money Tribe, Ms. Palka Arora Chopra has the vision to simplify money management for all. She aims to acquaint people with their deep-rooted attitudes and emotions and how they impact the ability to make decisions when it comes to money matters. At the same time, she wishes to simplify the concepts of managing and investing money, thereby uplifting people to be more financially aware and independent.
When and how did you come to Hong Kong?
Like most women expats, I am a trailing spouse. My husband, Abhishek, works as a banker with HSBC and followed him when he got a better career opportunity in Hong Kong. At that time, I was working with an Indian Company. I have been working virtually with them for about 13 years now. Back when I was doing my master's degree in the United Kingdom, a lot of my batchmates were from Hong Kong. I had an early experience with people who were locals from Hong Kong so I knew the culture beforehand. We moved to Hong Kong back in 2012. At that time, my daughter was two-years-old. It is always difficult to change bases, especially when you have little children. It wasn't very easy for the first year or so but then this city has an amazing power to grow onto you.
The first year, when you change bases is usually difficult, it's a new place, and the opportunities are also different but when you give a place that amount of time, there's no looking back. Hong Kong is an amazing financial hub. It is also such a multicultural place, the opportunities are endless. It is a city to fall in love with, not just the city, but also the skyline of the city is so beautiful. It's such a great mix of nature and man-made things, I don't think we can get this anywhere else in the world. I have been living here for nearly 10 years now, I think I can call myself a local Hongkonger.
Tell us about your educational and professional background.
I belong to the manufacturing hub of India. I was born in a city called Ludhiana in Punjab. I did my graduation there. After that, I went to Symbiosis Institute of International Business (Pune) for my master's diploma. Then, I worked with Citi Bank, in the Wealth Management Department for a brief period. From there, I went to the UK for another master's degree, which was an MA in Finance and Investments from the University of Nottingham. After I came back, I started working with a financial services company called Master Capital Services Limited. It's one of the biggest broking and investing companies, based out of Ludhiana and Delhi with over 250,000 customers. I have been fortunate enough to have been working with them ever since. I have handled their research and advisory, human resources, branding and social media, and very recently, two years ago, I started handling their customer relationship management as well. Overall, I have around 13+ years of experience working in the field of finance and investment.
What inspired you to come up with Mindful Money Tribe?
Financial literacy and education have always been very close to my heart. I believe money decisions can be different experiences for different people based on their emotions. As a money coach, I have noticed that there's a gap between what a person wants to achieve from their finances and what a financial advisor has to offer. Sometimes, advisors use a lot of jargon and some of this is not well understood by people. It becomes very complex for people to understand how they should be taking care of their money or investing it. So, there was always this gap that I saw in the market and I felt this needs to be taken care of. Through financial education, I try to reduce the existing gap.
Secondly, I believe behaviour is very important when you are talking about your finances because there is always a reason behind why you save as much as you do or why you shy away from a certain type of investment option or why you have a higher or lower risk-taking capacity. Once we understand the reasons behind these things, money management becomes a lot easier. It is not as tricky as it seems at the outset. These two reasons really inspired me to start Mindful Money Tribe. I wanted to cater to that gap in the market wherein people need to get active towards understanding their behaviour around finances and for the purpose of financial education.
How would you explain the concept of mindful money management to our readers? Why is it that having a financial planner or advisor to take financial decisions on our behalf is not enough?
Mindful money management is the key area that I work on. I have seen people who would go to a relationship manager or a wealth manager and tell them "we want to create a portfolio", "we want a certain kind of return on the investments" and other similar things. But in my experience, a lot of people follow up with that plan for six months and then it gets difficult for them to continue. In around 80% of people, inconsistency is a major problem. The major reason behind this is our behaviour with finance. We are often so set in our money patterns for so long that it becomes difficult to break through.
I feel it's very important to align your financial goals with your life goals. If you want to travel once after you retire, you will have to figure out a plan for that. You should never have a financial plan that does not cater to your life goals. So, that is where Mindful Money Tribe comes in, wherein we help align your financial and life goals while simultaneously educating you about finances. We ensure that you manage your money in a way that your life goals can be easily fulfilled. It's all about holistic wealth management.
Whenever a client works with me, I give them different options to choose from. The process helps in enhancing their knowledge regarding their individual money behaviour and equips them with financial literacy. Most of my time and effort goes into making people understand that once their behaviour is corrected, they can make money work for them. There also are questions like "how much money do you make" or "how much do you wish to save and why" — which are personal and many people shy away from answering such questions or even discussing their financial problems. A lot of financial issues actually stem from our behaviours, our baggage, whatever we've learnt from our parents, and whatever experiences we've had while dealing with money. It's more than just finances, it's actually how your brain is wired. It is not an easy task to tell that to a lot of people. But it really helps solve a lot of financial issues. We're trying to create a safe space wherein people are open to discussing their finances in and out.
What are your future plans?
I am hoping that we will reach a much bigger audience. As of now, we have clients across the world and we do virtual sessions with them. Since COVID-19, people from different countries also connect very well, thanks to the virtual platforms. Moving forward, we are planning to bring out several short-term courses on the website for people who don't want to have one on one conversations. They can just go through our courses and it will help them with various financial topics like management, investment, debt management, and other basic things like SIPs and mutual funds. The idea is to help people become more financially knowledgeable so that they can take informed decisions for themselves.
Have you ever struggled with emotions driving your money habits? What helped you to get back on track?
Yes, like every other person, I have also faced this problem. Especially when I moved to Hong Kong, I struggled with binge shopping. I would shop for shoes and clothes, and designer bags. Often, it would induce guilt in me. I would shop for a bag and then feel guilty about spending a huge sum. Even for me retail therapy was the answer to stressful times. But I soon realised that the joy is only momentary and I need behavioural fixes and better money habits. I myself worked with a money coach to understand my patterns and how I could control them. I learned about and corrected my habits around saving and budgeting. And because I have been through all this, I understand the importance of recognising our patterns, correcting them, and of financial knowledge.
What do you think is the most important consideration one should have while making a big expense?
I have a very simple rule — the "24-hour rule" — if you like something and want to buy it, just wait for 24 hours. In those 24 hours, if you think that thing is necessary for you, go ahead and buy it. So, controlling that impulse for 24 hours is enough to make or break your decision to purchase something. These hours will give you an opportunity to calm down and act in a thoughtful manner.
What is the biggest taboo around money and finances?
The biggest taboo I have faced is — women are not good with money. People think it is challenging for women to understand and manage finances. Most of the females I have worked with — be it doctors, teachers, or entrepreneurs — often tell me that their finances are handled either by their fathers or husbands. Actually, I feel women are such great multi-taskers and have a great potential for taking and managing risks. They are actually cut out to become smart investors in the long run. But it's a very Asian mentality wherein, the men take care of finances. In a day where women are making good money, they need to have the independence to understand finances better and take their own decisions.
How do you think we can take steps on a personal level to eradicate the very prominent problem of financial illiteracy?
Sadly, nothing about financial management is taught in schools. Honestly, financial planning is not that complex. It should be kept really simple. You need to figure out basic things like how much money you make, how much money you need to cater to your expenses, and how much you need to save and invest, as per your goals. The idea is to start investing as early as you can. You can start by understanding and investing in easy tools like mutual funds or SIPs. All that is required is consistency. You can also start with a small amount, but be consistent.
In times like today, where inflation is sky-high, it is absolutely important to figure out which investment tool is going to work well for you. If you sit on your money in cash or in a fixed deposit, it won't beat inflation or generate more wealth for you. Sit consistently with yourself for a "money date" and analyse your footing. If you give it time, your money will ultimately start working for you.
If you could give one piece of advice to youngsters who are starting out their financial journey, what would it be?
Start investing as early as possible. You have no idea about the power of compounding. You can start creating wealth with your very first salary, no matter how small an amount you invest. Just start early and see how time and money work for you. Albert Einstein said, "The magic of compounding interest is truly the eighth wonder of the world". Even if you're getting a 10% compound interest rate, your money will grow by leaps and bounds in just 10 or 20 years.
Heartfelt message for fellow Hongkongers?
Start taking your finances seriously. Everyone wants to be financially independent. If you do not start soon, creating wealth might get very difficult. Be smart, invest, and let the money work for you rather than you working for money.