How COVID-19 played spoilsport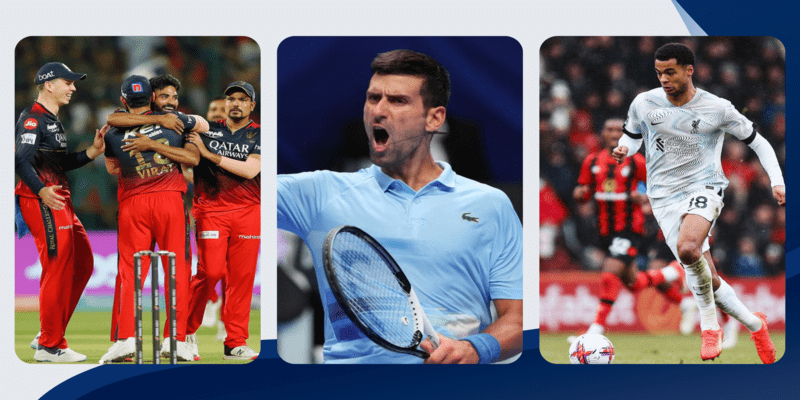 Sporting action from around the world was that one constant that would garner attention irrespective of the time difference across the continents. In an unprecedented calendar year, it was the first of many events that were cancelled or postponed; depriving fans from rooting for their favourites. The 2020 Summer Olympics, which will be held in Tokyo, has been rescheduled for July-August, next year. It is the first time that the Olympics has been postponed as it was cancelled in 1916, 1940, and 1944 due to the World Wars.
A 65-year-old streak was broken as the Monaco Grand Prix didn't take place for the first time since 1954. Similarly, since its inception in 1877, it was the first time that Wimbledon was not played during peaceful times. Amid all these uncertainties, it is unclear as to how long before the world of sports will be back on its feet and the fan-athlete camaraderie will not be restricted to closed-door events. 
List of major events impacted
Archery
The 2020 World Cup, with its first three stages in Guatemala City (Guatemala), Antalya (Turkey) and Berlin (Germany), will be rescheduled later this year.
Artistic Gymnastics
The Baku World Cup was cancelled midway and soon after, the Stuttgart, Birmingham and the Tokyo World Cups were also cancelled.
Athletics
The World Athletics Indoor Championships that were scheduled from March 13-15 in Nanjing, China, have been rescheduled for next year. Out of the 15 annuals meets, the first six events of the Diamond League have been postponed until later this year with Rabat (Morocco), London (United Kingdom) and Zurich (Switzerland) meets cancelled. The World Athletics Half Marathon, scheduled to take place in Gdynia, Poland, has been postponed until October later this year. Boston Marathon and London Marathon have been postponed until September and October, respectively, later this year. While the Berlin Marathon was prohibited, the Rome Marathon, Dublin Marathon, Two Oceans Marathon, and Standard Chartered's Hong Kong and Kuala Lumpur Marathons have all been cancelled. 
Badminton
All Badminton World Federation (BWF) tournaments including German Open, Lingshui China Masters, Swiss Open, India Open, Orléans Masters, Malaysia Open and Singapore Open have been suspended until August 1. The Thomas & Uber Cup has been postponed until October 3. Also, the World Rankings has been frozen as of March 17.
Basketball
The National Basketball Association (NBA) suspended its season on March 11. The association is hopeful to finish the remainder of the season and start the next season later around December. The timelines, however, are yet to be confirmed.
Cricket
Board of Control for Cricket in India (BCCI) suspended the 13th edition of the Indian Premier League (IPL) indefinitely. On March 13th, the three-match ODI series between India and South Africa saw the first match being abandoned due to rain, while the other two games were cancelled due to the pandemic. These fixtures were to be played without spectators. Test series between Sri Lanka and England was also postponed. While the first ODI between Australia and New Zealand in the Chappell-Hadlee Trophy was played behind closed doors, the remaining two fixtures and three T20Is were cancelled. On March 16, the play-offs in the Pakistan Super League (PSL) were postponed and are now likely to be held in November. The T20 World Cup that will be held in Australia later this year in October-November, is most likely to get postponed. No official confirmation has been made yet. If that happens, BCCI may use that window to host the 13th edition of the IPL.
Football
The Chinese Super League has been postponed until later this year. This year's Lunar New Year Cup In Hong Kong was cancelled on January 23. On March 9, FIFA and the Asian Football Confederation (AFC) postponed the qualification matches for FIFA World Cup 2022. On the same day, Italy's Serie A was postponed. On May 18, it was announced that the league still stands suspended until June 14. On March 12, the Spanish La Liga and the Segunda División were suspended for two weeks but on March 23, both the leagues were suspended indefinitely. Before the pandemic took a severe toll in mid-March, several matches in the then-ongoing Champions League and the Europa League were played behind closed doors. On March 13, the Union of European Football Associations (UEFA) postponed all the fixtures for the above-mentioned leagues.
The Premier League was also postponed on the same day as several players and coach had contracted or exhibited symptoms of the virus. On March 14, the finals of the Indian Super League (ISL) between ATK Football Club and Chennaiyin FC was played behind closed doors with the final scoreline being 3–1 in ATK's favour. On April 18, The All India Football Federation (AIFF) declared Mohun Bagan AC as the champions of this season's I-League and cancelled the remainder of the tournament.
On April 24, the Dutch Eredivise was abandoned with no winner; defending champions AFC Ajax were denied consecutive trophies despite being table-toppers. On April 28, France's Ligue 1 ended abruptly with Paris Saint-Germain declared winners of the season. Germany football league Bundesliga was one of the major European leagues to resume action on May 16. However, the fixtures were played behind closed doors. UEFA Euro 2020 which was scheduled to take place from June-July this year, will now be contested a year later. FIFA announced that the FIFA U-20 Women's World Cup which will be hosted by Costa Rica and Panama will now be held in January-February 2021. The tournament was initially scheduled for August this year. FIFA U-17 Women's World Cup, which was scheduled to be held in India in November, will now be held in February-March 2021. Both the timelines are subject to further monitoring.
Golf
On April 16, the PGA Tour shared a revised schedule for major tournaments. If the sport resumes as early as mid-June with the Charles Schwab Challenge in Texas, it is expected that all major championships will be adjusted in the calendar year except The Open Championship which has been cancelled.
Hockey
Several field hockey leagues around the world have either been curtailed or suspended. In Europe, leagues in Spain, England, Germany and the Netherlands have been impacted. In Asia, the Men's Hockey Junior Asia Cup, Women's Asian Champions Trophy, and Women's Hockey Junior Asia Cup have been postponed. The Sultan Azlan Shah Cup was cancelled on May 2.
Ultimate Fighting Championship (UFC)
UFC resumed action on May 9. Apart from this fixture, there were two more events that witnessed intense competition on May 13 and 16 in Florida.
F1
The Australian Grand Prix, Monaco Grand Prix, and French Grand Prix have been cancelled. Apart from these, events in Bahrain, Vietnam, China, Azerbaijan, Spain, Canada, and the Netherlands have been postponed. 
Shooting
The International Shooting Sport Federation (ISSF) World Cup, scheduled to commence on March 15 in New Delhi, India, has been postponed.
Table Tennis
The International Table Tennis Federation (ITTF) — Asian Table Tennis Union (ATTU) Asian Cup, which was supposed to be held from February 28 to March 1 in Hainan, China, has been postponed. The World Team Table Tennis Championships will now be held from September 27 to October 4 in Busan, South Korea. The tournament was earlier scheduled for March 22-29.
Tennis
On April 1, Wimbledon was cancelled. The 134th edition will now be played between June 29 to July 12, 2021. The French Open, which was scheduled to be held from May 24 to June 7, has been rescheduled for September 20 to October 4. The governing bodies — Association of Tennis Professionals (ATP), Women's Tennis Association (WTA), and the International Tennis Federation (ITF) have announced that all tournaments stand cancelled until the end of July. Action on the court is expected to return with the Washington Open from August 3. Tournaments such as Indian Wells Masters, Monte-Carlo Masters, Miami Open, Halle Open, Queen's, and the Madrid Open have been suspended.