COVID-19: destroyer of lives and economies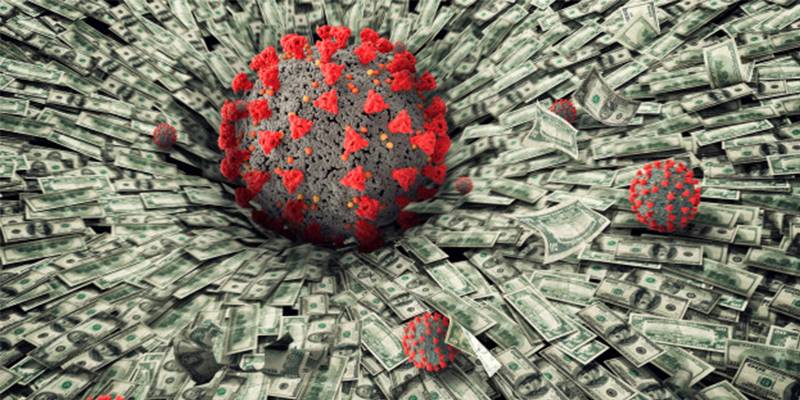 With millions of lives impacted due to COVID-19 pandemic, countries around the world are trying to strengthen their health system, create awareness and increase medical facilities while trying to keep their economies afloat. From developed countries to developing, the struggle for survival has taken a toll on everyone. With no vaccine in sight, it is a continuous fight. Here's a roundup on how some of the countries are trying to cope up with the challenge.
Global impact
According to the World Bank, real economic growth could fall to -0.5% in the East Asia and Pacific region, -4.4% in Europe and Central Asia, -4.6% in Latin America and the Caribbean, -1.8% in the Middle East and North Africa, -2.8% in South Asia and -5.1% in Sub Saharan Africa.
• Global economic outpost is projected to decrease by 3% 
• Advanced economies projected to decline by 6.1%
• COVID-19 will most likely cause the first increase in global poverty since 1998
• Projections before the virus estimated a decrease in global poverty from 8.2% in 2019 to 7.8%
• Post-virus projections say global poverty will increase from 8.2% to 8.6% in 2020; from 632 million to 665 million people
• An estimated 49 million people will be in extreme poverty 
• The world's progress in eliminating extreme poverty is expected to be pushed back by three years
Increase in extreme poverty by region (in millions)
• 15.6m in South Asia
• 4.5m in East Asia and Pacific
• 2.8m in the Middle East and North Africa
• 22.6m in Sub-Saharan Africa
• 2.7m in Latin America and the Caribbean
• 0.9m in Europe and Central Asia
• 0.1m in North America
Largest increase in extreme poverty by country
• 12 million in India
• 5 million in Nigeria
• 2 million in Congo
• Over 1 million each in South Africa, Indonesia and China
Industrial production
China
• Post the outbreak of the virus in December 2019, the industrial production saw a 2.77% drop. From January to February, the production further dropped by 24.9%
• However, after the lockdown, there was a sharp increase of 32% in February-March
• Recent forecasts predict a 3.5% increase as some industries are back on track
Drop/Rise among major industries in China (2020)
• Automotive production (-22%)
• Rubber and plastics (-5.5%)
• General equipment manufacturing (-5.4%)
• Agriculture (-4.8%)
• Non-metallic products (-4.5%)
• Metal products (-1.6%)
• Power equipment (-1.7%)
• Electrical machinery (-0.4%)
• Food manufacturing (+5.7%)
• Chemical raw materials and products (+0.7%)
• Pharmaceuticals (+10.4%)
• Ferrous metal smelting (+4.1%)
USA
• From February to March, there was a 5.4% decrease in industrial production; the largest drop in over 70 years
• Consumer goods production decreased by -5.9%
• Business equipment (-8.6%)
• Construction supplies (-5.8%)
• Manufacturing (-6.3%)
• Mining (-2%)
• Utilities' production (-3.9%)
India
Before the lockdown began in India, industrial production was in a good position
Index of Industrial Production (IIP) shows that
• IIP rose 4.5% in February 2020 over the last year, compared to an increase of 2% in January
• Production in February was the highest since July 2019
• On an annual basis, 13 out of 23 manufacturing industry groups showed positive growth in February 
• Manufacturing output increased by 3.2% in February compared to 1.5% in January
• Mining output increased by 10% in February as compared to 4.4% in January
• Electricity generation rose 8.1% compared to 3.1% in January
During the lockdown, here's how the data stands so far
• As per the IHS Markit, India's Manufacturing Purchasing Managers' Index (PMI) went from 51.8% in March to 27.4% in April; a massive 47% decline
• India's Services PMI fell from 49.3% in March to 5.4% in April; a 90% decline
• India's PPE kit production went up from 47,000 a year to about 200,000 a year
• Index of Industrial Production (IIP) declined by 16.7% in March
• Manufacturing (-20.6%)
• Primary goods (-3.1%)
• Capital goods (-35.6%)
• Intermediate goods (-18.5%)
Foreign Direct Investment (FDI)
• Global FDI flows are expected to drive down by 40% during 2020-21; the lowest in two decades
• There has been a reported increase in measures related to the screening of foreign investment for national security reasons and to protect critical domestic infrastructure and industries, particularly in the health sector
• The pandemic impacted the amount of International Investment Agreements (IIA) signed. In the first three months of 2019, there were 10 IIAs signed. During the same period in 2020, only two new ones were signed.
United Nations Conference on Trade and Development's (UNCTAD) Top 100 Multinational Enterprises (MNEs) — producing or delivering goods/services to more than one country
• 41 of them have issued profit alerts that will translate into lower reinvested earnings which is a major component of FDI
• The top 5000 MNEs on average saw a 9% downward revision of 2020 earning estimates with the hardest-hit industries being
• Automotive (-44%)
• Airlines (-42%)
• Energy and basic materials (-13%)
Unemployment
India
• Unemployment rate went up to 27.1% in India in the first week of May, after hovering around 23.5% in April
• Small traders and wage labourers, especially daily wage earners, have been most affected
• The labour participation rate fell from 42.96% in January to 41.9% in March due to a sharp nine million fall in the labour force
• Number of farmers increased by six million in the month of April (+5% spike) as people resort to agriculture-based livelihood
USA
• Unemployment rate rose to 16% from 4.4% in the first week of May in comparison with April; This is the highest-ever recorded rate of unemployment in American history
• Over 22 million Americans filed for unemployment in April
• The actual number of unemployed people is expected to be much higher, but the data is unclear at the moment
• Small businesses, hotels, restaurants and retailers have suffered the most
China
• In February, when the virus was at its peak in China, unemployment reached 6.2%
• It went down to 5.9% in March; only accounting for the country's 442 million urban workers while excluding about 300 million migrant workers
• Chinese unemployment rate is projected to hit 10% by the end of this year, according to Economist Intelligence Unit (EIU)
• Most of the unemployment will be in the private sector; especially in services and export
Hong Kong
Hong Kong's unemployment rate continues to rise in the last six months as it reaches 4.2%; this is the highest in more than a decade
• Consumption and tourism-related industries hit a 6.8% rate; unemployment in the construction sector rose to 8.5%
• The International Monetary Fund (IMF) has forecasted that the unemployment rate will go up to 4.5% by the end of the year
Policy measures to counter COVID-19
USA
US$ 484 billion (approx HK$ 3.7 trillion) allocated towards
• Additional forgivable Small Business Administration loans and guarantees to help small businesses that retain workers (US$ 310 billion; approx HK$ 2.4 trillion)
• Provide grants to assist small businesses (US$ 60 billion; approx HK$ 465 billion)
• Expanding virus testing (US$ 25 billion; approx HK$ 194 billion)
US$ 2.3 trillion (approx HK$ 17.8 trillion) allocated towards
• One-time tax rebates to individuals (US$ 250 billion; approx HK$ 1.9 trillion)
• Expanding unemployment benefits (US$ 250 billion; approx HK$ 1.9 trillion)
• Food safety net for the most vulnerable (US$ 24 billion; approx HK$ 186 billion)
• Preventing corporate bankruptcy by providing loans, guarantees and backstopping Federal Reserves (US$ 510 billion; approx HK$ 3.9 trillion)
• Hospitals (US$ 100 billion; approx HK$ 775 billion)
• Transfers to state and local governments (US$ 150 billion; approx HK$ 1.1 trillion)
• International assistance (US$ 49.9 billion; approx HK$ 386 billion)
US$ 8.3 billion (approx HK$ 64.3 billion) + US$ 192 billion (approx HK$ 1.4 trillion)
• Virus testing
• Transfers to states for Medicaid funding
• Development of vaccines, therapeutics and diagnostics
• Support for Centres for Disease Control and Prevention responses
• Two weeks paid sick leave
• Up to three months' emergency leave for those infected (2/3 pay)
• Food assistance
• Transfers to states to fund and expand the unemployment insurance policies
• Expansion of Small Business Administration loan subsidies
India
Stimulus package worth US$ 22.5 billion (approx HK$ 174 billion) focusing on
• Food security measures
• Direct cash transfer to low-income households
• Food and cooking gas
• Insurance coverage for healthcare workers
• Wage support for low-income workers
Additional US$ 2 billion (approx HK$ 15.5 billion) for
• Health infrastructure such as testing facilities, PPE, ventilators, isolation and ICU beds
• Monetary respite to daily workers; several measures announced to ease tax burdens
China
Stimulus package worth US$ 370 billion (approx HK$ 2.8 trillion) focusing on
• Increased spending on epidemic prevention and control
• Medical equipment
• Accelerated disbursement of unemployment insurance and extension to migrant workers
• Tax relief and waived social security contributions
Hong Kong
Stimulus package of US$ 38 billion (approx HK$ 294 billion) focusing on
• Establishment of a new anti-epidemic fund (HK$ 30 billion)
• Tax and fee reliefs and other one-off relief measures (HK$ 79.5 billion)
• Cash payout to permanent residents above the age of 18 (HK$ 71 billion)
• Employment subsidy scheme (HK$ 80 billion)
• Sector-specific relief measures (HK$ 21billion)
• Temporary job creation (HK$ 6 billion)
Data sourced by: Einder Dhillon