Top 10 billionaires based on their net worth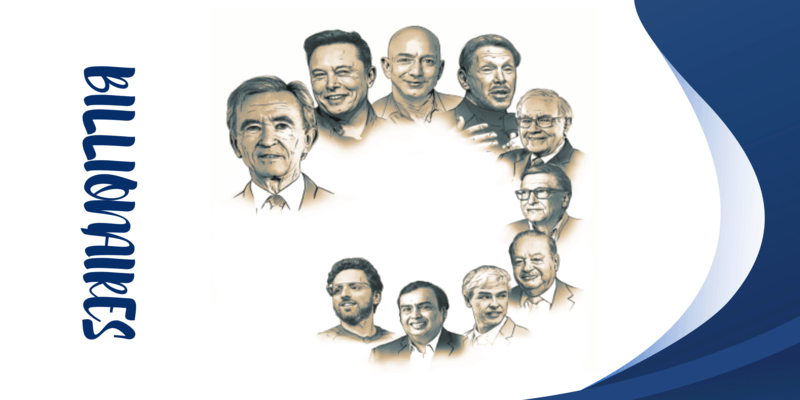 As compared to 2021, there are 87 fewer billionaires in the world as per Forbes' 36th annual ranking. Overall, there were 2,668 billionaires in 2022 who were worth US$ 12.7 trillion — US$ 400 billion less than the figure in 2021. While the ongoing war between Russia and Ukraine, the COVID-19 pandemic, and unpredictable markets played a vital role in the fluctuation of the finances of these billionaires, minting money for individuals and groups who are at the helm of sectors such as technology, e commerce, artificial intelligence, telecommunication, and Fast-Moving Consumer Good (FMCG), among others, was relatably easier as compared to others.
Interestingly, there were 34 fewer billionaires in Russia and 87 fewer in China than last year. At the same time, there are more than 1,000 billionaires who are richer than they were a year ago. America leads the pack with 735 billionaires who are collectively worth US$ 4.7 trillion, while China (Macau and Hong Kong included) is placed second with 607 billionaires who are collectively worth US$ 2.3 trillion. So, who are the top 10 richest people in the world? Read along to know more about the 10 richest people in the world on the basis of their real-time net worth (as of February 01, 2023). If you are looking for a role model, look no further. Draw inspiration from these billionaires who have left their footprints all over the world.
1. Bernard Arnault and Family, France
Real-time net worth: US$ 213.5 B
Bernard Jean Étienne Arnault is the chairman and CEO of LVMH Moët Hennessy – Louis Vuitton SE (LVMH). The LVMH group is the world's largest luxury goods company that houses brands such as Christian Dior, Louis Vuitton, Moët & Chandon, and Givenchy, among others. Recently, Arnault displaced Elon Musk as the world's richest man. In January 2021, LVMH acquired American jeweller Tiffany & Co for US$ 15.8 billion which is believed to be the biggest luxury brand acquisition ever.
2. Elon Musk, USA
Real-time net worth: US$ 178.3 B
Elon Reeve Musk is the co-founder and CEO of Tesla, Inc., the largest electric-car maker in the world. He is also the founder, CEO, and CTO of SpaceX — a space exploration company that aims at making space travel cheaper and easier. The market value of SpaceX has quadrupled in three years. Some of the other ventures that Musk co-founded include PayPal, Neuralink, OpenAI, and Zip2, among others. Recently, he acquired Twitter for US$ 44 billion. However, with the platform not doing so well under his guidance, Musk shared that he will step down from the post of CEO as soon as he finds a suitable replacement.
3. Jeff Bezos, USA
Real-time net worth: US$ 126.3 B
Jeffrey Preston Bezos founded the multinational tech company Amazon.com, Inc. in 1994 out of his garage. From being an online bookstore to establishing itself as a force to reckon with in the e commerce industry, digital streaming, and cloud computing, Amazon is considered as one of the Big Five companies in the US. Bezos has made several charitable contributions to preserve the climate in the past. Last year, he donated more than US$ 400 million worth of stock to non-profits. He also shared that he will give away the majority of his wealth in his lifetime.
4. Larry Ellison, USA
Real-time net worth: US$ 111.9 B
Lawrence Joseph Ellison is the co-founder, chairman, and CTO of Oracle Corporation. Along with two partners, he founded the company in 1977 and called it Software Development Laboratories (SDL). Two years later, the company was renamed Relational Software Inc., before it officially became Oracle Systems Corporation in 1983. It was named after Ellison's initial database, 'Oracle' that he created for the Central Intelligence Agency (CIA). Ellison owns about 15 million shares in Tesla.
5. Warren Buffett, USA
Real-time net worth: US$ 108.5 B
Warren Edward Buffett, popularly known as the Oracle of Omaha, is the chairman and CEO of Berkshire Hathaway which is one of the largest holding companies in the world. Buffett developed an interest in business at a very young age and went on to become an investor when he was just 11-years-old. By the age of 13, he was paying his taxes. No wonder he is regarded as one of the most successful investors in the world. A philanthropist, he started The Giving Pledge initiative along with Bill Gates in 2009, where billionaires were encouraged to pledge half of their wealth towards humanitarian causes. So far, he has given more than US$ 49 billion, mostly to the Gates Foundation and his kids' foundations.
6. Bill Gates, USA
Real-time net worth: US$ 104.5 B
William Henry Gates III or popularly known as Bill Gates is the co-founder of the multinational tech company Microsoft Corporation (one of the Big Five companies). Known for revolutionising the world of technology with advanced computer software, Gates held several positions during his tenure. From chairman, CEO, president, and chief software architect to being the largest individual shareholder, he formed the core of the organisation. In 2020, he stepped down from his board position to shift his focus towards his humanitarian causes. He founded the Bill & Melinda Gates Foundation in 2000 and it is touted to be the world's largest private charity. So far, Gates has donated more than US$ 59 billion to the Gates Foundation.
7. Carlos Slim Helú and family, Mexico
Real-time net worth: US$ 91.7 B
Carlos and his family control Latin America's biggest mobile telecom firm América Móvil. Carlos owns stakes in Mexican construction, consumer goods, mining, and real estate companies. He was ranked the richest person in the world by Forbes (2010-2013). The business magnate, investor, and philanthropist's net worth is equivalent to about 6% of Mexico's gross domestic product and accounts for 40% of the listings on the Mexican Stock Exchange.
8. Larry Page, USA
Real-time net worth: US$ 85.8 B
Lawrence Edward Page is the co-founder and board member of Google (one of the Big Five companies). He is also the co-creator and namesake of PageRank — an algorithm which ranks web pages in the search engine. Page has been CEO of Google from 1997 to 2001 and 2011-2015. After that, he became the CEO of Alphabet Inc., Google's parent company, and held the post until 2019. Pursuing his passion, Page has been an investor in several companies. One such company is a space exploration company, Planetary Resources, which is breaking ground in space exploration.
9. Mukesh Ambani, India
Real-time net worth: US$ 83.7 B
Mukesh Dhirubhai Ambani is the chairman and managing director of India's most valuable company by market value, Reliance Industries Limited. Primarily based in the energy sector, the group is now diversifying in the telecom, retail, and finance industry, with plans aligned for the next decade as well. During the pandemic, Ambani's JIO saw an investment spree, with funds adding up to US$ 20 billion from investors such as Facebook and Google. At present, JIO has more than 420 million subscribers. Ambani is highly respected for his humility.
10. Sergey Brin, USA
Real-time net worth: US$ 82.2 B
Sergey Mikhaylovich Brin is the co-founder and board member of Google. Brin co-founded the tech company with Larry Page in 1998 while they were pursuing their PhD at Stanford University. They both are still working together at Google.org and are trying to solve Earth's climate problems and find alternate sources of energy. Brin is an expert in data mining, which is an important base of the algorithm for their search engine. As per reports, he is currently funding a high-tech airship project.