Why and how should couples discuss their finances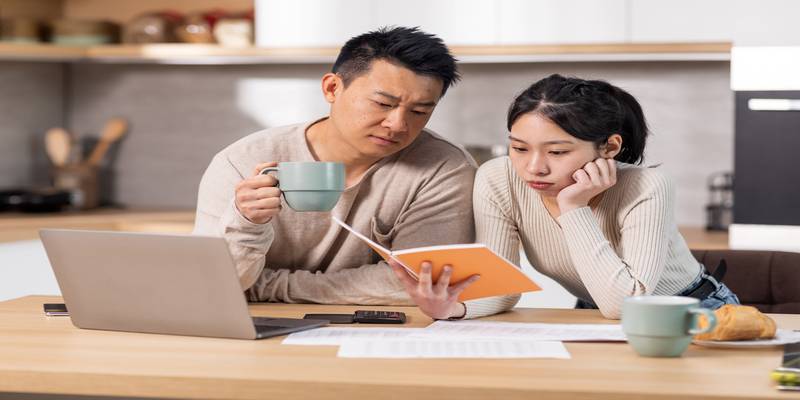 When you are in a serious relationship, you form a bond not just with your partner, but also with their family, friends, pets, and finances. When as a couple you share a home, life, and all the responsibilities that come with it, maintaining your finances separately and not discussing them can be problematic in the long run. While couples often discuss and share every aspect of their lives, money is slowly becoming a taboo. Understandably, talking about debts, investments and financial goals is not as exciting as talking about plans for the weekend or where to go on a vacation, but it is unquestionably crucial.
A person's relationship with money starts to develop way before they earn their first paycheck or go on their first date. One's family background, financial background, and financial education play an important role in developing behaviours and values around money. Since everyone comes from a different place in life, it is highly unlikely that both partners will have the same financial values and behaviours. These are hard to conceal and will eventually show up before the significant other. Discussing the financials helps the couple strengthen their bond and be aware of the rationale behind each other's behaviours around money in a better fashion.
Imagine a couple where one partner enjoys taking luxurious vacations and spends with an open heart while travelling. On the other hand, the other partner tries to save money by backpacking places. You can notice two different value sets in this scenario. Not discussing these differences and not reaching a middle ground will become a bone of contention for this couple. The idea that opposites attract does not work when it comes to money matters.
Apart from financial values, when couples deliberate with their significant other about the current financial situation which includes salaries, debts, and short-term and long-term goals, they develop transparency and trust in the relationship. Couples who honestly and frequently have such dialogues are likely to develop a deeper level of understanding and are often more accommodating with each other. It helps in interpreting each other's decisions and being more supportive and compromising as well if needed. All in all, these conversations are likely to reduce quarrels and stress between couples and pave the way for a harmonious life.
Types of conversations around money
Conversations around finance do not usually happen organically and they don't need to happen daily but they do need to be planned at regular intervals. It allows both partners to discuss their earnings, and expenses and align their financial goals. This is the only recipe to keep conflicts at bay. And the right time to do this is early on in a relationship. If the discussions take place after several arguments have already taken place, it's already late. But, then again, better late than never.

To get things started, here are three types of conversations that you and your partner should be having:
Current situation and debts
The first and most important thing to do when you start to walk each other through your finances is to disclose your current standing. This means opening up about your current salaries, saving schemes, debts and EMIs, spending habits, and priorities. When you get clarity on each other's current situation, sharing responsibilities and developing a future plan becomes substantially easy. When you begin to discuss money, it is not important to be debt-free or perfect, it is only important to be honest and on the same page. If that's taken care of, you are sure shot on a path to a loving and balanced relationship.
Money goals
We all have goals when it comes to our finances, some of us want to spend along the way and live a life of luxuries, some of us want to retire early, while some of us save religiously for a home or a car or a business. In a relationship, conveying your goals, both short and long-term is the key. It might turn out that you both have common goals and working together to fulfil them will save you time and money. Knowing each other's financial goals and priorities will help you support each other when you start combining finances and responsibilities. Your goals don't need to overlap but then you need to be willing to make adjustments and reach a middle ground that keeps you both financially and emotionally fulfilled.
Combining finances 
When you step into a relationship, believe it or not, even if you don't combine your finances, your partner's finances will impact you. You will also have to cater for shared responsibilities like groceries, house rent, or a child which becomes easier when you start combining finances. There is no right way to combine your finances, you can either have a joint account or run your own accounts and divide responsibilities. What is really important is to have a joint decision-making power shared equally by both partners.
Making decisions like how much money to pool in for shared experiences and liabilities, who pays for what, and individual and joint budgets help you stay financially secure and in control. Good planning will ensure that sudden financial surprises or expenses can be handled better by you and your partner, as a couple. Also, make it a point to review your savings, goals, and expenditures with changing levels of income and responsibilities. If you do so every now and then, you will remain at peace and always on top of your financial game.
All these conversations will help you achieve goals that impact both of you, as a couple, be it saving for that new house, new car, your child's education or that trip to Italy. It will also help you remain transparent and accountable to each other and build a relationship which is financially secure and emotionally strong. Initiating heart-to-hearts around money early on in the relationship paves way for trust and answerability between couples. As the relationship grows, so does the maturity and sensibility to handle finances and the chances of abrupt and unpleasant financial experiences reduce. It is just one way to ensure a bond that is tight-knit.
Ingredients to instil financial harmony and compatibility
When you, as a couple, sit down and start discussing finances, always remember that being in a relationship is like being in a team. Whatever you do, individually and together, will impact you both in one way or the other. If your partner impulsively blows up a month's salary on a tech gadget, you will probably end up catering to all shared expenses of the house for that month. So while you make financial decisions and plans, it is very important to be considerate towards both partners and treat the goals and ambitions of both individuals as equally important. When you do this, you instil mutual respect and consideration in the relationship and make it healthier. Let's have a look at some things you must consider while having a financial chit-chat.
Equality
You and your partner are two equals in a relationship and needless to say, you both should have equal power and say in the financial decisions you make. Several couples may find an imbalance in their relationship because the partner who earns more believes that they have a greater say in the financial decision. Such imbalance can invoke feelings of fear, inadequacy, and dependence which will ultimately cause heart burns and resentment. It is very important to acknowledge such imbalance and equalise it and come to a middle ground.
Team game
When it comes to money matters, no partner has the option to back out. No matter how much you hate accounting or budgeting, you can not throw your partner under the bus, you need to be equally accountable for your finances. Both of you need to work as a team to come to a conclusion and finalise a decision. If one partner backs out of making financial decisions, making all choices can really stress out the partner. It puts the onus of all risks on a single person which can result in a lot of hasty and ill-considered judgments. When all decision-making power is shifted to a single partner, the blame games begin and indignation sets in, instead of trust.
Independence
When we say discuss and share your finances, that does not mean you give up your financial independence and stop taking independent decisions. Apart from how you've decided to share your expenses and responsibilities, you should always have the right to make your personal money decisions. You should always ensure that you have the resources to make your own purchases without being accountable. You must maintain your financial independence while being in financial synergy with your partner. Just be transparent!
Practical thinking
When you and your partner chalk out a plan, it should take into consideration both your financial values and habits. If it requires major changes in a person's habits or values, it won't be sustainable for long. Any financial conversation should result in ideas that can last long and can be easily followed by both. This will ensure that no one digresses or acts out, thereby preventing displeasure and conflicts. Practical thinking would also involve keeping in mind changes in incomes, expenditures, and lifestyle. You need to review your plans every once in a while to ensure that they still serve you well, if the answer is a clear no, be ready to alter them.

A little pro tip, both partners should be willing to adjust and meet each other halfway and only then a practical and sustainable plan can be achieved.
The mantra for a successful financial talk is 'take it easy, listen carefully, and never shame'. When you and your partner talk about finances, be very patient and respectful towards each other's values and priorities and be ready to walk a distance and come to a middle ground. Never assume yourself to be 100% right, just be considerate towards each other's thoughts and needs and you'll surely blossom, emotionally and financially!
So yes, while we all agree that money may be a tricky topic and not everyone may be comfortable talking about it, we also agree that success lies outside of the comfort zone. Go ahead and take those tiny steps towards discussing finances with your partner. Remember, always approach these conversations optimistically – when two people talk, there are double the ideas and double the solutions, so harness the wisdom of the two and make your bank balance and relationship stronger.