The Russian Doll that houses multiple creative outlets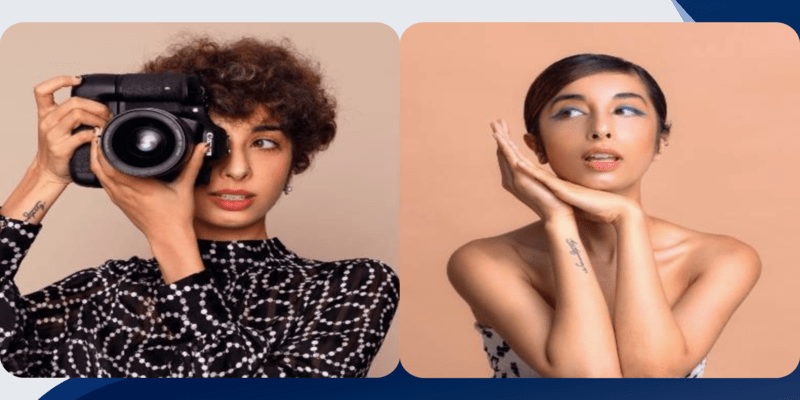 Executing multiple roles can be tiresome for many, but for this visionary who has gone on to accomplish a name for herself in the creative sphere, it's child's play. What makes Aanchal Wadhwani stand out from the crowd is that she has mastered all the trades that she became a part of. If you are looking for a success mantra to follow in her footsteps, get to know more about her in this freewheeling chat.
Tell us about yourself?
I describe myself as a creator because there are too many things in the creative space that I am involved in. Technically, I am a full-time photographer and I have my own studio. At the same time, I lead a team of individuals that do videos, art direction, graphic design, animation, illustration, website… basically, anything visual. Apart from this, I am also a co-founder at the Academy of Design where we teach short courses in English and Cantonese. I am also a co-founder at STAGE Management where we represent models and upcoming talents across diverse groups. What makes us unique is that we are looking to recruit not just actors but voice artists, dancers, singers and athletes as well. We want to create a platform where people from different ethnicities, body types, hair textures… basically, anyone and everyone can be represented. The list doesn't end just yet… I am an actor also. So one can see me both on-screen as well as off-screen.
You have been a part of Hong Kong TV shows. How was the experience?
I have done a few roles in the past but I am very mindful of the characters I choose. I care about how ethnic minorities are represented on screen and I don't want to contribute to the negative stigma in any way. For instance, I was once asked to perform as a gangster. I won't mention the TV channel but the role revolved around kidnapping a girl and being a part of a gangster group. Just because I have short hair and tattoos, doesn't mean that I would be comfortable playing such a role. On the contrary, I would have been okay if I had to play the girl who was to be kidnapped. Talking about positive roles, I play one of the main characters in DBS Sparks. I am one of the bankers and we are currently on the second season of the mini-series.
Tell us more about your role in the series.
All the characters are quite interesting. It is not a straightforward show with a monotonous storyline about bankers. You'll get to know more about different characters and the problems that we solve on the show are based on real-life clients' issues. If you have ever watched Suits, then DBS Sparks is the banking version of the series. There are a few episodes that focus on women's rights, empowerment and equality. We even had former India cricketer Sachin Tendulkar in one of the episodes. It has been a fruitful experience and I can just say that we are in talks for another season.
What genre do you like watching the most?
I like watching serial-killer documentaries. I am intrigued to know more about the psyche of those who resort to violence and drugs. Recently, I have been watching a lot of anime but those are also crime-thrillers. My all-time favourite anime is a Japanese series, Death Note. I also like Avatar: The Last Airbender.
How did you end up being a part of this industry?
I have a tattoo that says 'serendipity' which means the occurrence of events by chance in a beneficial way. So far, I never planned anything until it became a part of my existence. My dream was to become a fashion designer and I did my education in the same field. I started working in a jewellery business called Matryoshka. I was then asked by my friends to be a part of this modelling assignment as they thought I would be able to pose well in front of the camera. That's how it all started… I was doing a jewellery business but I didn't have a marketing budget because I was 16, so I ended up taking my photos and editing them using photoshop and luckily, was approached by a modelling agency.
While working with the models, I would click on their pictures and they really liked it. That's how I got into photography… so it has been a journey where I followed my instinct and one thing led to the other. Also, I chose photography over design because of my personality as I don't want to be confined in a box. I want to break the shackles and keep doing something from the ordinary. Photography provided the outlet that I needed to explore my creative side.
What does photography mean to you?
Different people like to do things differently and with photography, there are many elements. Some people like to explore the technical side like how the camera works or understand the rules of photography. For me, I like the creative process. I want to express myself and the moments that are captured. The technical aspect is equally important but for me, that's secondary.
While executing multiple roles, what are the challenges you face?
As an actor, I am interested in understanding the psychological aspect of the character I am portraying. When I get a script, I reflect on how I would respond if I was in a similar situation. When you are doing a scene with someone else, there are a lot of re-takes so you learn how to control your emotions or how to time your dialogue delivery. For instance, I had to do a crying scene once and had to prepare myself for it. One second I was normal, happy, my usual self and in the next, I had to cry. At that moment you are not even sad or depressed but you train yourself to think about sad things so that you can cry and execute the role. Another way is to keep your eyes open and wait till it starts dripping. Thankfully, it went well.
I have a horrid memory and because of that, it takes me a long time to memorise the script. To master the technique of learning key points and then being able to improvise in a way that it is true to that character is an ongoing process for me. Shooting commercials is very different as it requires some level of artistic sense to integrate the marketing director's vision to sell the product and at the same time, make it interesting for someone to watch. While modelling, you are not playing that big a role or have to exhibit too many emotions. It is more of a physical exercise because you have to move your body and understand where the lights are coming from and what angles would make you look better. As a photographer, it is now behind the camera and not in front of it. So the equation completely changes.
What's your advice to youngsters?
If you are interested in doing something creative, it has to come straight from the heart. Don't do anything that you are not interested in or are forced. Ups and downs are a part of the process. The only way you become successful is by letting your passion drive you. This is coming from someone who is in an industry that is dominated by men. I have always been told that being a woman I won't be able to do certain things… can you carry a camera? Do you know anything about lighting? As an actor and that too from a minority background, I am still able to execute my skills and act in Hong Kong-based serials. Don't let anyone dictate what you can and what you can't. Just follow your gut and don't let anything or anyone stop your progress.
You identify yourself with Matryoshka, what's that about?
Matryoshka is a Russian word which means 'little matron'. It is basically a set of wooden dolls of decreasing sizes placed one inside the other. When I started the jewellery business, I looked online for names and that's when I came across this word. When I saw the meaning of the word, I felt like a big doll and inside me, there were other forms of creativity nesting. When I turned 20, I got three of the dolls tattooed on my back. The middle is dedicated to my grandmom (Om), the one on the left is for my mother (symbol of life) and on the right is for my sister (symbol of dreams). Three is my lucky number and these three women are integral to my life. I retained the word even when I switched to another profession because of the connection.
What are your future plans?
I want to travel around Asia. I am not keen on exploring the West. I want to explore more in India and even have some projects lined up but they have been deferred due to the pandemic.