Brookies (Cookie Brownies)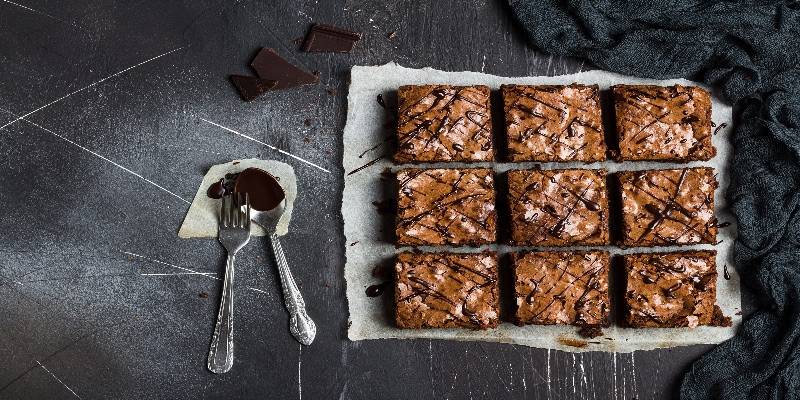 Baking temperature: 180 degrees Celsius

Baking time: 35-40 minutes or until a toothpick comes out clean

Preparation: Grease a 12" X 12" square pan with butter and line it with parchment paper. This is good for around 20 medium-sized brookies. Best when served warm with vanilla ice cream and chocolate sauce.
Chocolate Chip Cookie Dough Recipe
Ingredients:
Softened butter: 75 gms
Brown sugar: 65 gms
Castor sugar: 50 gms
Vanilla essence: 1 teaspoon
1 egg
Baking powder: 1 teaspoon
Flour: 175 gms
Dark chocolate chips: 175 gms
Method:
1. Whisk together the softened butter, brown sugar, castor sugar and vanilla essence till the batter gets soft and fluffy
2. Break the egg in and whisk
3. Sift the baking powder and flour. Fold it into the mixture with a spatula
4. Cling wrap and refrigerate the dough for at least two hours
Brownies Recipe
Ingredients:
Butter: 250 gms
Melted chocolate: 140 gms
Chocolate chips: 100 gms
Eggs: 200 gms
Sugar: 300 gms
Flour: 120 gms
Hazelnuts: 150 gms
Method:
1. Whisk eggs and sugar together until the sugar is dissolved
2. Melt butter and chocolate together. Once melted, fold it in the eggs and sugar mixture with a spatula
3. Add the sifted flour in the batter and fold it in with a spatula
4. Lastly, fold in the chocolate chips
5. Do not over mix
Baking Method:
1. Pour the brownie batter in the lined pan
2. Scoop out the cookie dough over the brownie batter
3. Bake at 180 degree Celsius for 35-40 minutes or till a toothpick comes out clean
4. Once baked, let it cool in the tin and then cut into squares before you serve