Besan Barfi (Mysore Pak)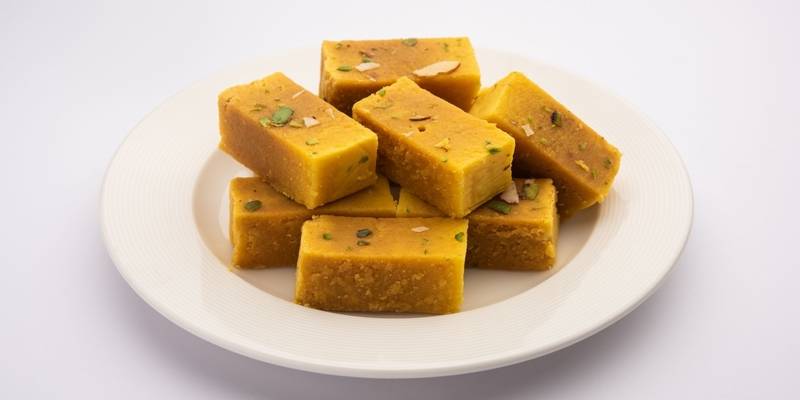 Ingredients:
1/2 cup gram flour (besan/chickpea flour) 
1.5 cups sugar
1.25 cups ghee
1 cup water
1 tablespoon crystal sugar (optional for dressing)
Measurement: 1 cup = 250ml
Method:
Sieve the gram flour to get a smooth texture without any lumps. Melt the ghee and keep it ready on the side. You can also add one cup of ghee and 1/4 cup vegetable oil instead of using just ghee. Take a cup of water in a heavy-bottomed pan, add sugar to it and heat it. Stir the mix continuously till you get a sugar syrup of a single thread-like consistency, i.e. when we rub a drop of the syrup between our thumb and index finger, it should form a single thread. Keep the flame on medium when the syrup is nearly ready. Use a whisk or spatula to slowly add the now sieved gram flour to the syrup; keep stirring to ensure that the flour is mixed nicely and doesn't form any lumps.
Once the flour is mixed completely, add three tablespoons of melted ghee to it and stir till the ghee is fully absorbed. It is important to stir slowly and continuously to make sure that the ghee mixes nicely, that is, when you can no longer see any layer of the ghee standing separately from the flour and syrup mixture. Add the next batch of ghee (three tablespoons). Follow the previous instructions of continuously mixing and stirring till no separate layer can be seen.
Continue to add ghee in batches of three tablespoons till all the ghee is finished and mixed nicely into the gram flour syrup. Continue stirring; you will see that the Mysore Pak mixture will thicken and start leaving the edges of the pan. The mixture will become slightly pale and give out a nice aroma of ghee and cooked besan. You will also be able to see froth all over the mixture. The Mysore Pak mixture rolls like a ball and doesn't stick on the sides of the pan. This is the right consistency to remove it from the flame.
Add the mixture to the greased box and spread the contents evenly; gently pat to smoothen it out. Allow the Mysore Pak to cool off a little. When they are slightly warm, take a plate and place the box upside down so that it gently falls as a bar. Sprinkle sugar on top of it for dressing. Cut the Mysore Pak mixture into square/diamond/rectangle shapes using a knife. Now the delicious, mouth-watering Mysore Pak is ready to be served.
Article by: Polly BK