Prawn Sliders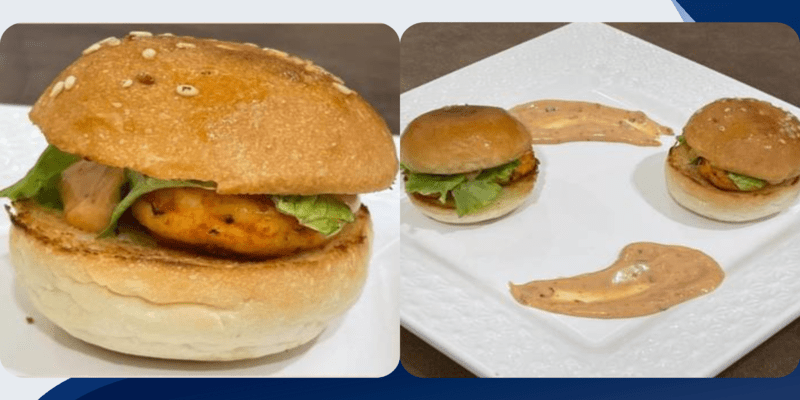 10-12 dinner rolls or mini burger buns
220 grams prawns
Some roughly torn lettuce
For prawn marination
Ingredients:
1/2 tablespoon salt
1 tablespoon cumin powder
1 tablespoon paprika
1/2 tablespoon red chilli flakes
1/2 tablespoon oregano
1 tablespoon garlic powder
2 tablespoons butter
1/2 lemon
1 tablespoon garlic (finely chopped)
Method:
In a bowl, add prawns and marinate them with salt, cumin powder, paprika powder, red chilli flakes, oregano, garlic powder, and the juice of half a lemon. In a non-stick pan, add butter and finely chopped garlic. Sauté it lightly. Add the marinated prawns to the pan. Cook for a minute and then flip them over to cook on the other side. Turn off the flame once cooked.
For Chilli mayonnaise dip
Ingredients:
8 tablespoons mayonnaise
2 tablespoons ketchup
1 tablespoon chilli powder
1 tablespoon chilli flakes
A pinch of salt
A dash of lemon
Method:
In a bowl, add mayonnaise, ketchup, chilli powder, chilli flakes, a pinch of salt, and a dash of lemon and mix it up.
To assemble:
Cut the dinner rolls or mini burger buns in half. Toast the bun in some butter. Take one-half of the roll or bun and top it with roughly chopped lettuce and three-four pieces of prawns. Top it with chilli mayonnaise and then cover it with the other half of the roll or bun. Your dish is ready to be served with some chilli mayonnaise dip.