Carrot Cake with Cream Cheese Frosting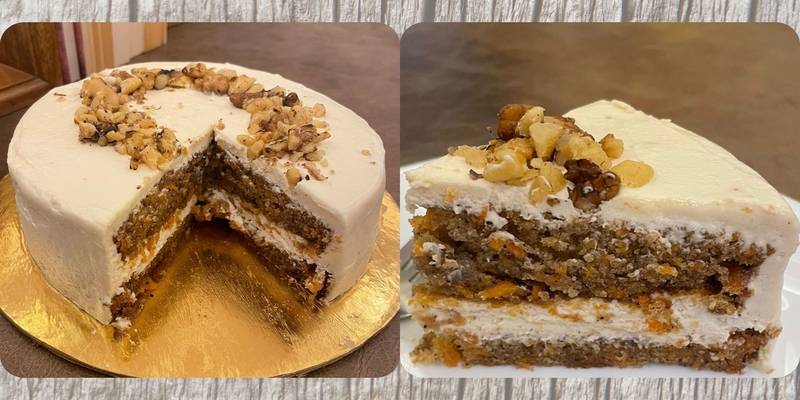 Carrot cake:
158 grams grated carrots
120 grams flour
130 ml vegetable oil
170 grams castor sugar
4 grams cinnamon powder
4 grams baking soda
85 grams eggs
1 gram salt 
Roasted walnuts/pecan nuts to decorate (optional)
Cream cheese frosting:
224 grams cream cheese
360 grams icing sugar (sifted)
115 grams butter 
1 teaspoon vanilla extract
Method:
Preheat the oven for 10 minutes at 160 degrees Celsius. Mix vegetable oil, flour baking soda, sugar, eggs, salt, and ground cinnamon for five minutes. Add grated carrots to the mix. Do not over mix. Pour the batter into the two round-lined cake tins, equally. Bake for 45 minutes or till a skewer comes out clean. Allow the cake to cool for 10 minutes in the tin before removing and placing it on a cool rack. In a medium-sized bowl, beat cream cheese, butter, and vanilla extract until soft and fluffy. Gradually add icing sugar and beat continuously after each addition to create a smooth and creamy frosting. Cover and refrigerate for two to three hours before using. Once the cake is cooled, layer the cake with cream cheese frosting and decorate with some roasted walnuts/pecan nuts.