Mughlai Mutton Korma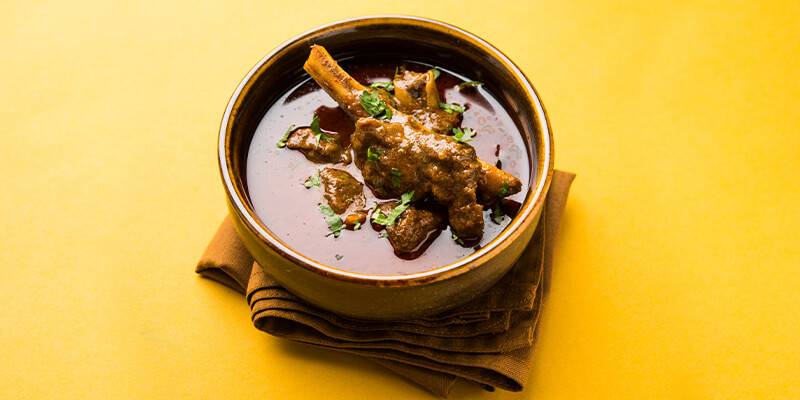 Ingredients:
Mutton marination
1 kg mutton
Salt as per taste
2 tablespoons ginger paste
2 tablespoons garlic paste
1 tablespoon turmeric powder
Garam masala
1 bay leaf
1.5 tablespoons cumin powder
2 cinnamon sticks
2 black cardamoms
5 cloves
10 peppercorns
2 black cardamoms
8 cardamoms
1-2 tablespoons red chilli powder (as per taste)
8-10 cashews
Mutton curry
3/4 cup oil or ghee (pro tip: ghee gives a rich taste)
3 cups of fried onions
2 teaspoons of cumin powder
2 teaspoons of Kashmiri chilli powder
1-2 cups of curd
1 teaspoon saffron (optional)
Salt as per taste
chopped coriander for garnish
How to make the paste
For an authentic Mughlai taste and to add that pizzazz to your dish, start by roasting all the whole spices and cashew nuts in a pan until they are crisp and fragrant. Then, take the spices off the heat and mix them in a blender with two to four tablespoons of water to make a thick paste.
Preparation for curry
In a large wok, add 3/4 cup of oil or ghee (I would personally recommend ghee as it gives a rich taste and helps extract the juices of mutton from its bones) and add one kg of mutton on medium heat. Once this is done, quickly add the ginger and garlic paste, along with some salt for seasoning, to marinate the mutton on high heat for eight to 10 minutes.
Next, add the fried onions to the wok and give it a good stir. Add two tablespoons of water if the mutton pieces are sticking to the surface and stir again. Next, add the ground garam masala to the mix and turn the heat back to medium. Now, you may add the curd, some Kashmiri chilli powder, turmeric powder, cumin powder and salt. Give it a good stir and fry the ingredients on high heat yet again for four to five minutes.
Add two to three cups of water and let the curry simmer on medium heat, by covering the wok with a large steel plate or foil, whichever is convenient until the mutton is tender and succulent. Make sure to let a small outlet be present for the steam to be released. Once prepared, add water-soaked saffron and chopped coriander leaves to the curry for garnish – as the Mughals say for the "zaika". Serve hot with any bread of your choice.