It may not glitter, but silver surely is the statement maker!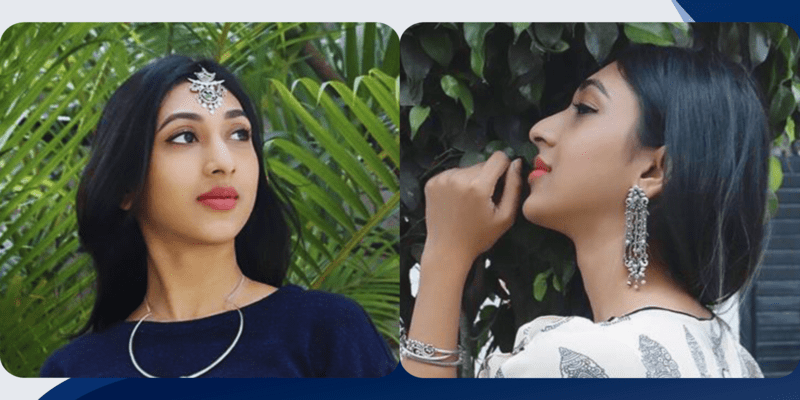 If there's one piece of jewellery that's an absolute certainty in any woman's closet then it has to be those silver ornaments that can be teamed up with almost any outfit. These ornaments not only complement most natural skin tones but also give a classy appeal and are low maintenance. While it may not glitter like gold but it surely has its advantages when it comes to styling and pocket-friendly budgets. As far as individual preference is concerned, I am more inclined towards silver ornaments as they are easier to maintain and provide minimalistic exposure sans the bling. Here are three styling techniques that are easy to implement and will give you instant results that you seek.
DIY 1
The earrings and the necklace have beautiful mirror work that will complement any Indo-western outfit. If you don't wish to adorn them the conventional way, then you can mix and match to break the monotony. I sported one earring as a maang tikka (head accessory), a bracelet as an anklet along with the necklace. The jewellery was styled with a jumper and an Indigo-dyed skirt. This look is one of my personal favourites as it creates organised fusion and is aesthetically sound.
Earrings and Necklace: Amrapali Jaipur; Cost: HK$ 400 (earring) and 600 (necklace); Outfit: Jumper (Westside store), Skirt (boutique) Cost: HK$ 100 (jumper) and 150 (skirt)
DIY 2
Chandelier earrings with multi-coloured stones might look heavy, but they are quite light. Whether you want to sport a casual look or want to dress up for a festive occasion, these earrings easily blend with the attire. I have put together a very simple look as I am wearing a black top with a skirt. The top can also be worn with pants of your choice to attain that chic look. If you want to accessorise a bit more, stack a few bangles and you are good to go.
Earrings and Bracelets: Amrapali Jaipur; Cost: HK$ 400 (each); Outfit: Black Top (Westside store), Skirt (W store); Cost: HK$ 100 and 250 (skirt)
DIY 3
One can never go wrong while wearing a classic pair of silver earrings. These earrings are versatile and the safest option whenever you are in doubt. If you have a checklist, then these will surely tick all the boxes as they are statement, traditional and yet so stylish. I wore them with a printed kaftan dress and a stack of bracelets and bangles. This look is again a modern fusion of traditional and contemporary.
Earrings and Bracelets: Amrapali Jaipur Cost: HK$ 400 (each) Outfit: Rutuja Pawar Cost: HK$ 450
Pro Tip: You can easily find interesting jewellery in local jewellery shops as well as designer shops, depending on your budget. The price varies on several factors such as quality, plating, intricacies, and ornamentation. Just don't forget to check the hallmark and the plating. Silver is mixed with other metals to make it tough. It has 92.5% of silver and 7.5% of other metals. Mostly, the jewellery piece will have 92.5 mentioned on it. However, sometimes brass and other metals are silver polished and sold as silver jewellery. So, make sure you buy it from trusted brands and check the ornaments before purchasing.
For maintenance, you should store your jewellery in a zip-lock all the time. Avoid using perfume on it and don't wear it in the shower or for a swim. Silver can get tarnished over time. But fret not, there's a solution to restore its appeal. While the obvious one is to give it to a jeweller, there are few household tricks that one can try. You can place the silver on an aluminium foil, sprinkle some baking soda and pour boiling water over it. My mom and I use toothpaste or dip it in a solution.
Photos and Styling: Maitreyee Malandkar and Shilel Gomes