Diwali – the Festival of Lights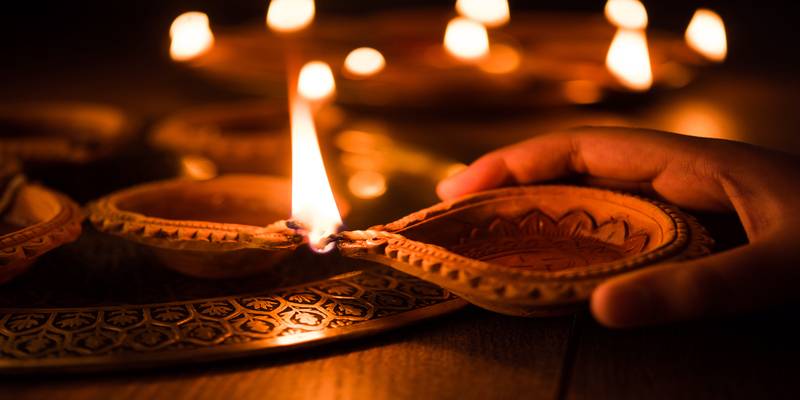 Diwali, also known as Deepavali, is a five-day-long Hindu festival that is celebrated with fervour by Indians all around the world. The Festival of Lights is observed during the Hindu lunar month (months of Kartika). Apart from the ebullience it brings, the festival integrates people from different cultural backgrounds and religion.
Origin and Interpretations
India, a nation known for its unity in diversity, faces skirmishes and tussles in the name of religion and community every now and then. Deepavali has played a major role in healing the wounds, gathering people and upholding the spirit of fraternity. In the northern region, the folklore of Lord Rama's return to Ayodhya after defeating the evil king Ravana, is what makes the festival a symbolic representation of victory of good over bad. The southern states, except Kerala, celebrate it as the day when Lord Krishna crushed the evil spirit Narakasura. In the east, the day is observed as Kali Puja – one of Goddess Durga's nine avatars. While the western region considers it as the first day of a new year.
From lighting diyas or lamps to bursting crackers; people cherish the nation's diversity through their own interpretations of the occasion. Owing to its immense popularity, the festival is not limited to India and is observed by other countries as well. Some of these include Nepal, Singapore, Malaysia, Sri Lanka, Thailand, and Indonesia, among others.
Observed Practices
Family members take turns to clean their houses and decorate them with flowers and lights. On the occasion of Dhanteras, it is considered very auspicious to buy something new. Dhan meaning wealth and Teras meaning thirteenth, denotes the thirteenth day of the dark fortnight of the Kartika month and the start of Diwali. Gold, kitchen utensils as well as electronic items are sold in abundance on this day. The second day is known as Naraka Chaturdashi or Chhoti Diwali and is observed by praying to Lord Krishna. The following day is when Diwali is celebrated. Offerings are made to Goddess Lakshmi –Goddess of Wealth, for financial stability as well as good health of family members. The entire nation comes to life as every nook and corner is radiating.
Bursting crackers is also a common tradition. While the pollution levels increase significantly, the belief behind this practice is that crackers kill the pests and flies that come along with the advent of monsoon. Govardhan Puja and Bhai Duj are celebrated on the next two days, respectively. Govardhan Puja is dedicated to spouses while Bhai Duj is for siblings. Diwali represents the triumph of good over evil, victory of light over darkness and knowledge over ignorance. While religion preaches peace and vanquishing of evil, on a similar note, Diwali promotes the ideology of eradication of evil.
Article by: Supriya Ramesh