Catalunya Calling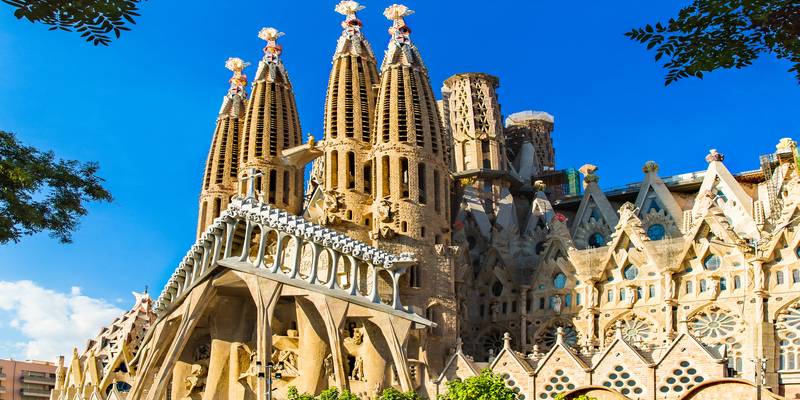 Setting foot in the historically rich and mesmerising city of Catalunya, one is almost automatically transformed into a traveller! Brimming with Art, Culture, History, Economy, Fashion and the marvellous architectural edifices designed by Antoni Gaudí, Barcelona, is undoubtedly one of Europe's favourite travel destinations. Working my way through some amazing European cities, I saved Barcelona for last, and, dessertfully so! The city is as vibrant as you could imagine it to be. With the onset of spring in September, the Mediterranean Sea cools down the city considerably, where the days are warm and evenings are nippy; thereby making it an ideal season for tourists. While the internet may land you up to date with all things Barcelona, covering all the famous landmarks such as Sagrada Familia, Barri Gotic, Park Guell, Montjuïc, Tibidabo, and Las Ramblas, among others; it is the warmth of Spain's culture that enlivens the city.
So here is what I drew from my experience of being in Barcelona for four glorious days, and yet days which fell short of giving me the whole taste of the city. Nonetheless, this article is an excerpt to follow for all those planning to chase their own experience of Barcelona. You can always explore the city on foot, especially with organised Walking Tours, however, with a city as big as this, I would personally recommend the bus tour as it helps in covering popular sites in the most economical and time-saving fashion. Flexible, as the name suggests, the Hop-on Hop-off bus allows you to get down at any stop of your choice, to explore the sight of your heart's desire. The double-decker buses can be easily spotted after every 10-15 minutes. The tickets for the same can be availed at the beginning at Catalunya Square; giving you access to hop on any of the city tour buses.
However, it is immanent to hold on to your tickets tightly. The city tour offers you two routes to take; East Route (Green) and the West Route (Orange) of the city, with a myriad of options via a day's worth ticket of 30 Euros or consecutively two days ticket worth 45 Euros to get a better view of the whole city. In addition to the convenience of travel, the bus also has an audio guide in 15 different languages, lucrative discount offers during peak seasons, and the best bait of all — free Wi-Fi! The two routes taken separately bring forth attention to some fan-crazy sights, for instance, the highlight of the Western Route for some is Camp Nou, while that of the Eastern Route is the world-famous Sagrada Familia.
Camp Nou
Mecca for football fans, the largest stadium in Europe is home to FC Barcelona. Safe to say that not just football fans, but everyone in general is awestruck at the magnanimity of the structure that has a capacity of more than 99,000. The stadium is designed beautifully, much like all of Barcelona. With superstars such as Lionel Messi, Antoine Griezmann, and Luis Suarez, among others, on showcase, the energy and adrenaline of those present here at any of the games are so palpable that it reverberates all through as the very heartbeat of Barcelona.
La Sagrada Familia
The only world-famous monument still under construction, The Basilica de la Sagrada Familia is an unfinished Roman Catholic Church that was Antoni Gaudi's last masterpiece. He dedicated the last years of his life into building the Minor Basilica brick by brick and the former Roman City honoured his life for all his contributions by burying him in the crypt of the church. Having sustained the aftermath of the Spanish Civil war and the havoc caused by the Catalan Anarchists, the monument was recorded to have been 70% complete in 2015 and will be completed by 2026.
To this day, the construction is moving along at a prominent speed in hopes of completing the sacred edifice by the centennial of Gaudi's demise. The UNESCO World Heritage site is the most visited monument in Barcelona. Although ticketed for tourist entry, there exists a leeway for those on a low budget. One can get inside the monument free of cost in the form of Sunday Public Mass. Be wary of your belongings as Sagrada Familia not just attracts attention to itself but also the wealth of the various travellers dazed at marvelling at the site and clicking photographs, thus, making it a hotspot for theft and snatching.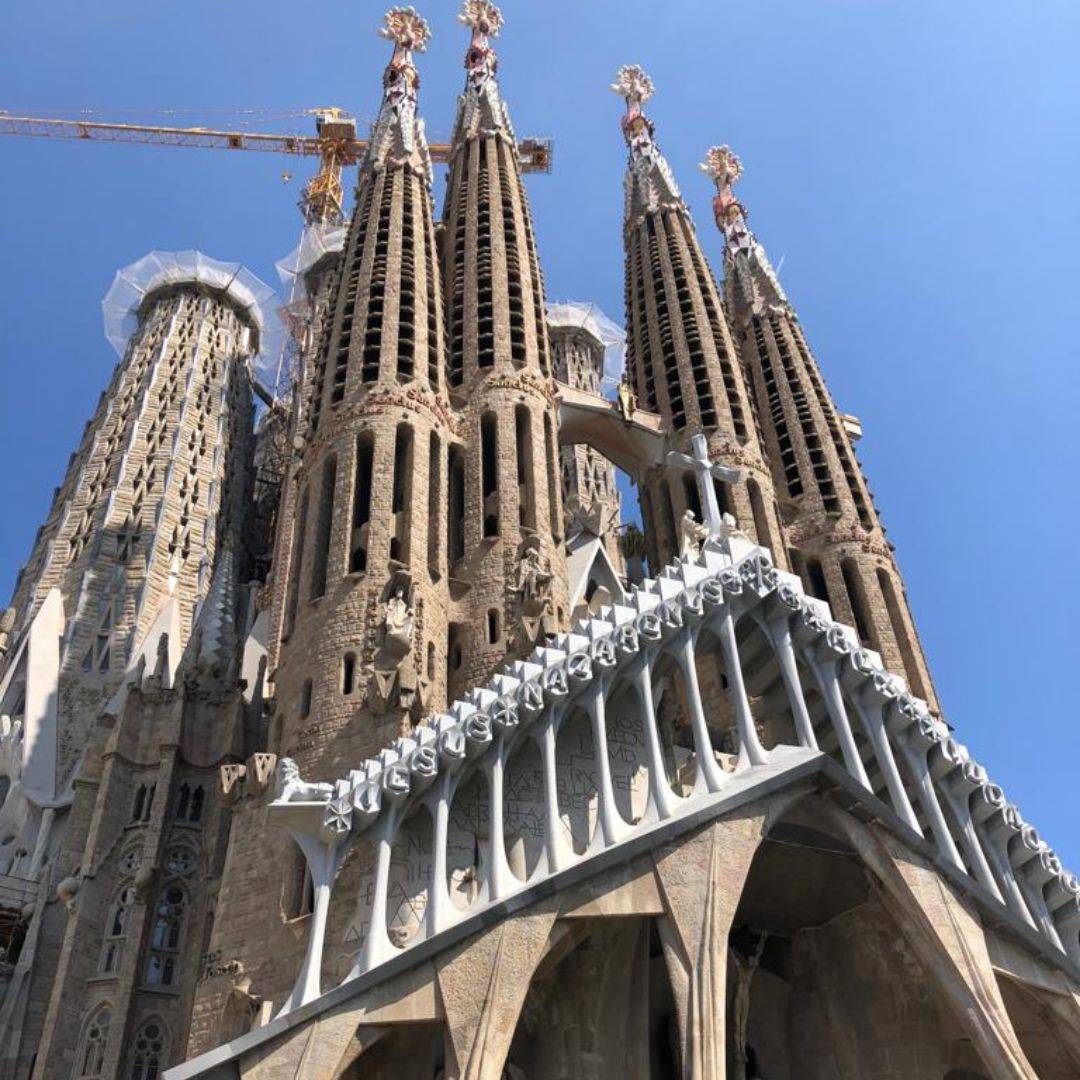 Just nearby the Basilica are Tossa, La Paradeta, and Bardeniel Meatbar; all eateries bustling with blissfully noisy, parched and hungry tourists. This brings us to a dear, component of Barcelona and life in general; Fooooood! A Spanish experience is incomplete without its finger-licking food and in particular, tapas! Small plates of food meant to be shared as bar snacks, and tapas, have established for themselves a widely celebrated genre today. As cheesy and millennial as it may sound, my number one task on the 'To Do in Barcelona list' had always been to try some of the delectable tapas in the city's popular resto-bars. Can't say that it truly lived up to the expectation, however, that was more to do with my taste palate than with the meaty tapas itself. In general, tapas is of myriad kinds and can range from anything such as a small portion of grilled prawns, selection of breads, olives and various types of meat.
The particularly meaty tapas sold street style in bars was something I was not a fan of, as the raw meat served with a little glaze on bread does not typically appeal to me. What I was blown away with were the sinfully good chicken croquettes served at the oldest and most popular tapas bar in Barcelona, Quimet & Quimet. Moving forth with my fork, I then dug into paellas from various restaurants and have to admit that the seafood paella served in almost all the restaurants has been lip-smacking! The much-hyped Spanish dishes such as tacos, quesadillas, paella, or croquetas, are worth every bit of the hype you hear, and with good reason, they have become exotic household dishes. To taste delicious tacos and quesadillas at reasonable prices, my recommendation to you would be the two famous chains — Taco Bell and Taco Alto. Taco Alto was simply a treasure to behold. A simple lunch of two pulled chicken tacos, two chicken quesadillas and one strawberry margarita, costs just € 10 (approx. HK$ 85).
Nightlife
Known for its mellow, temperately sunny and breezy beaches, Barcelona is an ideal vacation spot for couples as well as families. But as the sun goes down, Barcelona has an entirely different vibe altogether— one for all the singles in the house! The city's nightlife is worthy of a title in itself to rope in tourists from all around the world. Beginning from Port Olimpic where all the upscale bars are, the destination is packed with lots of glitterati dressed to their nines to enjoy the three B's — Breeze, Booze and Baila! Be sure to be appropriately dressed as beach-proof shorts and footwear simply won't grant you entry in places such as Opium, who take partying very seriously! For those who fancy the life of the rich and want to kick it up a notch higher on a yacht, Port Olimpic is also well known to host some ravishing boat parties, aka, The Booze Cruise, which is scheduled multiple times in a week, especially during summers.
While the company ensures that you have the time of your life ashore, they take responsibility for your after-party as well — giving an unforgettable taste of the city. If you wish to get more street in your approach to have a fun night out, then head to L' Eixample. Some amazing cocktail bars line up the coast near Central Square, or Placa de Catalunya as it is known. Belushi's Bar, Slow Barcelona, and Firebug are some of the options amongst the many bars to make your way through. Las Ramblas may not be your most obvious choice for nightlife, however, it does boast of some hidden gems such as Sugar and Flaherty's, which brings with it a British-Irish lineage; great for multi-lingual tourists looking to mingle. While all of this seems to be sublimely informative for any group of friends or singles to adhere to when travelling, what must a young adult do when travelling with family, especially with monetary restrictions and is time bound to enjoy the nightlife? The answer to that my friend is Pub Crawl!
The Barcelona Pub Crawl is an easy and fun way to get to experience the nightlife of the city in just € 20 (approx. HK$ 170). The pub crawl celebrates a wide audience in all of Europe and is a great way for tourists to get into clubs with free entries, have a round of free alcohol on the management and to meet interesting people from all walks of life! Seems to be a personal favourite for Indians, as I met many Indian tourists during the pub crawls in Prague, Vienna, and of course, Barcelona.
Shopping
Apart from astonishing architectural sights, sumptuous food, wild nightlife, and beautiful beaches; Barcelona is also a paradise for all you shoppers. Brands that ooze charm and luxury by their very names, such as Louis Vuitton, Burberry, Chanel, and Ermenegildo Zegna, among others, find themselves housed in Passeig de Gracia, for those who love to indulge in some high-end shopping. As you move closer towards the port, you will find thrift shopping to be easier here than in other parts of the city. Indigenous to the country, brands such as Zara, Massimo Dutti, Bershka, and Mango, have lucrative discounts and deals every week, making your shopping bags fuller by size and seem like a steal! If your soul isn't satisfied by all the malls, boutiques and stores that the city has to offer, then make your way towards a village dedicated to shopping alone called La Roca, which is two hours away by bus from Passeig de Gracia.
La Roca is a sleek boulevard consisting of high-end brand outlets such as Versace, Dolce and Gabbana, Karl Lagerfeld, Coach and other branded boutiques with perennial discounts, which by design are tax free for all non-European travellers! The charm of this village is elevated with curated food and beverage restaurants; Gelatos that pair well with your Guccis. All in all, Barcelona is too treasured a sight to behold in just four days. I am already fantasizing about planning my next extended vacation in Spain, where I can visit Barcelona for a longer period along with a day or two's trip to Costa Brava, a checkbox that remains to be ticked-off in my list.
Travel tip
Being a prominent economic hub, Barcelona faces an influx of immigrants of different nationalities and travellers throughout the year. Barcelona comes with some risky business in the form of pickpockets. Maintain caution while commuting via the metro and avoid travelling alone at night. Exercise necessary caution and your time here should be golden!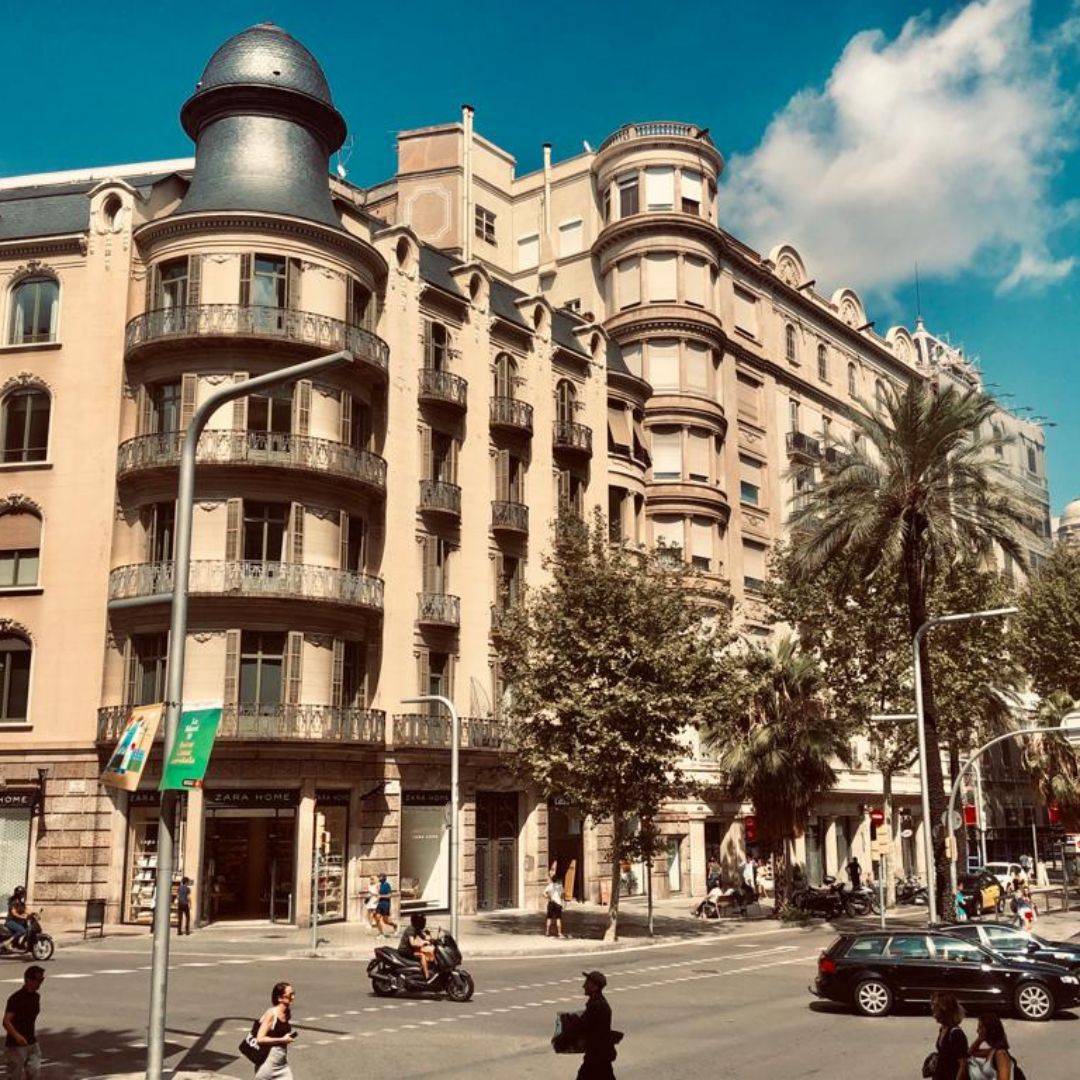 Photos by: Iushe Magoo