Sichuan Dan Dan Noodles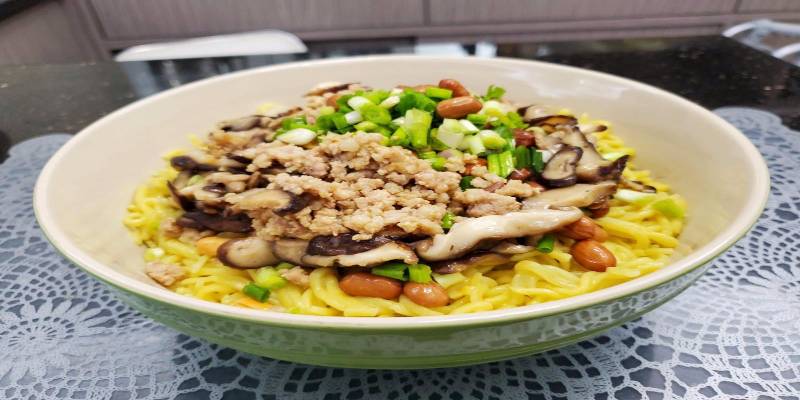 Sichuan dan dan noodles is a signature dish from the province of Sichuan. It is known for its flavoursome sauces and tenderness of the thick noodles. Here's how you can prepare this authentic Chinese cuisine at home.
Ingredients for Sauce:
Soy sauce: 1 tablespoon
Sesame paste: 1 tablespoon 
Chilli oil: 1 tablespoon
Black vinegar: 1/2 tablespoon 
Sugar: 1/2 tablespoon
Sichuan pepper powder (as per taste)
1 clove of minced garlic
Add these ingredients in this order and mix well.
Ingredients:
Peanuts (handful)
4 ounces of minced pork
1 tablespoon Shaoxing wine
1 tablespoon soy sauce
A pinch of Sichuan pepper powder
2 tablespoons Siu Mi Ya Cai (optional)
2 ounces Shanghai Bok choy
1/2 pound thick noodles
chopped scallion
Method:
Add four tablespoons of oil in a pan along with some peanuts in cold oil. Add four ounces of minced pork and cook until the peanuts turn golden-brown and the meat is tender. Put them aside in a clean bowl. Blanch two ounces of Shanghai bok choy in a pot. Keep it in a separate bowl once done. In the same pot, cook 1/2 pound of noodles for three minutes. You can take three tablespoons of noodle water and add in the pre-made sauce too. After another three minutes, drain the noodles with cold water. You can now plate the dan dan noodles in a new bowl, top it with remaining ingredients such as Shanghai bok choy, peanuts, and scallions. Enjoy your meal!
Article by: Polly BK