Sustainable tourism: revolutionising tourism today, for a better tomorrow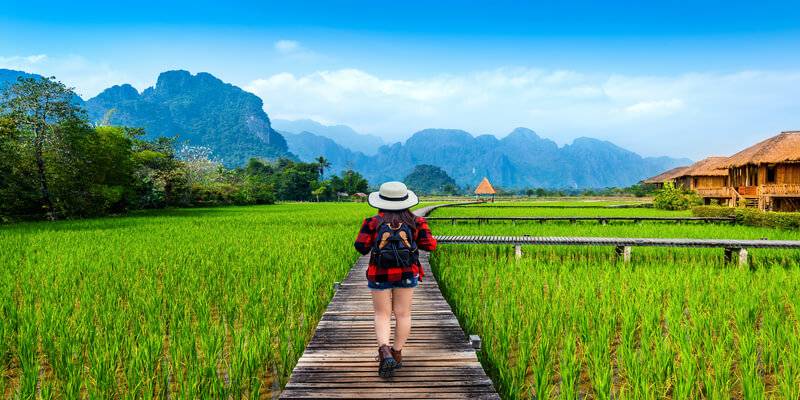 When we think of tourism, we think mainly along the lines of leisure, rejuvenation, adventure, new experiences, and a myriad of possibilities to explore. At the behest of tourism as an industry, lies the material exploration of benefits and opportunities in a purely economic form. Today, there is a growing recognition for the tourism industry to do more and provide for its social and environmental contexts, with which it essentially shares an interdependent relation. This brings us to the crux of the article. The tourism industry, much like other dominant economic industries, has shifted gears to become sustainable, as it is the need of the hour.
So what does sustainable tourism mean?
Sustainable tourism is tourism that is economically viable but does not impinge the resources on which the fate of future tourism depends; notably the physical environment and the social fabric of the host community. The United Nations World Tourism Organization (UNWTO) describes sustainable tourism as, "Tourism that takes full account of its current and future economic, social and environmental impacts, addressing the needs of visitors, the industry, the environment and host communities". There are three dimensions to sustainable tourism:
1. Environmental
2. Economic; and
3. Social
Environmental Dimension
Sustainability in its relationship with the environment doesn't always mean protecting only the physical landscape, but rather inculcating protection of even the natural resources, natural environment, farmed environment, wildlife and the built environment.
• Natural Resources: Many of the natural resources are a centre of attraction in tourism, such as clean air, land, water in lakes and seas, etc., that act as a catalyst for tourists to visit a particular locality.
• Natural Environment: The natural landscape or wilderness area is depleting day by day, and thus the tourism industry amidst others, must safeguard the natural forests, mountains, and other such areas to protect and transform the natural landscape.
• Farmed Environment: Also eminent to protect is the farmed environment, which covers a varied range of agricultural systems such as agriculture landscapes, man-made forests, fish farms, etc.
• Wildlife: When we talk about the environment, it naturally involves the rich wildlife that gets affected by its multiple dimensions of land-based mammals and reptiles, flora, birds, insects, fish, and marine mammals. Tourism often ends up harming the wildlife through its destruction of habitats, affecting feeding habits, disrupting breeding patterns, and fires in woodlands, among others.
• Built Environment: Tourism must also take cognizance of protecting the built environment, such as individual buildings and structures that have become heritage landmarks and are essential to a locale, preserving authentic villages and townscapes, and maintaining transport infrastructure, dams, and reservoirs. To further design and build landmarks that are sustainable and eco-friendly.
Economic Dimension
Fundamentally, the debate over sustainable tourism has always aimed at understanding the implications towards the environment, with scant relevance given to the economic dimension. However, tourism is primarily an economic phenomenon owing to it being:
• A major industry and foreign currency earner in itself
• Provides a multitude of economic benefits in a country with its ability to create jobs, inject income into local economies via the multiplier effect, promote local businesses, develop infrastructure, and attract foreign direct investment
• The basis that gives rise to many transnational corporations
• Accounts for a considerable proportion of the annual disposable income
However, this is not to say that the economic implications of tourism are all positive. Needless to say, tourism brings with it various difficulties, in terms of the cost of tourism to a country, such as:
• Low paying and seasonal jobs
• Opportunity costs
• Economic congestion
• Over-expensive investment in infrastructure that is underutilised
• Over-dependence on tourism makes the host economy vulnerable
Thus, it becomes all the more necessary for tourism to be not just environmentally, but economically sustainable too.
Social Dimension: Even lesser in attendance, is the mention of tourism's impact on the social dimension. This is largely due to the socio-cultural impact of tourism being intangible and invisible, taking place at a sluggish rate over years of implementing change. Because the social impact of tourism is usually permanent, with little or no opportunity to reverse the changes once it takes place, sustainable tourism must hence consider carefully its impact and solely focus on the changes it brings to the host community. While the factors determining whether tourism leads to creating a positive or negative impact are quite distinct with the environmental and economic dimensions, the same is not so clear, rather quite ambiguous in the case of a socio-cultural dimension. Some of these factors include:

• The upliftment, strength, and coherence of the local society and culture
• Nature of tourism in resorts and hotels
• Public and private sector's interference with the local culture — whether they safeguard and promote authentic culture or influence standardisation
• Economic, social growth, and development for the host population, with respect to tourists and tourism activities
Now that we have established what it means and the three core dimensions that drive it, let us veer forward to understanding why there is a need for sustainable tourism today, and explore the countries that are already pioneering as the 'It Destinations' for sustainable tourism.
Why sustainable tourism?
Though the COVID-19 pandemic brought the tourism industry to its knees, it also opened our eyes towards the perceptible positive changes in the environment that less of tourism/travelling brought about. We must take cognizance of the fact that the transportation sector is the largest contributor of greenhouse gas (GHG) emissions (29% in 2019 as per the United States Environmental Protection Agency), and in turn that transportation forms a huge chunk of the tourism industry. With rapid global warming taking place, it is about time that every citizen must plan and act in accordance to responsibly safeguard the future.
The UNWTO's report on emissions published during the COP25 summit of 2019 stated that emissions from tourism are predicted to rise by a margin of 25% come 2030, from its 2016 base levels. The need and intent to scale up climate action in tourism, thus, proves to be burning with urgency. While the UNWTO remains committed to the cause and is striving to achieve a low carbon-intensive tourism industry with much force, many international countries have already made progress with sustainable tourism and are being rewarded globally for bringing about notable changes in the way they conduct and treat tourism. The three countries that reign supremacy in the field of sustainable tourism are Sweden, Finland, and Austria.
Sweden
Time and again, Scandinavian countries have proven that they stand for green and green stands for them, in all aspects. Sweden topped the Sustainable Travel Index in 2020 owing to the multitude of green initiatives it has undertaken to enhance the tourism experience as well as living conditions for all. Here are some of the key sustainable initiatives undertaken by the country:

• Sweden is the birthplace of flygskam (flight shaming), an anti-flying social movement which aims to reduce the dire environmental impact caused by carbon emissions through aviation. Coined by Swedish singer Staffan Lindberg in 2017, this social movement came to be in 2018 and gathered momentum throughout Northern Europe in the subsequent year. Famous Swedish personalities, such as teenage activist Greta Thunberg, have sworn by the movement and helped spread the word to garner worldwide coverage.
• The country is a firm believer of promoting rural and regional tourism above all, it has all the core cities linked with train stations and roadways for easy and sustainable travel.
• Not just Sweden but many Nordic countries are home to some of the best Sustainable Lodgings and Hotels, with a larger onus being laid on hotels, holiday homes and family-run companies to take account of their use of energy, water and infrastructural space, and to constantly be judicious, economical and sustainable towards it. The guarantee of this is provided by the various prestigious certifications that Northern European hotels and lodgings can attain, as a testimony of being sustainable, such as the Nordic Swan Ecolabel, and Blue Flag, among others.
• Not just in accommodation, but Nordic countries, and Sweden in particular, are also keen to propel local products and activities in tourism, wherein unique nature-based activities draw much of the attraction. Tourists can look for a recognised quality label of "Nature's Best" before engaging in nature-inspired activities, for an assurance of the most responsible and a rich experience.
Finland
At very close quarters with Sweden, Finland has been ranked as the second-best country in the world for sustainable tourism. Below are some of the green initiatives the country is known for:

• Integral to Finland's tourism are the nature-based activities performed daily by locals and tourists as well. It is viewed by the Finnish people not as a novelty, but rather as everyday life itself. Imagine kayaking to islands in summer, cross-country skiing, and going for a sauna daily amidst an open landscape, as part of your regular schedule.
• Finland shows more responsibility towards nature with its set laws in place, being especially sensitive towards animal welfare, with an ethical responsibility towards wildlife. Bear watching, husky safaris etc., are carefully guided in Finland, to give off all the adventure and adrenaline to tourists, yet retain the authenticity and preserve the wildlife.
• Much like Sweden, Finland, too, is careful about the certifications of hotels, accommodation, and excursion sites to acquire recognised certification as a mark of their responsibility. 'Sustainable Travel Finland' is a label that the country recently acquired for responsible travel in the land of 1,000 lakes. Furthermore, there is also a Sustainable Finland Pledge that all tourists are required to undertake and sign as a vow to respect and treasure the Finnish nature, culture, and its residents when visiting.
• The Sustainable Travel Finland label is also the Finnish government's programme to promote the Sustainable Development Goals, with emphasis laid on forming an 'Inclusive and Complete Finland' that is socially, economically, and ecologically sustainable. The programme is intrinsically Finland's model towards sustainable development, as it is built to cater to the technicalities of the development goals.
Austria
Moving from Nordic to European countries, Austria has been spearheading the movement for sustainable tourism for quite some years now, with its well-planned cities and self-sufficient natural resources. Austria intends to be carbon and climate neutral by 2040, a decade ahead of the EU's oath to do the same. As testimony to their commitment to the environment, here are some of the initiatives they have undertaken:

• It wouldn't be a stretch to say that the concept of 'Farm to Table' in Europe probably originated in Austria itself, since it is the leading European country for organic farming, with 80% of the country's farmers committed to bringing environmentally balanced agriculture. Tirol is the most famous town in Austria for organic farming and also offers its tourists comforting farm stays at the 400 working farms present in the province.
• Austria as a country has the intention to reduce its carbon footprint at the forefront and holds a similar ethos for reducing it in the tourism industry with the highest regards. With electronically-powered busses and trolleys running through Salzburg, to retaining and having traditional wooden architectural style buildings all through Austria, but especially in Alpbachtal to retain its alpine look and preserve Austrian heritage, the country has ensured to take all steps to move towards a sustainable future.
• Water Efficient: With many of its towns and cities adopting the practice of drinking water through fountains tapping into the country's natural resources, such as Karwendel Nature Reserve, Austria is an efficiently planned country that knows how to make the most of its resources.
Thus, we see how sustainable tourism is essentially a shift in the paradigm of tourism, refocusing and adapting itself to conserve and uplift nature. The results of this conscientious movement can already be seen in the choices made by travellers.