Power of Gratitude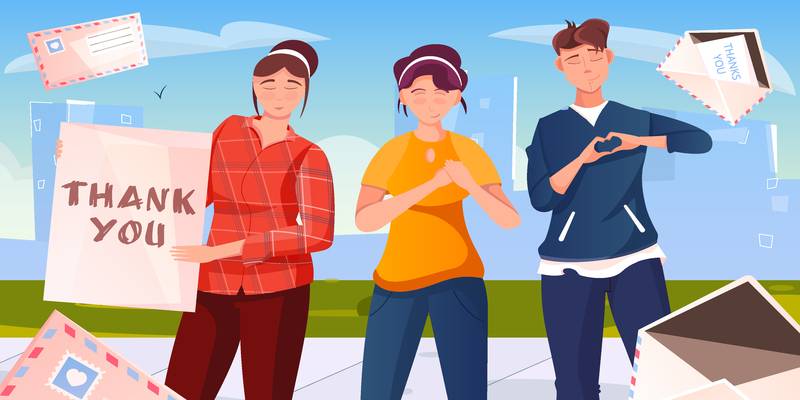 What does gratitude mean to you? As per famous British preacher John Henry Jowett, "Gratitude is a vaccine, an antitoxin, and an antiseptic." Until a few years ago, my understanding of "gratitude" was very limited. I knew that when someone helps you or gives you something, you have to say thank you to that person and that's that. That's what we were taught in school, right?
However, I am talking about gratitude which is a magnificent feeling for all the things, experiences, people, and treasures in our lives. Have you heard of Isaac Newton's third law — "for every action there is an equal and opposite reaction." When you apply the concept of gratitude to Newton's law, it means — "every action of giving thanks always causes an opposite reaction of receiving." In other words, the more deeply you feel gratitude, the more you will receive. Now, "thank you" is an expression that we all have used somewhere in our lives. In this article, you will learn the true meaning behind those words and how it can transform your life.
Let's understand this in another way. We know that "Like Attracts Like" and most of the time, our focus is on things which we don't have in our lives. The fact is, energy grows where focus goes. If the focus is on missing out or lacking opportunities, there will be more experiences where one would encounter such situations. Since we are hardly grateful for the things we have, we are creating invisible boundaries around us which are stopping things, people, and the abundance that we want in our lives. The practice of gratitude will drop those walls around you and create a way to lead a blissful life.
You can never say that I don't have anything to be grateful for. You cannot say God has never given me enough to be grateful for or I will feel grateful once I get this or that. If you are alive, be grateful. If you have a family, be grateful. If you have even one friend, be grateful. If you are healthy, feel grateful. If you have a home, be grateful. If you have food to eat and water to drink, be grateful. If you have no deformities, be grateful.
We have thousands of things to be grateful for and when you are vibrating at the frequency of gratitude, you will see an abundance of everything flowing in your life. Emotions such as anger, fear, and jealousy will be drawn out of your mind, once you align yourself with the frequency of gratitude. "When you arise in the morning, give thanks for the morning light, for your life and strength. Give thanks for your food and the joy of living. If you see no reason for giving thanks, the fault lies with yourself," said Tecumseh.
Now, if you really want to transform your life, here are some gratitude practices which you can follow:
• Take a journal/notebook and write three-five things daily in the morning for the blessings you have in your life. Make sure to mention the reasons as well because when you write the reason, you are putting your feeling and emotions in it and it's the force of feeling that brings magic to your life. After writing your blessings of life, read it patiently and say thank you. For instance, I am grateful for the eyes I have because I can see all the amazing things this world has to offer.
• After counting your blessings, write down two-three things you are grateful for in terms of your health and body. For instance, I am grateful for all the cells and tissues in my body as they are keeping me alive or I am grateful for my heart as it pumps blood to all the body organs in my body.
• Write down two-three things for the relationship you want to flourish. Write down how that relation is helping you. Be grateful for all the things that the relationship has given you. For instance, I am grateful to my mom as her support has made me who I am today. Thank you mom for everything.
• Now, think about all the things you have received so far because of your finances. Write down two-three things daily in your journal and be grateful for that. For instance, I am so happy and grateful for the money I have as I get to travel to many cities/countries.
• Take a small rock with soft edges and keep it near you always. Hold it in your hands daily before you sleep and say three things you are grateful for on that day. After that say "thank you".
• You can also write things that you want to achieve in your life in the present tense as if you already have achieved them. For instance, I am so happy and grateful now that I have a black Mercedes-Benz E-Class car. Daily, write down one thing that car can provide you and say thank you.
The most imperative things to consider:
• Practice the above-mentioned things daily. You may have many reasons to not do this but you have one reason which is good enough to start this practice today. Remember, you are doing this to live a quality life.
• Try this practice for 40 days and see how small things will begin to change.
• Don't just utter the words. Feel it from your heart every time and conclude by saying thank you.