Glass Noodle Stir-fry (pad woon sen)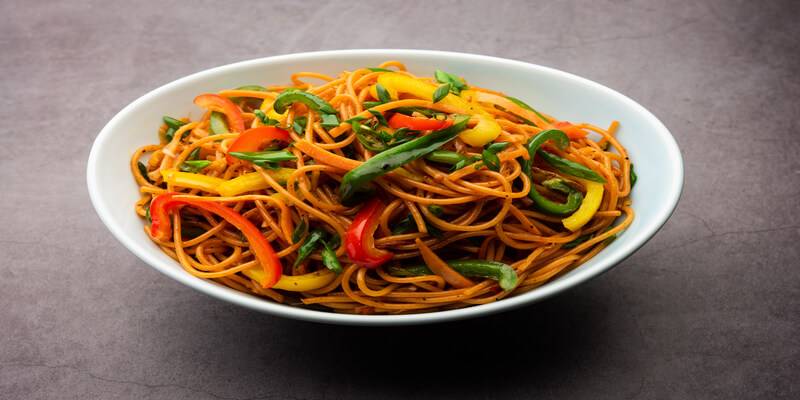 Ingredients:
80 gms glass noodles
5-6 garlic cloves (finely chopped)
1/4th large onion cut into strips
1 teaspoon black pepper
150 grams chicken thigh
1 carrot (finely sliced)
1 capsicum (finely sliced)
1 cup mushroom (finely sliced)
2 eggs
Salt as per taste
1/4th cup crushed roasted peanuts
Ingredients for Sauce:
2 tablespoons oyster sauce
1.5 tablespoons soy sauce
1/2 tablespoon sugar
1/4-1/2 cup water
Method:
Soak the glass noodles in room temperature water for 7-10 minutes until they become soft and pliable. Remove the water, then cut the noodles in halves or thirds to shorten them. Pour hot water while in the strainer. For the sauce, mix oyster sauce, soy sauce and sugar in a small bowl. Keep the water separate but have it ready on the side when you're cooking. Add oil to a wok or a large sauté pan (preferably non stick) and heat it on medium heat.
Add garlic and onions and cook until the garlic starts to turn golden. Next, add meat, salt and pepper and turn the heat up to medium-high. Cook until about 80% is done. Add mushroom, capsicum, carrot and two tablespoons of the sauce; let it cook for a minute. Add the noodles, then pour the rest of the sauce on top of the noodles. Rinse the sauce bowl with about three tablespoons of water and pour it in. Toss everything until the noodles have absorbed all the sauce and are fully cooked. Once the noodles have absorbed all the sauce, give it a taste to see if the noodles are done to your liking. If you want them softer, add another splash of water and toss them until they're dry again.
Push the noodles to one side and add a little extra oil on the empty side. Break the eggs in the empty space and move the pan so that the eggs are in the centre of the burner and the noodles are a bit off the heat. Let the eggs set a bit, then scramble them slightly just to get a marbling of the whites and yolks. Once the eggs are about halfway cooked, put the noodles on top of the eggs and let them sit without stirring for another 30 seconds. Then flip and toss everything together. Plate the delicacy and top it with crushed peanuts. The dish is ready to be served.