Ayurveda and skin care – the recipe for clear skin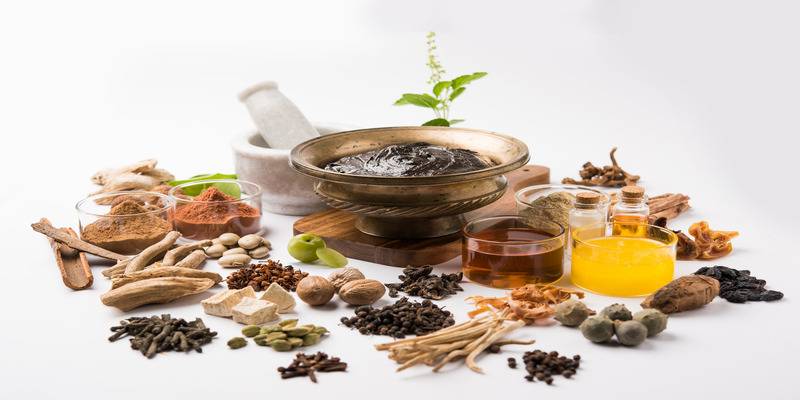 We all want gorgeous skin, and why not! Our outer beauty gives – a lot of us – the confidence to be ourselves and put our best foot forward. But when that beauty is marred with pimples, fine lines, or hyperpigmentation, we might feel the need to fix it urgently and give it a lot more space in our heads than necessary. A few years back, I had a pimple outbreak; I had never had a single spot as a teenager, and suddenly, when I was well into adulthood, my face decided to act up. So, what did I do? I tried over-the-counter products, got my hands on all the creams that had great reviews, and consulted a dermatologist – something I should have done at the first sign of my skin troubles. While the creams and products didn't work, my dermatologist did help me get an almost clear skin though it was nothing like what I had been used to. It was during this time I came across a friend who practised Ayurveda in everyday life, and that changed my skin forever. Here is how you can also understand your body better and pave the way to glowing skin:
Truly understand your body type for better skin
Confusing, right? But not so much once you get the idea behind it. According to Ayurveda, our body comprises three primary doshas – Vata, Pitta, and Kapha. While everyone has a combination of all three doshas, an imbalance in any of these will result in different physical, mental, and emotional concerns. Since our skin is the largest organ and also the most visible, it becomes invariable that it shows the most effect. That is why most Ayurveda practitioners look at your skin health, eyes, and tongue to gauge your overall health. Understanding our body type according to the doshas and living accordingly can be a game changer and help us truly understand why our body is reacting to things the way it is. But how can you identify your body type?
Vata, Pitta, and Kafha
Let's dig deeper into what these doshas are and how you can identify them. Also, note, a person might have an imbalance of one or more than one of these doshas. So, it is important to identify them and then formulate a lifestyle that is in sync with them.
Vata
It is generally associated with the elements of air and space. People with a vata prominent body type have dry skin and hair and are generally slim and very energetic. They are quick thinkers but can be susceptible to poor sleep and anxiety. Since their skin is dry and generally dehydrated, they are also a lot more prone to early wrinkles.
Pitta
Is a mix of water and fire elements in nature – think of digestive fire. So, pitta people generally have higher digestive power and can crave food more often. They also tend to have skin that is prone to irruptions (rashes, acne, etc.) and is oily when out of balance. Pittas are intelligent and quick learners but can also be highly impatient.
Kapha
It is primarily associated with the earth element. They are calm and composed but might be a little lazy and more prone to heart diseases. They have an oilier constituency, so their skin might appear dull and tends to have larger pores. They are also prone to pimples and zits. But on the upside, they also age a lot slower because of their oily skin.
Healthier skin and body
Have you ever tried a skincare routine that seemed to work for everyone else but threw your skin completely off? Or a diet that every health and skin enthusiast was a fan of but you just couldn't seem to enjoy? Well, you can narrow down these preferences to your doshas. With the knowledge of the three doshas, you can start working on yourself to keep them in balance. Eating, sleeping, and exercising accordingly can make a world of difference to how you look and feel.
Vata
Since vata is considered dry, cold, and rough, it is important for people with this constitution to seek warmer environments – both physically and emotionally. Vatas should keep away from dry and processed food and instead eat food and spices that are warmer such as sweet potatoes, avocados, cumin, ginger, etc. They should also practice yoga and go either walking or running every day. It is also imperative that a person with this dosha sleeps for at least eight hours a day. They can also practice abhyanga or oil massaging with warming oils like sesame.
Pitta
Since people with this constitution are already ruled by the fire element, they should avoid hot, spicy, and fermented food. Pittas should also exercise in moderation (too much of even the healthiest round of cardio can be counter-effective) and prefer activities like swimming, walking near a water body, light running, or yoga. Yoga can be especially beneficial as it helps bodily movement but doesn't heat up the body too much. Pittas should consume food items such as green vegetables, rice, coconut water, citrus fruits, etc. They can also do an oil massage using coconut oil (not recommended on the face) as it has cooling properties.
Kapha
People with this dosha should avoid oily food items and foods that are dense in carbs. Artificial sweeteners can be replaced with stevia, jaggery, or other plant-based sweeteners. Bitter and pungent foods are recommended, as well as dry fruits. Kaphas should also exercise regularly and follow a regular routine to be more active and maintain a healthy weight. Kaphas would also do well with regular dry massages.
Conclusion
Understanding your body is the first step to clearer skin. Once you have an understanding of what your body demands and how it functions, it will be easier for you to maintain a simple routine that will be a lot more beneficial and make you glow. So take care to exercise and eat according to your body type and needs. At different points in life, different doshas might be at an imbalance – if any. So it is important to note your body's demands at all times. Also, you might have noticed certain patterns, like your body might react to a certain kind of food, or you might have developed a taste for certain foods and habits that make you feel better. For me, eating fruits, even if it is the end of the day, can make me feel instantly better and a lot lighter. So, listening to your body and being in tune with it is essential and is an important part of Ayurvedic practices.