Antwerp: a humble abode that makes for a traveller's favourite pit stop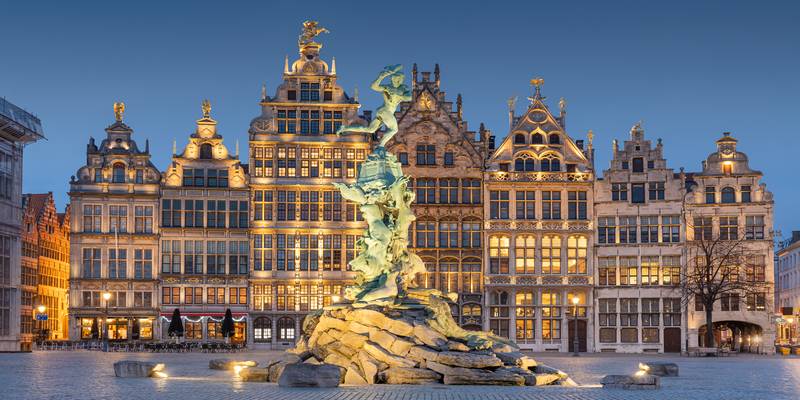 Back in 2018, I took my first step as a solo traveller by backpacking across Europe. It was something that I had planned for months by reading about places to visit, accumulating my office leaves, and saving up money. Unlike a typical traveller, I decided to make Antwerp (Antwerpen for the Flemish and Anvers for French) my base for travel in Europe. Known to be Belgium's most populous city, biggest port, and capital of cool, Antwerp to me is the compact cosmopolitan city perfect for a cultural city break.
It has long been a powerful magnet for everyone — from art lovers to diamond dealers — but remains to be a city for those who live in it rather than one transformed for tourists. From its engaging museums and galleries, emerging international food scenes, Belgium's finest beer bars, and old-school cafés, everything about the city screams the right medieval charm and resonates pleasant vibes.
Located in the Belgium region of Flanders, Antwerp is a very relaxing city to visit, especially during the springs. I landed in Brussels sometime during mid-April and, as I mentioned earlier, it is the perfect time to visit a lot of places in Europe. This is when everyone sheds their winter layers and enjoys all the lovely things the new season brings along. Reaching Antwerp from Brussels is very comfortable. One can hire a car, take the bus or train for a journey of 35-40 mins with a distance of 23 miles.
Situated on the Schelde river, the soul of the city exhibits pride and a competitive attitude of the Antwerpians. This city's life is a beautiful combination of diverse aspects of personality, a passionate commitment to commerce, respect and affection for the past with a fervent desire to participate fully in the present and the future.
The international character of the city implies a readiness of many of its residents to understand foreign languages, making it suitable for travel and business. The locals generally speak the Brabantian-Antwerp dialect of Dutch but this does not mean that Dutch-speaking Antwerpians do not know French or other languages.
Before I dive into the specifics, let me tell you more about how the city won my heart and why it is my highest recommendation to anyone looking for a place to travel in western Europe. Since Antwerp was the base of my travel, there was a lot of in and out but I had five good days where I just explored the city. The first two days were dedicated to covering the tourist attractions after which I put down the hat of a tourist and started walking around like a local with Google maps as my guide. The bright sunny days and the breezy long evenings made way for me to explore the city comfortably.
My favourite thing about Europe has always been the ease of living that the Europeans led and the Antwerpians, just like the Dutch and the Danes, believe in spending quality time alone on the waterfront. You will find Atwerpains casually sitting and sipping on a beer, reading a book, listening to music or just lying on the grass and enjoying the breeze, and no soon you will find yourself doing something similar.
The casual Belgian vibes during the day and the cold Dutch vibes at night reiterate comfort for a traveller like me. All you need is a backpack filled with some clothes, essentials, a pair of sneakers, and a budget that will allow you to explore the European streets and be amazed by the beauty it holds.
Attractions and food
Antwerp is not just a place for waffles and mussels, it is home to several interesting museums, churches, markets, galleries, and breweries. Walking down cobblestones, going on cycle rides, hunting down street art and sculptures, and sipping on a beer can keep you entertained throughout your stay. Something I enjoyed the most was walking along the banks of Scheldt and watch the sunset while sipping on some beer. Walking around the city or renting a bike to swish past the bylanes would be a memorable experience that's highly recommended.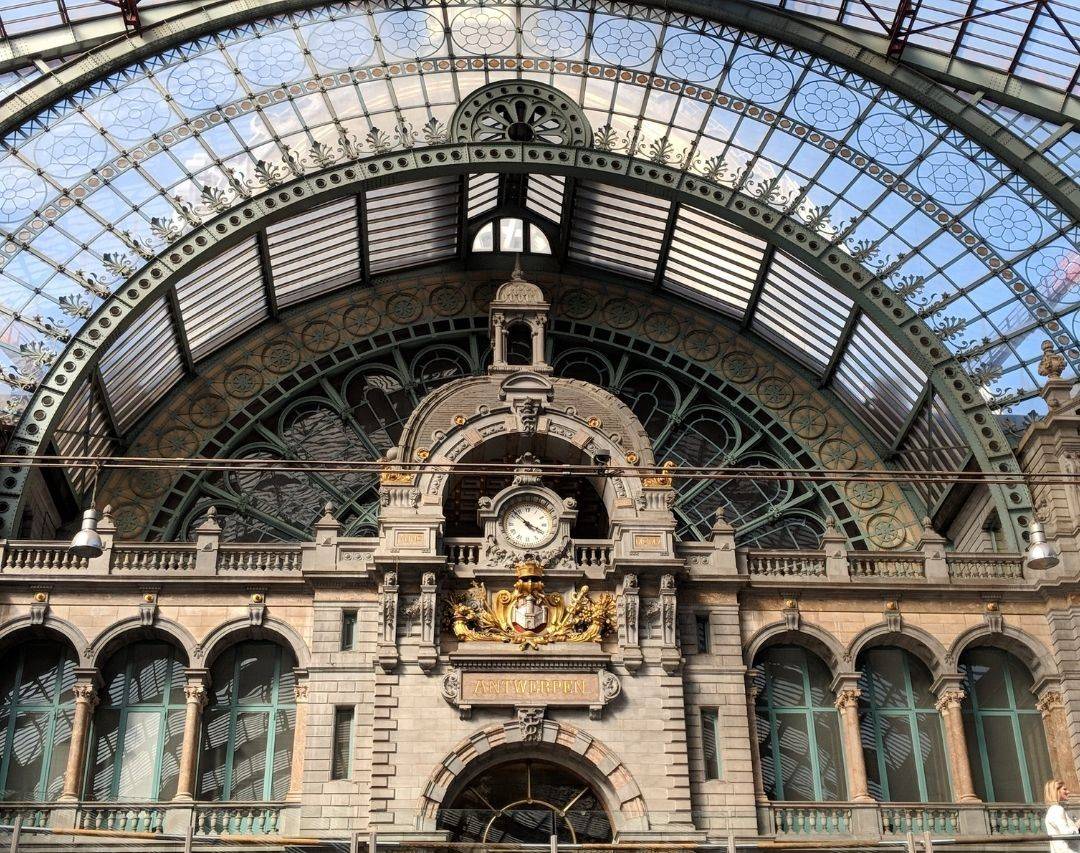 Antwerpen Centraal Station
Simply put, the station is breathtaking. Being there not only transports you physically to the places that you have on your list but also transcends you spiritually. The beauty that resides in those old structures, halls, and different levels will see you exploring the station with zeal and keeping a track of time would be a tough ask. The well-connected station leads to several international cities such as Amsterdam, Rotterdam, Paris and Lille, among others.
Pavement beers
No matter what profession or age (16+ is required for consumption of alcoholic beverages), whether travelling in a group or solo, you cannot visit Antwerp and miss out on sampling the country's finest beers. It is very easy to find a place that has a good selection of beers as the local cafes and restro-bars have myriad options to fill your belly and get that happy high. 
Diamond district
Dear Men, pay special attention to this hotspot. "Diamonds are a girl's best friend," they say. And if you are looking for one such gem, here's where you should go. A place of profound importance for the international diamond trade, Belgium's biggest port has rightfully earned the title of the diamond capital of the world. This street with its flat-fronted 1960s buildings and the plain colour scheme might be dismissed at first look but in truth, happens to be one of the most fascinating and high-security areas in the world. About 84% of all rough diamonds and 50% of all cut diamonds on the planet are traded here. So, let the search games begin to find that rare gem that outshines the others.
Scheldt River, Steen Castle
Might be the umpteenth time I am mentioning this, but evening strolls along the riverside are what will help you know and understand the essence of Antwerp. When you undertake that walk, you will find a very interesting towering bronze statue of Lange Wapper, a folkloric character known to be a legendary giant and trickster, was native to the Flemish region. Take a break here to admire this statue and read about the different tales that go with it.
The next architecture you will find is the Het Steen (the stone castle), the medieval fortress and the oldest building in the city where the first stones date from the 11th century. Over the centuries, it has fulfilled several functions such as being a fortress, a prison and then a museum. Make sure of walking past this mesmerising fortress for a 'Lady in the Castle' feel and also for the perfect fairy-tale photo along the Scheldt.
Frites and food
For somebody like me who is a big fan of food, fries in particular, there's no other place to be in Belgium than Antwerp. A hotspot for frites, here are two of my standout eateries that you should visit: Frites Atelier by Sergio Herman — the Michelin for Frites, and Fritkot Max for more fries because you can never have enough.
Some of the restaurants where I did most of my food hogging were: Italian food at Pasta-Hippo-Vino, Estro Armonico for cosy dinners, Grand Café De Rooden Hoed for food with history (also one of the oldest restaurants in Antwerp), De Sinjoor for some delicious authentic food, Restaurant Roji for French and Japanese cuisine lovers and The Jane for the Michelin ** food experience (make sure to make a prior reservation here). For desserts, head directly to Crème de la Crème for the best waffles in Antwerp.
There's so much more to share and talk about this city that concluding this article is difficult. However, all good things must come to an end and with that thought, it is imperative to leave the readers asking for more. Hopefully, I have ignited that fervour amongst the travel junkies to pack their bags and head out as soon as the world recuperates. While I have put a tick against Antwerp on my list of places visited, it could be your next destination. Safe travels.