A soldier's medal of honour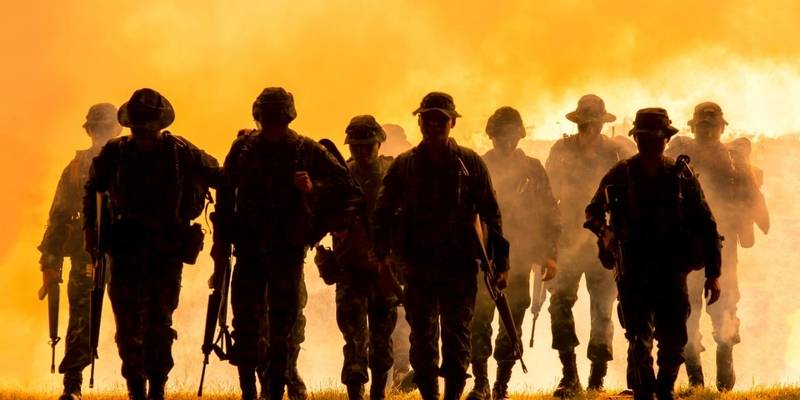 We were sitting in a cafe and had ordered our second round of beer. My friend, who was serving in the armed forces, was telling me about an operation that he was a part of. While my expression was that of horror, his, was of excitement. I couldn't even imagine what his wife must be going through, as she too, was hearing him talk about these 'incidents'. Being from an Army background, I am not alien to these tales of valour and courage. As a child, I had seen my father being posted at locations that were so remote that we couldn't speak to him for days. And now, as a friend, any news about clashes at the border, make me pick up my phone and just send a text, "Hey. I hope you are ok?" More often than not, I get a reply, "Couldn't be better!"
I wonder: how do they do it?
Yes. It still surprises me. How can you be staring at the worst possible fear in the eye and not budge an inch? With your chest out and the blood rushing through your veins, they still manage to have a smile on their face and calmness in their voice. Watching over the enemy like a hawk, protecting the country's borders and its people like a tigress protecting its cubs; and then returning to a crowded cafe with a pint of beer saying, "Hey. I was just doing my job." I consider myself lucky to be an Army officer's daughter. I am so proud of my father, and the way he has served the nation. While he has retired, I know friends, whom I went to school with, who have now signed up to serve the nation. These people have literally taken a bullet, lost a friend, or have seen things that none of us can imagine even in our wildest of dreams; and yet they are proud of it. It isn't about survival, but about doing the best that you could and being successful in doing what you aimed to do.
Courage: the universal language
When my father was posted in Angola as part of the United Nations Peacekeeping Force, I had the opportunity to meet soldiers from all around the world. The same demeanour, the same enthusiasm, and a similar zeal while talking about serving the nation. In that one cantonment, there were people from different countries but there was one thing that was common among all of them, it was courage. That's what unites all soldiers.
How do they become who they are?
Friday nights, my dad will have a glass of his favourite Scotch (on the rocks) in his hand, and he will share his stories from when he was a young officer. One is not privy to the covert missions, of course. It's no different when I sit with my friends, who proudly don the Olive Green, for an evening of beer. Senior-most or junior-most, the enthusiasm, is still the same. I had the opportunity to visit the Indian Military Academy (IMA) in Dehradun, where I interacted with a few Gentleman Cadets. They were just a few days away from joining the Indian Armed Forces. Someone was a first-generation officer, others, probably second or third. The restlessness to just wear the uniform was oozing out of them because they couldn't wait to step up and do their duty. The next day, when I saw the passing out parade and the moment the choppers showered the newly recruited officers with petals, the Academy came alive with a roar. That was the moment when they were all ready! Camaraderie, friendship, support, strength, courage, valour, focus, discipline and loyalty are few of the many things that are instilled from the moment they step into the academy. It is so deeply rooted, that instead of qualities, it becomes a way of life for them. Whether on the field or at a peace station, young or old, a soldier never really stops operating like one. And that's what makes them different.
A strong support system
The unit that a soldier gets commissioned to is his first home. However, there are multiple things that are part of his eco-system and the most important one is family. I have a lot of respect for those who encourage their children to join the armed forces. It takes a lot of courage to do that. Similarly, I have a lot of respect for those who decide to be a part of it by being someone's life partner. It's not easy, knowing that there will come a moment when they would choose the nation's safety over you and you would have to be ok with that. Many soldiers suffer from Post Traumatic Stress Disorder (PTSD) after they return from strenuous missions. It is then up to the family to help them return to normalcy and a life that used to be. Staying away from them for years, with just one call a day, is something that as a family, many need to be ok with, and they do it.
I was at the Rashtrapati Bhawan for a ceremony where the valiant soldiers were awarded for their bravery. Some of them were there to collect it, and for the martyrs, it was their family. As I could see tears in their eyes, I could also sense pride. Hearing stories of what they had done, how they had managed to avert catastrophe by being selfless; their families weren't shaken at all. Getting that support and that strength is what inspires many and encourages them to continue to keep going.
The medal of honour
Recognition or no recognition, a soldier will continue to do the job they signed up for. What they have been trained for and what they are meant to do, nothing is ever going to change that. Political parties can use their cause as an agenda, media channels can pretend to talk on their behalf for higher TRPs, they are used to others using their shoulders to fire cannons. Whether sitting on the line of control or in the headquarters, the aim is only one, how to protect the country and its people. The uniform is their medal of honour; from the first day they button it up till the time it is hung. Nothing else matters!
Article by: Kanika Sharma