A Saint Moritzian summer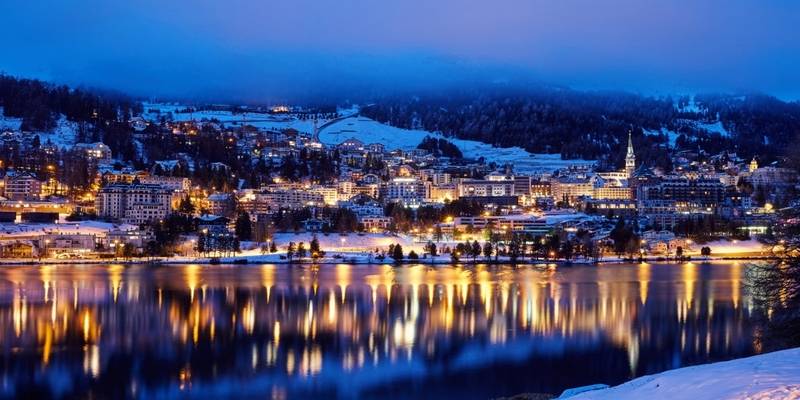 Back in 2017, I had my first taste of the enchanting Swiss bliss, where I had the good fortune to be lapped up in the southernmost arms of the Swiss Alps. To have Sankt Moritz or Saint Moritz as your initiation into Switzerland is like the most welcoming standing ovation you can ever receive. From its avant-garde lakes, majestic snow-covered Alps, shopping avenues, to its restaurants and hotels; everything about the place screams grandiose, and rightfully so! Located in Engadine, it is popularly known as the Alpine resort town of Switzerland. Famous mostly as a winter destination for its snow-capped peaks and skiing, St. Moritz has also been the host of the prestigious Winter Olympics twice, in 1928 and 1948. Although primarily a winter destination to visit, it can still woo you with a plethora of things to do and adventures to experience during summer.
My descent in Zurich was in the last week of June, when the temperate summer was akin to the pleasantness of autumn in New Delhi. Reaching St. Moritz via Zurich can be done through a direct bus, car ride or train with one stop. Another way to reach the town is if you are travelling from Milan, which is less of a commute than Zurich. The view uphill experienced, either way, is nothing short of spectacular. Before I delve into the specifics of my travelogue itinerary, let's take a moment to appreciate the scenery that engulfs you the moment you set foot, for it is as warm and beautiful a feeling as chocolate melting in your mouth. Even in summer, you can see the peaks donning their snow caps, amidst a flurry of cottony-soft clouds. The flowers in full bloom, neat vicinity, lush greenery, chic restaurants and hotels make up more than nicely for the otherwise dearth of locals and tourists around June-July.
The first day in this dreamy town was spent lavishly traipsing through Palace Galarie and Via Serlas. Why lavishly, you ask? Well, because even though St. Mortiz seems to be just a little town, it isn't so little when it comes to the grandeur it holds within. Popularly known as the 'Beverly Hills of the Swiss Alps', the town not only houses skiing lodges, but is also a hub for European fashion. From lauded brands such as Giorgio Armani, Chanel, Hermès, Gucci, and Miu Miu among others, to glamorous designer boutiques and exquisite jewellery, St. Moritz's shopping scape is second to none. Shopping or even window shopping here is as lavish an experience as it gets.

Next up, take your time to relish in the glory of visiting some of the most splendidly rich hotels in all of Switzerland. Badrutt's Palace Hotel is touted as the 'IT Place' by celebrities and royal VIPs of the world, and agreeably so, for the hotel is elegance incarnate. From its majestic architecture, impeccable service, and culinary excellence to its Palatial Wellness Spa, the hotel encapsulates rightly just what St. Moritz is all about. In fact, not just Badrutt's Palace, but most hotels in St. Moritz are famous for having stunning infinity pools, hot tubs and wellness spas. Kulm Hotel is another spectacular example of Moritzian luxury, especially for winter tourism. The Kempinski Hotel, Suvretta House and Carlton Hotel are some other luxury abodes you can check out, even if just for a meal.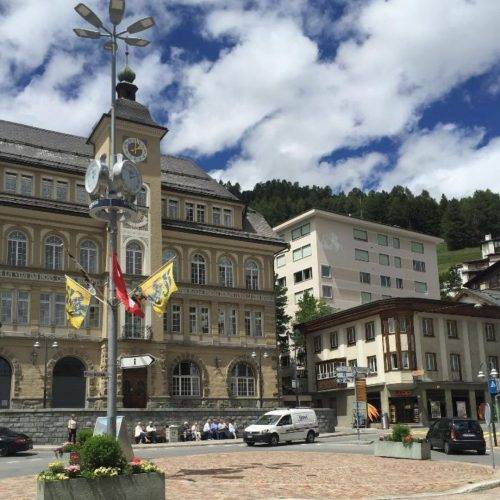 For day two, I had my sights set on the Bernina Express. This Unesco World Heritage Site excursion takes you for a scenic Rhaetian Railway ride through St. Moritz, Chur, Poschiavo in Switzerland and Tirano in Italy. The journey lasts for four hours approximately and is as good an activity as any to spend half a day in Switzerland for. From wondrous vast valleys, glistening glaciers to luscious lakes, the Bernina Express gives you an experience of a lifetime. You can stop at any of the junctions during the journey and enjoy the view around. I chose to spend some extra time at Lago di Poschiavo — a natural lake in the Swiss canton of Graubünden. Lunch at Ristorante da Cesar, probably the oldest and the most well-renowned restaurant in Poschiavo, was as sublime to taste in its culinary creation, as it is in its ambience.
The restaurant lies right at the banks of the lake and has a vast floral garden overlooking it, giving you a vibe of spring all year round. There is a well-constructed path around the lake for people to enjoy a quaint hike in but would prove suitable for those who wish to spend a day here as it takes a minimum of two hours to cover the entire stretch. An alternative to exploring the lake lies in taking a half-hour ride in a steamboat to explore all its contours. With over half a day spent, I returned by evening to a very deserted, bright and breezy St. Moritz. Why so? Owing to its geographical location, the maximum temperature in St. Moritz is 11.5 degrees Celsius on average in July, which is the hottest month. Considered the off-season, the lack of tourists is what made the place look deserted. In hindsight, the streets weren't completely deserted as a herd of cows gave us company.
The third day brought with it an unquenchable thirst to be lost in the hills. So naturally, I was pulled towards visiting Muottas Muragl, for undoubtedly the best panoramic view of the Engadin Swiss Alps. In winter, Muottas Muragl turns into a playground for all snow lovers because of the varied adventure ports. You can do sledging, snowshoe hiking and so much more. While during summers, the peak still has patches of snow around but it is much greener and cloudier to give you a breathtaking view of the entire region. The mountain can be reached via a vintage funicular rail ride, one of the oldest mountain railways in Switzerland, and is quite a fun experience in itself.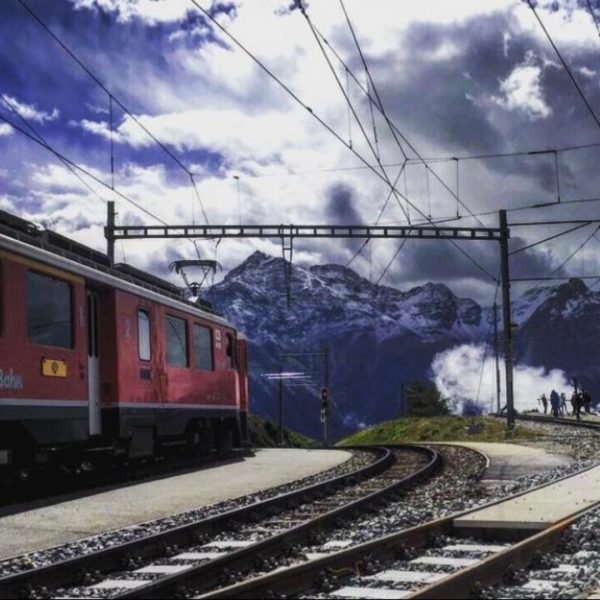 Enjoy a short hike once you reach the top and unwind at the Panorama Restaurant with a meal or a snack, and what seems like the entire world before your eyes. Your camera will soon tire of clicking photos and flash low battery and give you a chance to peel your eyes away from the lens to sit quietly and just watch time stand still here. Life doesn't get any better than having some tunes play in the background while you admire the open art and natural beauty of the Swiss Alps. To experience a little more grandeur and live life "Yash Raj Size", hike up a little further to reach the Romantik Hotel. The Italians have a famous saying, "dolce far niente" which roughly translates to indulging in the "sweetness of doing nothing".
Located between Samedan and Pontresina, the hotel in particular and all of Muottas Muragl, in general, embodies the pleasure of idleness, so much that 'dolce far niente' never made much sense before coming here. After having slowed down to live in the moment amongst the Alps, it was time to get down and dirty back at the lake! During winter, St. Moritz Lake is a frozen wonderland for adventure activities such as horse racing, polo and cricket. In summer, it's a fiesta for rowers, fishermen, sailors and stand-up paddlers. My plan to get down and dirty didn't quite work out so well because the water was still freezing and was only able to dip my feet for a few seconds before recoiling with a shiver. It was nonetheless quite enjoyable to watch the stand-up paddlers do their thing.
This is as far as I could get with only three days to be in St. Moritz and a destination Indian wedding to distract my attention from all the other adventure activities I could partake in like surfing, rowing, forest hiking, etc. Probably. I can't wait for the world to be ready to travel again. My bags are packed and I am ready to embrace the winter chill as all I can think of is St. Moritz during winter. White Heaven, call me soon!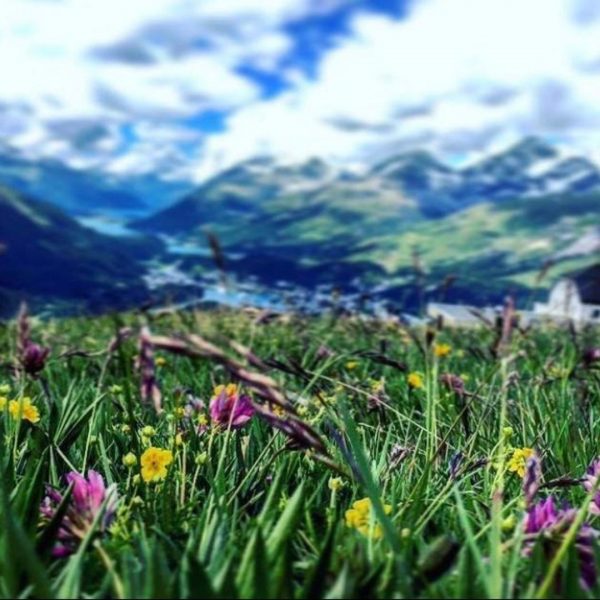 Photos by: Iushe Magoo