Travel guide post COVID-19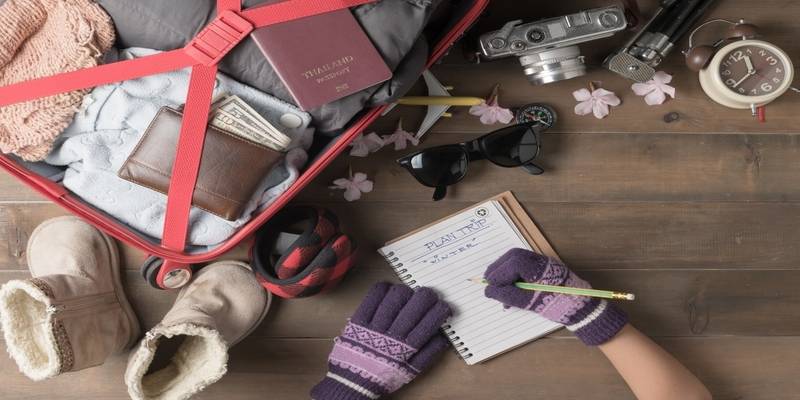 In the last few months, the ongoing pandemic has not only physically restricted us but has also held our souls captive as travelling has become non-existent. Time and again, the only desire has been to break the shackles and remind ourselves as to how it was when one could roam about freely and extend their arms with absolute joy. With the belief that we'll be able to explore soon, here's a feature that'll inspire you to pack your bags and get going. If you are one of those who forgets something when they plan for a vacation, don't blame the last-minute packing or console yourself with excuses like one of the items was on the shelf but you just forgot to carry it. There's a simple strategy that can help you keep a track of what's in your backpack and save you some cash as you wouldn't have to pay a premium to replace things that you need when you're gone. Keeping in mind that travel post-COVID-19 will have a separate list of must-haves, here are few insights that'll add on to the excitement of travelling again with all safety measures in place. The only thing that you are leaving behind is your worries and your footprints as you embark on a new journey.
Shortlist multiple options for your next destination
Make a bucket list of places you would want to visit if you don't have one already. Choose multiple destinations based on your preferences and commence with the research. Watch videos/documentaries and read blogs to understand more about the places to stay, eat and do touristy things. Don't forget to check the hotspots for COVID-19 and how risky it is to travel to that place. Medical facilities as well as containment policies are a must. Visit the World Health Organization website or other apps that help in tracking coronavirus cases just to be sure about your whereabouts.
Book your trip with cancellation options
We live in uncertain times where anything is possible. Your travel plans should come with a backup plan as well as the option to abort if needed. Look for accommodations that don't charge you a fair share of your money in case you plan to bail (consider purchasing trip cancellation insurance). It is preferable to spend more money on hotels that practice hygiene and sanitise on a regular basis rather than looking for motels or guest houses. The cost of your health and well-being is more than spending a few bucks in a hotel.
Travel closer to home
If you intend to take those long breaks and travel the world or cover three-four countries at a stretch, then it may not be the best idea at the moment. While everyone is longing for a vacation like that, the sensible idea would be to take short trips and visit places that are closer to home. A road trip on a long weekend sounds like the perfect breather. The best thing with short trips is that you can never get enough of them and it doesn't even cost you as much. Also, be well-informed about the emergency numbers of the destination you are visiting.
Don't plan ahead
Looking at the calendar and reserving dates is now a thing of the past. While we hope that things will get better in the coming months but the possibility of another lockdown being imposed can never be ruled out. Back your instincts and be flexible to impromptu plans or combine weekends with an off to give yourself the much-needed vacation. Keep several options ready and whenever you get that window of opportunity, don't forget to make it count.
Take necessary precautions and stay healthy
This is a no-brainer. You need to be strong and fully fit for your next excursion. Eat healthy, take your vitamins, drink enough water, and sleep well. If you take care of the basics, you'll be fine. Throw in a few minutes of exercise and all shall be well. Don't forget to wash your hands whenever you get a chance and avoid touching doorknobs or handrails. Make good use of hand sanitisers and wipes. Eat at places that have good reviews and maintain hygiene. Follow the guidelines set by the authorities and keep your guard on. The novel coronavirus has had a detrimental effect on not just the world economy, but on humans as well. It is imperative that we follow certain protocols to stop the spread of the virus and protect ourselves and our loved ones from it.
While travelling on a flight: Always wear a mask and use gloves. It is advisable to make use of a PPE kit even if it is not mandatory.

Travel insurance: The insurance should necessarily cover emergency medical air evacuation, even if it is not mandatory on visa. This should be an absolute priority. 

Travel etiquette: The new normal is social distancing and one should duly practise that. Maintaining a distance of 2-6 feet from passersby and be aware of the surroundings. Use protective gears at all times and practice personal hygiene. Happy travelling!
Must-haves in your backpack
As an avid traveller, I've curated a travel checklist that comes in handy, both nationally and internationally, whenever I am packing for a vacation or work travel. Visiting a place that you have never been to can be challenging as well as intimidating. Especially with the pandemic, the task just got more complicated. What helps in relaxing the nerves in such situations is making a list of things that are essential. It helps in saving time, energy and reduces anxiety. When you have the list ready, you can strike off the things one by one and make sure you have everything that you need. If you are lazy to make one, you can refer to my go-to list.
Important things to carry
Clothes: One should always be prepared for the weather conditions that they'll be experiencing on arrival and should pack accordingly. Overpacking never helps, sticking to the basics goes a long way. Basic clothes (for a 3-4 day trip during winter) that one must carry include: jeans or pants (1-2), dresses or skirts (1-2), layering short and long-sleeve tops (3-4), cardigans (1-2), thin sweater (1), socks (2-3), pyjamas (1), underwear (4-5), scarf or pashmina, walking shoes (either tennis or slip-ons), walking sandals, ballet flats or booties, lightweight rain jacket (1)
Packing a lot of unnecessary clothes is a common mistake made by a lot of people. Be smart and carry only 2-3 types of clothing or clothes for a specific occasion; don't stack your bag with unnecessary clothes as it increases your luggage weight dramatically. While packing your toiletry bag, ensure that it is airport friendly, especially if you are planning to keep it in your carry-on backpack. Some items such as scissors and tongs can be flagged at airports and it is advised that you do not carry these items on you; drop them in your check-in luggage bag.
Personal items: Mobile phone, chargers, data pack, laptop, tablet, headphones, camera, adapter, travel map

Post-COVID-19 essentials: Masks, protective covers, gloves, sanitisers for hands as well as products, visors, disinfectant sprays, disinfectant wipes, water bottle (personal), hand soap, small medkit

Toiletries and makeup: Toothbrush, toothpaste, floss, mouthwash, hairbrush, hair ties, pins, deodorant, shampoo/conditioner, tissue, sunscreen, wet wipes, face wash, moisturiser, razor (for men), shaving cream (for men), contact lens/glasses, bath towel, hand towel, makeup essentials according to skin type and requirement. While packing your toiletry bag, ensure that it is airport friendly, especially if you are planning to keep it in your carry-on backpack. Some items such as scissors and tongs can be flagged at airports and it is advised that you do not carry these items on you; drop them in your check-in luggage bag.

First aid: Band-aids, hydrocortisone cream, antibacterial cream, eye drops, tylenol, hand sanitiser and bandages.