Thailand: the land of the free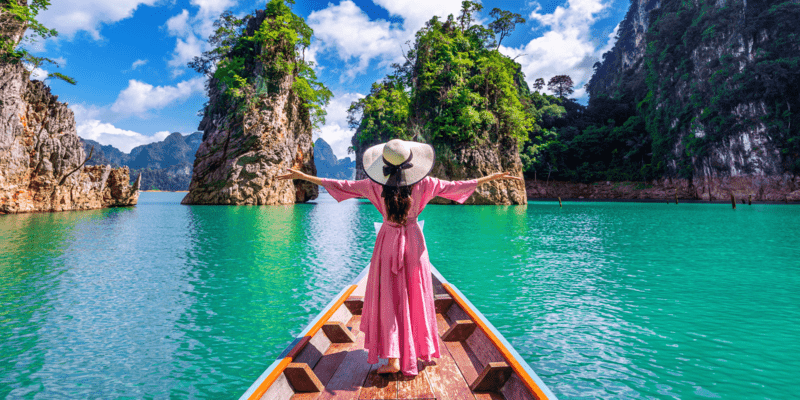 Exotic beaches, mouth-wateringly scrumptious food, a culture that is rich in traditions and customs, indigenous fruits and flowers, and the notoriously famous nightlife. They're a dead giveaway for a land that needs no introduction — Thailand. I got a chance to visit the country around Christmas last year and was completely in awe of the place and its inhabitants. Till then, whenever I thought of Christmas, I automatically imagined snow-capped mountains, snuggly woollens, and hot chocolate season. What if I told you that Christmas could also mean sandy beaches, breezy sundresses, and lots and lots of fruit boba teas? That is exactly what Christmas of 2022 looked like for me. And now, this has been imprinted as the image of Christmas, courtesy of stunning Thailand.
As to how it all transpired, it was a super hasty decision, taken literally at the last second. It led to my mother and I packing the bare essentials and booking the flight tickets at double the usual rates. They say, "a spontaneous trip is the best one", and after visiting the 'Land of Smiles' in an impromptu manner, I couldn't have agreed more. We arrived in Phuket a day before Christmas Eve. However, we didn't set a base here as the plan was to spend two nights in Krabi and then come back to Phuket. We took a two-hour drive to reach our destination where we celebrated Christmas and engaged in several fun activities.
KRABI
Known for its breathtaking beaches, numerous scenic islands, and the most wonderous coral reef vistas, Krabi town in Thailand is a must-visit for all thalassophiles! We were deterred many times in the past from visiting Krabi. Travel agents, friends, and family would always tell us that Phuket, Pattaya, and Bangkok were the real gems to visit for entertainment. They'd say Krabi is a plain Jane for anyone who's not a honeymoon couple. But let me tell you, this Jane is in no way plain, but rather (figuratively) the bridesmaid Jane from '27 Dresses'.
Lying at the epicentre of all the hubbub is Ao Nang, the town strip in Krabi that has most of the tourists staying in for leisure. It acts as a hotspot for their elevated island trips to and fro. Aside from the conventional luxury five-star properties, Ao Nang has some chill resorts such as IHG's Holiday Inn Resort, Centara Grand Beach Resort and Villas, BlueSotel etc. with various three and four-star resorts lining the district.
We stayed at the Deevana Plaza Hotel. It is at a walkable distance from the main beach, and quite the cosy hotel to stay at. If you are travelling in a group and wish to experience luxurious living at Krabi, then there is no route to go down but renting Lux Sea-view condos and villas. Underrated truly, while you're in Thailand, Krabi is not just a sojourn for those seeking to kick back and dip their feet in the ocean. It is also popular hot spot for all the adrenaline junkies wanting to partake in hikes, rock climbing, snorkelling, etc.
Here's a list of activities that may attract the wild child in you, while in Krabi
Snorkelling
Snorkelling is the most prevalent adventurous sport in Thailand. You can best explore it on a four-island tour surrounding the Krabi province. This tour includes Koh Poda, Chicken Island, Tup Island and Phranang Cave Beach. Typically enjoyed and done for an entire day, keep in mind that the four-island tour is easily a six to eight-hour-long excursion in itself. You could also rent boats and visit nearby islands like Phi Phi and Hong Island for snorkelling, amongst others.
Hiking to Tiger Cave Temple
For those extra-zealous souls, this activity is a sublime option. Put in some extra effort of hiking on an extremely steep mountain to reach the Buddhist Temple, and reap a spectacular view as a reward. Remember, to reach the temple, you will have to walk up 1260 steps. This could take around 25-30 minutes on average.
Kayaking
Another fan favourite, kayaking in the ocean or the shallow rivers in and around Krabi is one of the best ways to witness the blueish-green water up close. You can hire Kayaks for half or a full day, typically ranging from 500-1000 Baht, and 2000 for the night. Further, it can also be hired for much less at an hourly rate.
Cliff Jumping and Rock Climbing
Railay Beach and Tonsai Beach are some of the best beaches for rock climbing. Popular rock climbing schools in town include King Climbers and Krabi Rock Climbing. Here, even amateurs can find themselves mounting the most unimaginable limestone cliffs. However, if you are a beach bum like us and are looking to laze around, eat, and be merry? Then I would recommend going to Railay Beach.
We took a long boat to and fro Ao Nang. We ended up spending nearly the entire day exploring this Hippie Beach, drinking amazingly refreshing fruit boba teas, gorging on local delicacies of Thailand and relishing floating in the water near the limestone rocks. Note that the last boat departs back from Railay to Krabi at 6 pm.
Soon Christmas was upon us. Krabi was bustling with excited families, couples, bachelor/bachelorette groups, and solo backpackers — all basking in and relishing what pre-pandemic holiday cheer looked like. From hotels hosting special Christmas brunches and dinners, to restaurants and bars being lit up in festive hues, offering 1+1 on their famous bucket drinks, the energy was palpable.
Some of the off-beat restaurants and bars in Krabi
Full Moon Bar and Restaurant
A very cosy and inviting bar situated right on the main street in Ao Nang. It is a multicuisine restaurant and bar that serves some neat cocktails, with the highlight being their band that sang popular English songs to keep the audience hooked.
Cairo Nights
This one is for all Sheesha lovers. One of the very few restro-bars that serve sheesha in Krabi, the place is famous for Egyptian sheesha, good Middle Eastern food and a chill sports-bar vibe.
Fiesta Bar and Restaurant
Christmas was a Desi-Mexican Fiesta, courtesy of this hip Mexican bar. The live singing and karaoke kept everyone on their feet. What's more, the bar played upbeat Bollywood songs every hour, catering to its massive desi audience.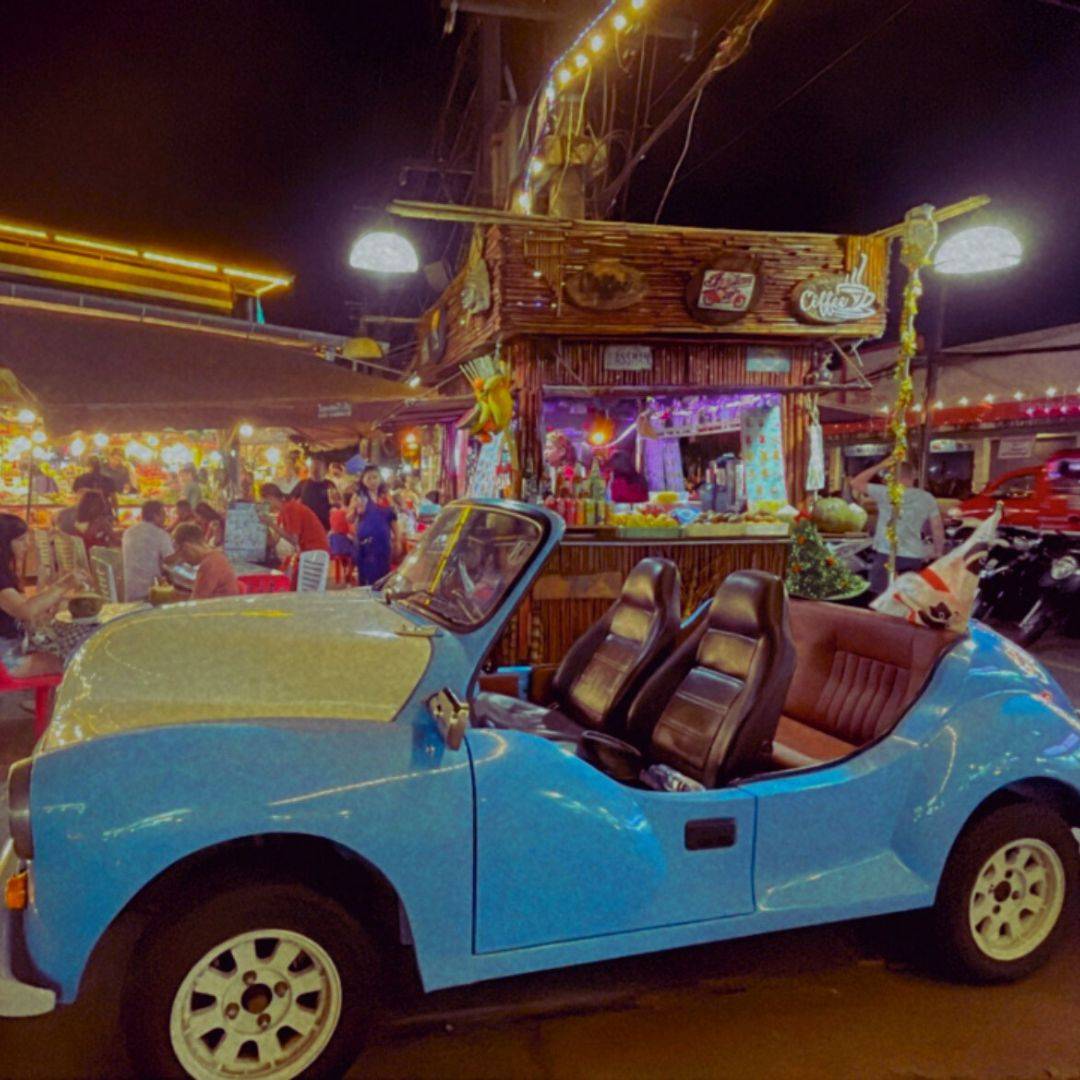 PHUKET
Well-known for island and bar hopping, Phuket is a dream destination for anyone looking to rejuvenate. Its pristine white-sand beaches, relaxing massages, and mouth-watering seafood attract tourists from across the globe. Phuket is the perfect place for those who want to let loose and rave into the wee hours. We arrived in Phuket the day after Christmas. We set up base in a comfortable three-star hotel near Patong Beach — Fisherman's Harbor Urban Resort. There are various select category hotels, as well as luxurious segment hotels in Patong. The busiest district that is also most notoriously famous in Phuket is Bangla Road. Apart from Patong, Kata and Karon are the popular coastal areas to stay in. There is a range of beach-facing resorts to choose from for your stay.
For those of you travelling to explore the entirety of Phuket, a visit to the Old Town is a must. With some of the best temples, Sino-Portuguese shops, and museums, the Old Town is replete with culture. If like us, you too are looking to while away your days by the beach and party by the night, then Patong is where you should stay. The district is flooded with bars and restaurants, making it one of the liveliest spots in Phuket. However, the distinction between sleazy and breezy is a fine line here though. So, it is not everyone's first choice to camp. Those travelling with family or those looking to spend some quiet and alone time may find hotels and resorts near Kamala more to their liking.
Since this was my second time in Phuket, I gave the usual touristy route a miss. I opted for a more flexible, take-it-by-the-minute approach.
Here is a list of popular places to see and things to do:
The Big Buddha
You can pull up any travel blog or website on the internet that lists the places to see in Phuket, it will surely direct you to visit this famous attraction. The third tallest statue in Thailand, the Big Buddha sits
on Nakkerd Hill. It is led up by a short hike that can be travelled via car. Furthermore, it has no entry fee. Covered with Burmese white marble, the statue is 45 metres tall and 25.45 metres wide. Take some momentous pictures here and marvel at the panoramic views.
Temple run:
Some of the biggest attractions in Thailand are its various temples. Phuket alone houses 29 Buddhist Temples. The Wat Chalong temple is the most notable temple in Phuket. It features a 60-meter-tall Stupa and is also the largest temple in Phuket.
Island hopping:
One of the major reasons tourists set a base in Phuket is the convenience with which various islands can be covered from here. Be it Phi-Phi Island, James Bond Island, Phang Nga Bay, Chicken Island, or others, there are many full-day boat tours and cruises from Phuket on a daily basis. However, trips to pristine and unspoiled islands like the Similan Islands are seasonal treasures. These are open to the public from Mid-October until Mid-May.
Shop till you drop:
How can any to-do list be complete without shopping as an option on it? By its very nature, a to-do list or itinerary is just a precursor to the shopping list one must keep prepared. If you are a luxury shopper who prefers to shop in malls and outlet villages, then Jungceylon Shopping Mall right opposite Bangla Road, the Premium Outlet Phuket in Chang Lang, and Central Festival Phuket in Mueang Phuket District are the places for you. On the flip side, if your aesthetic soul craves to buy local handicrafts and cultural mementoes, then Phuket Weekend Market, the Old Town Handicrafts shop, and Thalang Road's Phuket Walking Street are must visit. Either way, shopping is huge in Thailand. Phuket's streets are lined with shops selling dupes of luxury items at affordable prices. There are many shops with rare indigenous artefacts.
Seek thrill:
Buzzed with excitement to visit a tropical coastline, many tourists would thrive on the adrenaline that Phuket's water and adventure sports have to offer! From snorkelling, scuba diving, paddleboarding, jet-skis, parasailing, to rock climbing, cliff-jumping, hiking, etc. There's a myriad of options that will keep you pumped up.
Thailand is a paradise for foodies
If you love Thai cuisine, then an aromatic paradise awaits you in every nook and corner of the city. The Thai pancakes, Kai Yang (Grilled Chicken), Moo Ping (Pork Satay) are a few delicacies people enjoy while strolling the streets. Furthermore, you'll be amazed by the assortment of tropical and exotic fruits, gelatos (don't miss the coconut flavour), seafood, Thai desserts, curries, and meat on skewers available.
Here are some unforgettable restaurants and clubs that I discovered:
The Kitchen Patong:
A delectable range of Thai, French and Continental cuisine awaits you here. The quality of food, selection of wines, and cocktail list here is mighty impressive. The service was a bit slow (given that the restaurant is situated on one of the busiest streets of Patong). However, the food and drinks certainly made up for it.
Armania Phuket:
Based in Patong, this is one of the tastefully done upscale clubs at Bangla Road. It hosts crazy experiences for party-hungry people every night. This renaissance-inspired nightclub had some amazing cocktails and sheesha, though on the slightly pricier side. The vibe of the place, kickass music with a rolling list of DJs, and a niche gentry make it a must-visit for party-goers.
The Blue Mango Bar and Grill:
Again situated in Patong, this bar has some great views and one of the best Thai cuisines in Phuket. We had exquisitely prepared Penang and Thai Green curry with a side of warm and welcoming hospitality!
Café Del Mar:
Boy, oh Boy! Was I looking forward to visiting this iconic café, or what? Honestly, this place was the highlight of my trip! Rated as the best beach club in Phuket, Café Del Mar rests by the alluring white sand beach of Kamala. It is inspired by its famous sister-concern café in Ibiza. Additionally, the music is the main highlight here with the most ambient tracks playing on loop all day. Some seriously renowned DJs perform here every month. My personal favourite — Latino Del Mar is scheduled every Thursday. Perfect for lounging by the day and partying by the night. The entirety of my Phuket trip can be summarised in just three words — Café Del Mar.
Whether it is cuisine, shopping, nightlife, culture, or nature that holds the primary spot on your list fort ravel, Thailand has got it all. And though you can most certainly find these experiences elsewhere, by travelling far and wide, you shouldn't however, miss out on this country's tide.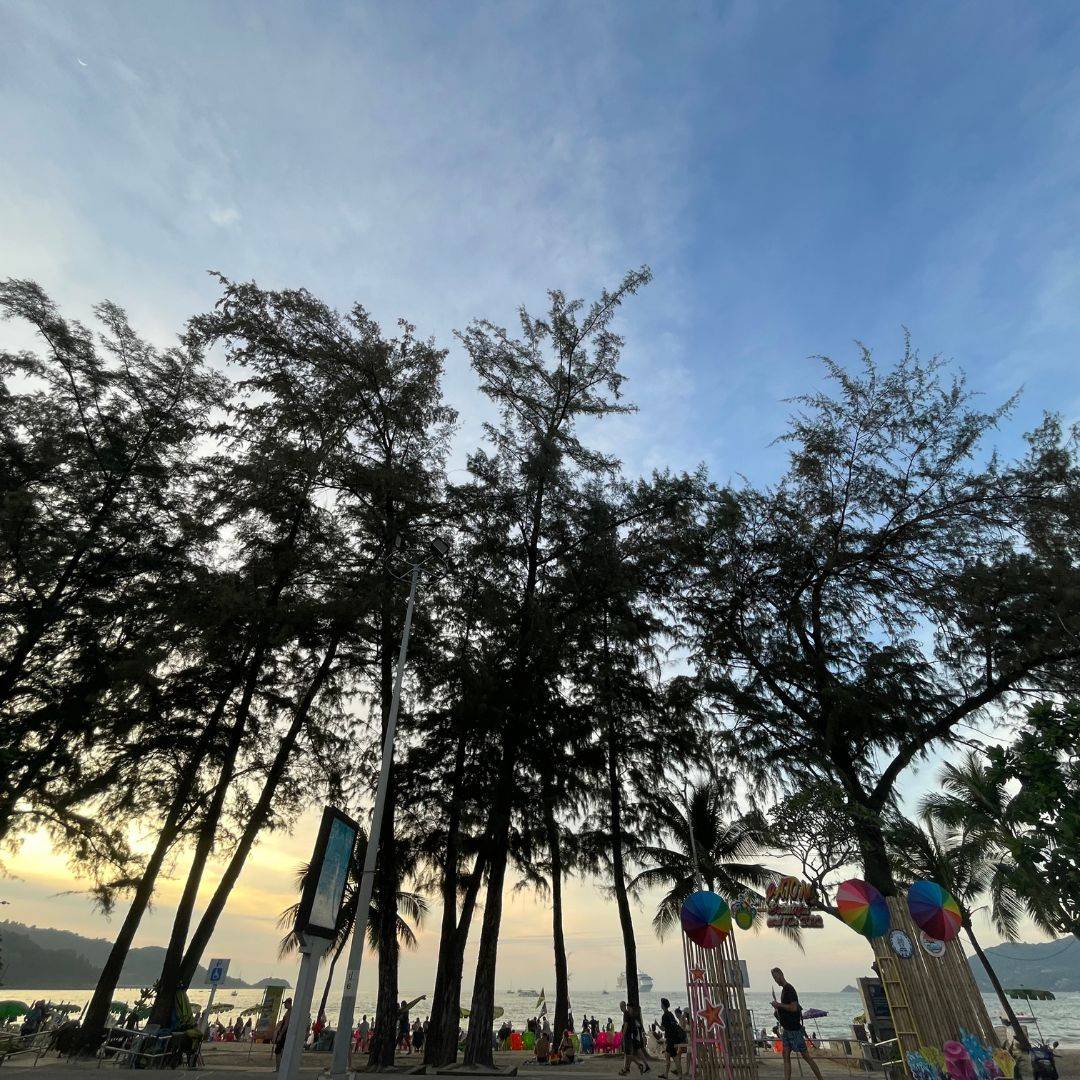 Photos by: Iushe Magoo