Shift to thrift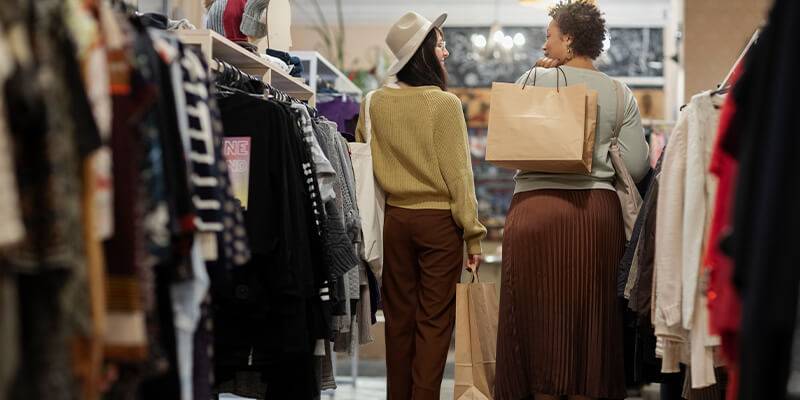 The word "new" excites us. Having a wardrobe full of new stuff is something we all wish for. As exciting as that sounds, one day the new becomes old. Then, it either lies in the corner of the cupboard or is thrown away. About 64% of what we buy ends up in landfills. Sometimes, these garments are hardly worn. This could be due to several reasons — they don't fit, they are out of style, we are bored of them, and so on. In this world of fast fashion, use and throw is the new mantra to stay on top of the style game. However, our actions have consequences that are not only monetary but also environmental. There are ways to make it better for both — one of them is shifting to thrifting.
Thrifting or buying secondhand has become a trend that should never go out of trend. Secondhand shopping is buying pre-owned clothes where an individual sells their old or new clothes that are bought by someone else. This clothing can be termed lightly used as they are in good condition. Clothes are often new or used once or twice as they might not fit as desired, are out of trend, or are not flattering enough. Sometimes, these are of excellent quality and even after multiple uses, they look like new. Selling them is like giving them a second life. Here's why you should switch to buying reloved fashion:
Saves your moolah
Not everything that is old is worthless. Selling clothes generates income. There are multiple ways you can sell your old clothes. There are stores which buy secondhand clothes and sell them. These local thrift shops physically check the products and decide the value of the garment. Another way of selling is via online websites and mobile applications. Websites such as ThredUp and Poshmark facilitate buying and selling of old clothes and cater to a bigger audience as compared to the stores. Instagram has been booming with small-scale home-grown businesses that give a personalised experience to clients and assist with selling or buying secondhand products.
These avenues charge their commissions and sell via their respective platforms, ensuring the quality and prices are indisputable. The garments are priced as per the condition, ageing and brand. Most importantly, buying secondhand saves money and you can get three good garments for the price of one. And if you are in for a deal, you can get five. You just need to develop a knack for it.
Extends garment's life cycle
Buying used goods instead of new extends the cloth's life and reduces the garment's carbon footprint by 82%. The shelf life of a product is determined by its quality and use. When you buy a high-quality product, it lasts longer as compared to a low-quality product. Of course, longevity depends on the usage. Giving second chance to your garments increases their life ensuring they are not being dumped sooner.
Promotes sustainable fashion
Human practices have been destructive. We create one and destroy 10 others. Development has led to practices that are slowly destroying ecosystems. The fashion industry is the second-biggest polluter in the world. Manufacturing in masses takes a toll on the environment and this can be reduced by reusing the existing. Using secondhand prevents waste, and saves resources and energy.
Opting for slow fashion reduces the demand for fast fashion
Fast fashion is the mass consumption of garments with changing trends every other day. Fast fashion has changed the fashion industry completely and brands are focussing on trendy clothes that are attractive but low on quality. Consumers are lured to buy new clothes while the old ones are mostly discarded. Buying secondhand breaks the chain where trends are not followed but created. It gives you new clothes without emptying your savings. It is a sustainable practice where the wheel is continuously moving.
Secondhand clothing is unique
Buying secondhand is like a treasure hunt, you never know when you will find an archive from the Dior 1997 Fall Collection or a limited edition biker jacket. You will find collectables from past generations that are rare finds. You can style your great finds and create unique looks that stand out. Another way to sustainably have a new wardrobe is to swap. Swapping clothes and accessories with your friends or siblings gives you new outfits which you will never be bored of.
By making informed choices, one can promote sustainability and reduce the volume of discarded clothes. We live in a time where we are constantly reiterating our actions. And yes, these small steps do make a difference. Educate yourself and the people around you. Shopping secondhand, renting, and sharing wardrobes will not make you any less of a fashionista. Rather, using a minimalistic approach to derive maximum results will help us plan better for the future. Lastly, love and re-love the products you purchase.