Gujiya – traditional Indian dessert for Holi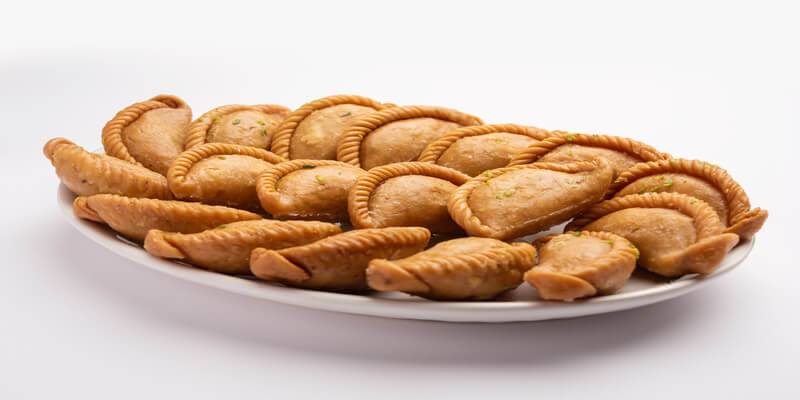 If I show you my Holi pictures from childhood, you would not see me covered in colours, but with a Gujiya in my mouth! I can assure you, the never-ending love for sweets is intact, and you would witness the same in the blog ahead. For me, Holi is just an excuse to hover on as many sweets as I can. With Holi around the corner, I am here with my grandma's Gujiya recipe to bring some sweetness to the festival.
For those of you who are wondering what 'Gujiya' is – it is a traditional Indian delicacy that is specially eaten on Holi. Imagine it as a fried dumpling but sweet. It is like a deep-fried pastry that is flaky and crispy but with a surprise inside. The stuffing is well-pampered and soft, yet crunchy. Along with the authentic recipe of Gujiya which is deep-fried, I have penned down a baked Gujiya recipe as well for those who do not wish to consume much oil.
Read along to learn how to make this mouth-watering dessert.
Time: 60-80 minutes
Servings: 50 Gujiyas
Ingredients:
For the dough:
500 grams all-purpose flour or Maida
1/2 cup ghee
water as per requirement
a pinch of salt
For the stuffing:
500 grams mawa or khoya (milk solids)
1/4 cup dried grated coconut
1/4 cup dry fruits each (raisins, almonds, cashews, or any other dry fruit of your choice)
1/2 tablespoon cardamom powder
1 tablespoon fennel seeds
1/2 cup finely powdered sugar (or as per taste)
Oil/ghee for deep frying
Method:
Making of the dough:
Add all-purpose flour along with a pinch of salt in a wide-bottom bowl. Mix all the dry ingredients well and slowly add ghee to the mixture. Follow it up with water and kneed it until you get a firm consistency. Once done, cover the dough with a slightly damp muslin cloth and leave it for about 30 minutes.
Making of the stuffing:
Heat ghee in a heavy bottom pan and add grated mawa/khoya to it. Maintain a low flame and keep stirring the mixture. Turn off the flame once the consistency is semi-solid. Set aside the mawa until it cools down. Pour all the dry fruits along with fennel seeds in a grinder and blend it. Make sure to keep the powder a bit coarse. After the mawa cools down, shred it with your hands into small chunks. Combine dry fruits and fennel seeds mix to mawa along with powdered sugar, cardamom powder, and dried grated coconut. Mix everything nicely and uniformly.
Preparation of Gujiya cover:
Divide the dough into 50 small and equal-sized balls. Now roll each dough ball flat, until it achieves a diameter of about four to five inches. Take the roll in your hand and put one tablespoon of stuffing. Now dab water on the sides, gently press the ends with your fingertips. Join the edges in such a way, that it forms a semi-circle. Water helps in sealing the edges so that the stuffing does not fall out while frying. Take a fork and make insertions on the corners/edges of Gujiya to further seal it.
Deep-frying/ baking Gujiyas:
For deep-frying, heat oil or ghee in a pan. Keep the flame on medium heat and once the oil/ghee is hot enough, add three-four Gujiyas. (can change depending on the size of the utensil). Fry the Gujiyas for three-four minutes from both sides, until it gets a fresh and glazed golden-brown colour. For baking, pre-heat the oven to 400 degrees Fahrenheit. Brush the baking tray with ghee or oil, put Gujiyas leaving gaps in between. Bake it for 20-30 minutes until you achieve golden-brown colour. Voila!