India's separation from single-use plastics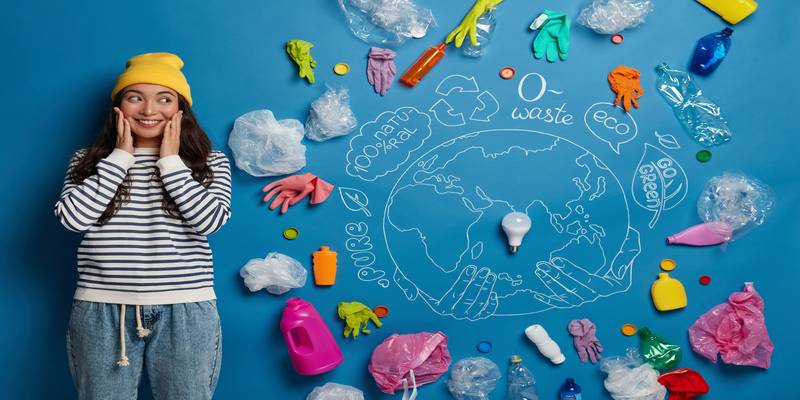 When one ponders about what could be the dominant contributing element to pollution and global warming, the answer experts have given varies. However, a recurring attributed element found in many of the answers is single-use plastic. A hazard to the environment as well as to the marine ecosystem, single-use plastics are non-biodegradable and an extreme rarity to completely recycle. Understanding the extent of toxicity caused to human beings, animals, and marine creatures in general, many nations have postulated to ban single-use plastics. The aim is to replace and use eco-friendly alternatives that are more sustainable for living.
India, too, has begun its journey to phase out single-use plastics, when on August 15, 2019, the nation's Prime Minister, Mr. Narendra Modi, announced that India will ban most of its single-use plastics (SUPs) in an attempt to reduce the pollution caused by it, and to meet the country's goals as undertaken during the Paris Agreement, with the ban coming to effect on July 01, 2022. Single-use plastics refer to disposable items such as grocery bags, food packaging, bottles, straws, etc. that are used singularly before they are thrown away, or recycled at times. The Union Ministry of Environment, Forest and Climate Change (MoEFCC) has further stated that The Plastic Waste Management Amendment Rules, 2021, has identified and broken the list of SUPs down to 20 items, which shall necessarily get phased out by the end of 2022.
Though this seems to be as clean a separation made publically as any, there lies a pile of dirty linen hidden underneath this toxic relationship that environmentalists and subject-matter experts are concerned about. The need to address execution and the state-wise parity in implementing the law on the stringent ban of these plastics is of utmost consideration. By eliminating single-use plastic, one can say that India's journey towards a sustainable tomorrow has well and truly begun. However, there are a few chinks in the armour. Let's take a closer look at what's holding us back from giving this initiative a much-needed boost.
No uniform implementation:
A report published on single-use plastic by the Department of Chemicals and Petrochemicals (DCPC) has charted a list of plastic products based on environmental impact and utility, with certain items such as thin carry bags, straws, stirrers, foam cups etc. being recommended to be completely phased out. However, the report also mentions that various state governments and union territories have differential laws on the ban of these categorised plastics, and lack uniform implementation throughout.
Not enough research and guidelines in place for alternative means:
Plastic is heavily used owing to it being lightweight, cheap, and easy to produce. Yet it also amounts to being the largest waste generator, with many countries failing to manage the waste a cent per cent. With the introduction of 'bio-plastics' as a sustainable alternative to non-degradable plastic, comes the smokescreen of its use being completely biodegradable and environment friendly.
Improper research and awareness about bio-plastics can end up doing more harm to our vision, than good, as these materials require a separate composting facility and environmental conditions. Though the country is promoting the use of such biodegradable alternatives, for instance, hotel chains, restaurants, and local food vendors to provide cloth/paper bags and biodegradable cutlery, there has not been a clear guideline set for such universal alternatives for plastic.
Tackling waste segregation:
By and large, 60% of India's plastic waste gets collected and recycled, while the remaining goes unaccounted for. Within this 60%, much of the plastic gets "downcycled". Downcycling refers to the process of high-quality plastics being recycled into new plastics of lower quality. This in turn diminishes the life cycle of a high-quality plastic, which could otherwise have been further recycled seven to eight times as per Suneel Pandey, Director of Environment and Waste Management at The Energy and Resource Institute (TERI), New Delhi.
It is a well-known fact for small-time rag and waste-pickers (who are the instrumental operators in collecting waste from houses and municipalities), to be ill-informed on the scientific know-how of segregating waste from that which is biodegradable, and which isn't. Experts have thus laid emphasis not only on the upgradation of technology for mechanical recycling but also on the appropriate investment and execution of educating the waste pickers, to segregate and manage waste wisely.
The role of big corporations:
A study released by Minderoo Foundation on "Plastic Waste Maker's Index" revealed that large corporations and manufacturers produce the maximum share of single-use plastic waste, universally. Big Corporations and Producer, Importer and Brand Owners (PIBO) should also be obligated then to communicate the different kinds of plastic their products contain, for effective segregation of waste, in the nucleus to their Extended Producer Responsibility (EPR), as postulated by the Plastic Waste Management Rules of 2016. However, this too remains only as a paper-pushing exercise in reality. With all said and done, the journey to a sustainable India is well and truly on its way, with the single-use plastics initiative creating a small but significant momentum.