How to dress better this year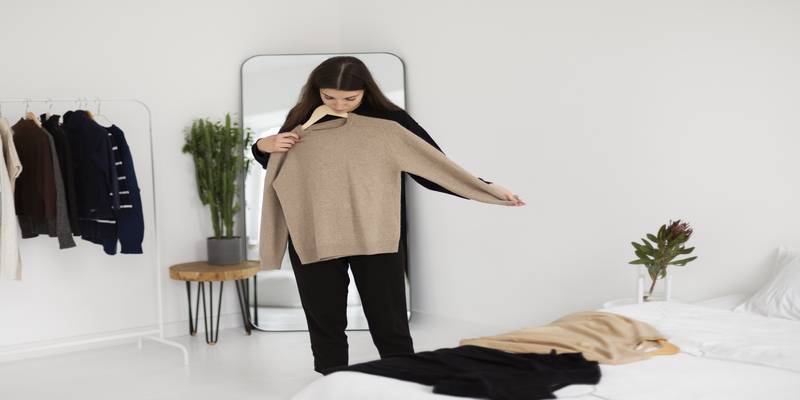 New year, new me! That's something we all say at the start of a new year but don't practise in reality. Six months down the line, we can surely recall saying the same in January but the implementation is still lacking. No more slacking as it's time to change that and get your A-game to town. There are ways you can feel good, by simply looking good. To look good, you need to put some thought into what you wear, what you eat and what you watch. When they say it's important to dress well to feel better, they are not lying.
Dressing up and having a nice wardrobe can play a huge role in how we look at ourselves, how our day/week/month goes or how we set the pace for the rest of the year. Curating outfits takes time, effort and sometimes a lot of planning. That's why I decided to make this entire process easy by giving you some of the best outfit options and ideas that are bound to make heads turn! While I sort the "what you wear" aspect and suggest you a few styling tips to help you dress better for the rest of the year, we first need to see what didn't work for us in the first half.
After almost a year and a half of staying in pyjamas and sweatpants, it's only natural to feel confused about outfit ideas and what to wear once normalcy is restored. The wait has surely been worthwhile as it's time to take out those fashionable dresses and jackets! Believe me, when I say it, this year is all about fashion. While we will be discussing 2021 fashion trends and outfit ideas, I'm not here to tell you that leggings are out and wedges are the new thing. On the contrary, the comfortable part of the last 18 months' dressing is still present in almost every single one of these styling tips, but a lot cuter.
Upcycle your clothes
The easiest and most sustainable way is to upcycle your clothes. Most of the time, we open our wardrobes and think of how we have absolutely nothing to wear. We can get rid of this mind block by upcycling our existing clothes. Give your clothes a second life by being more creative and involving new ideas from the fashion trends of 2021. For instance, if you have a trench coat, you can add embellishments, brooches and/or badges to it to make it look like a new piece. Another way of upcycling your garments is to wear them in a way you have never worn them before, something unusual but chic.
Be thoughtful
To dress better, you need to invest better. Be thoughtful when you step out to shop. When we go out after a long time, we're excited about buying new things and investing in new pieces but the enthusiasm often leads to buying pieces we won't wear or make the most of. We keep adding things to the cart and end up buying things that aren't essential. To not make the same mistake again, one should do an inventory check before heading out. Stand in front of your wardrobes and analyse what clothing items you have already and what is that you need. When you decide to purchase an item, think about the items that you already have and if you can pair the new item with three clothes that already exist in your wardrobe. This way, you'll be able to get maximum results. By being a mindful shopper, not only you save a lot of money but by the end of the day, have an integrated wardrobe.
Clothing care
Taking care of your clothes never gets old. We should take care of things we love as this practice is simple and yields profitable returns. Last year, we all were confined to our homes and didn't have many opportunities to take care of our clothes. Nobody cared if you're repeating clothes, wearing wrinkled or unwashed ones, but now that we're out and about, we need to pay attention to these details and up our game. For starters, there are care instructions written on the label of our garments which should be followed diligently. Different materials have different care instructions so make sure you're following those. It's not just about buying garments, it's also about maintenance post-purchase. The entire process from buying to using your garments is a therapeutic one and care is a huge part of that process.
Experiment
The best way to find out if you are looking good or not is by experimenting. It's both scary and exciting because who doesn't want to try new things? Assuming we're all so comfortable with what we wear and how we wear, one should take a step out of their comfort zone for the sake of 2021 and experiment. Take one step at a time as nobody goes all out in one go. Try different prints, fabrics, and colours by staying true to your fashion sense. When we experiment, we learn more about our style and taste and discover the styles we were so hesitant about. You never know what would look great on you till the time you try it! Whatever we wear — light colours, dark colours or pastels — should follow a particular pattern and not go haywire. To figure that out, one should dress according to the colour pattern. Refer to a colour wheel for the same. Colours on the opposite side of the colour wheel end up looking good together.
Pamper yourself
Pampered selves look the best. Don't believe me? Try it yourself. If an outfit looks fabulous on you but you look tired, messy or not put well together, the whole look goes down. Curating the perfect outfit involves looking fresh and glowy. One should take out time for themselves and take care of things that need attention. Get your hair and nails done, get a massage or a facial and shine your way through. Take better care of your sleeping, eating as well as a skincare routine. They are not time-consuming and can easily be part of your daily schedule. Pay attention to yourself so that you become the centre of attention when you attend a gathering or an event.
To conclude, fashion and personality go hand-in-hand. Often, your inner mood is reflected by the colours you choose to wear on a given day. That's why it is all the more important to get out of your comfort zone and dazzle the world of fashion with attires that speak for themselves.