Hong Kong's soul on canvas through the eyes of a globetrotter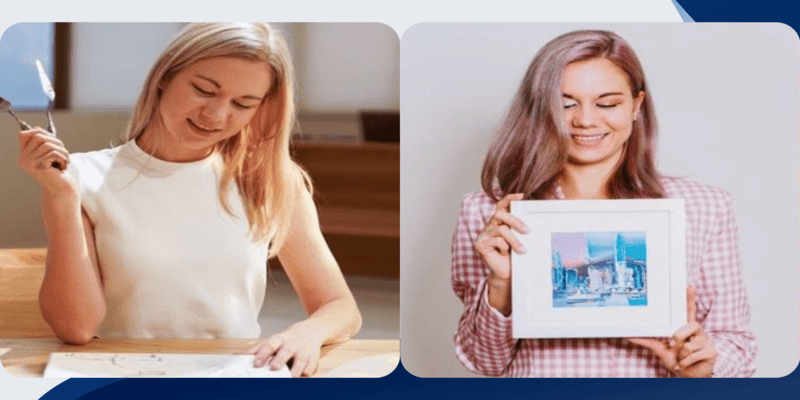 Born in Russia, studied across Europe, and spent seven years in China before settling in Hong Kong, Anna Salenko's journey has witnessed several twists and turns but she made sure that she captured her emotions while she got familiar with different cities. The 30-year-old artist equates Hong Kong with the soul of a beautiful young girl who is gentle, smart, and brave. With a palette knife by her side, her canvasses reflect her mood and her being. Find out more about the globetrotter who now resides in Hong Kong — a city that has become her home away from home.
Tell us about your journey so far.
I moved to Hong Kong one year ago. Before that, I lived in China for seven years in different cities. Time and again, I would come to Hong Kong and I was in love with the city… that's why I moved here. As far as art is concerned, my journey began in Italy during my university days. Interestingly, my specialisation was closer to fashion rather than painting or art. Italy, fashion, the atmosphere of European beauty and a palette knife — these were my tools when I started learning about the art form.
At that time, I believed my sudden interest in palette knife painting and oil paintings to be a whim that I would soon forget. I was mistaken. Everything turned out to be more serious than I thought. Soon, I got a hardcover sketchbook and carried it everywhere I went. The thing I didn't have was the resources from which I could get the necessary knowledge. At present, there are various online courses, websites and blogs on painting and palette knife painting in particular. I didn't have all that 10 years ago. The only source of theory on palette knife painting were the books written back in the times of Leonardo da Vinci. I could either read those books or start learning on my own. I chose the second option. Looking back, the efforts I made, the private lessons I attended, the knowledge I drew from books and my huge desire to create… makes me love the process all the more and inspires me to continue creating artworks.
What technique do you use and can you tell us more about the process?
My works are created using a palette knife technique that involves special knives of different shapes. The technique gives me more freedom in terms of painting. I enjoy the emotions I feel while painting. My path was all about trial and error. Colours that are applied in a single stroke make pictures look more atmospheric. I have been sketching and painting for more than 10 years. Inspired by the cultures of both Asia and Europe, I depict everyday life as it is. My aim is to share the beauty of the world with everyone. When painting pictures, I enjoy depicting a happy atmosphere by using bright colours. In my paintings, I try to show the elegance and beauty of the world that we are living in.
While creating an artwork, it is only me at that very moment. The moment seems to be running away and, therefore, what I need to do is to "catch and memorise" it. It requires immense concentration as it needs to be created immediately. During the process, all I can think about is that very moment and its meaning. I give my all to the process and express everything that I need to express in my painting. Once the job is done, I feel both emptiness and happiness. I did it. I've caught the moment. This is how I can describe my feelings. I can honestly say that my best and most stylish artworks were created in one session. However, they are light and detailed. They show a moment that I caught. A moment that will never happen again. What moments do we usually want to remember? Is it a moment of passion? Love? Or maybe a cup of coffee on the table?
In my paintings, you'll see movement, speed and emotions that I express on a canvas with one fast and smooth movement of a palette knife. One single daub is enough to express part of the moment and its dynamics. In a way, a finished painting can be compared to an iceberg. You only see the top of it but all the grandness is hidden below the surface of water. Similarly, the layers of paint tell us a unique story of creating an artwork. Many years of practice, personal development and battles with fears, millions of inspiring views seen while travelling, achieved goals and knowledge that is yet to be received, letters that become words which then turn into interesting posts… it's all here and it's all for the viewer to comprehend.
Tell us more about your book.
The book is addressed to aspiring artists who want to discover the technique of drawing with a palette-knife. If you want to learn how to use a drawing knife effectively and develop your style, you should definitely read this book. Bright illustrations will help you learn the material, and an easy and understandable style of writing will serve as an excellent ground for mastering new knowledge. You will get to know about different types of palette knife painting, which will then help you choose a convenient tool for yourself. You'll be exposed to hands-on exercises, learn how to organise your workspace and understand canvases and oil paints. Step by step, you will go from mastering a simple material to a more complex one. Using this knowledge, you can easily paint real paintings with a palette knife. One can visit my website www.annasalenko.com for more.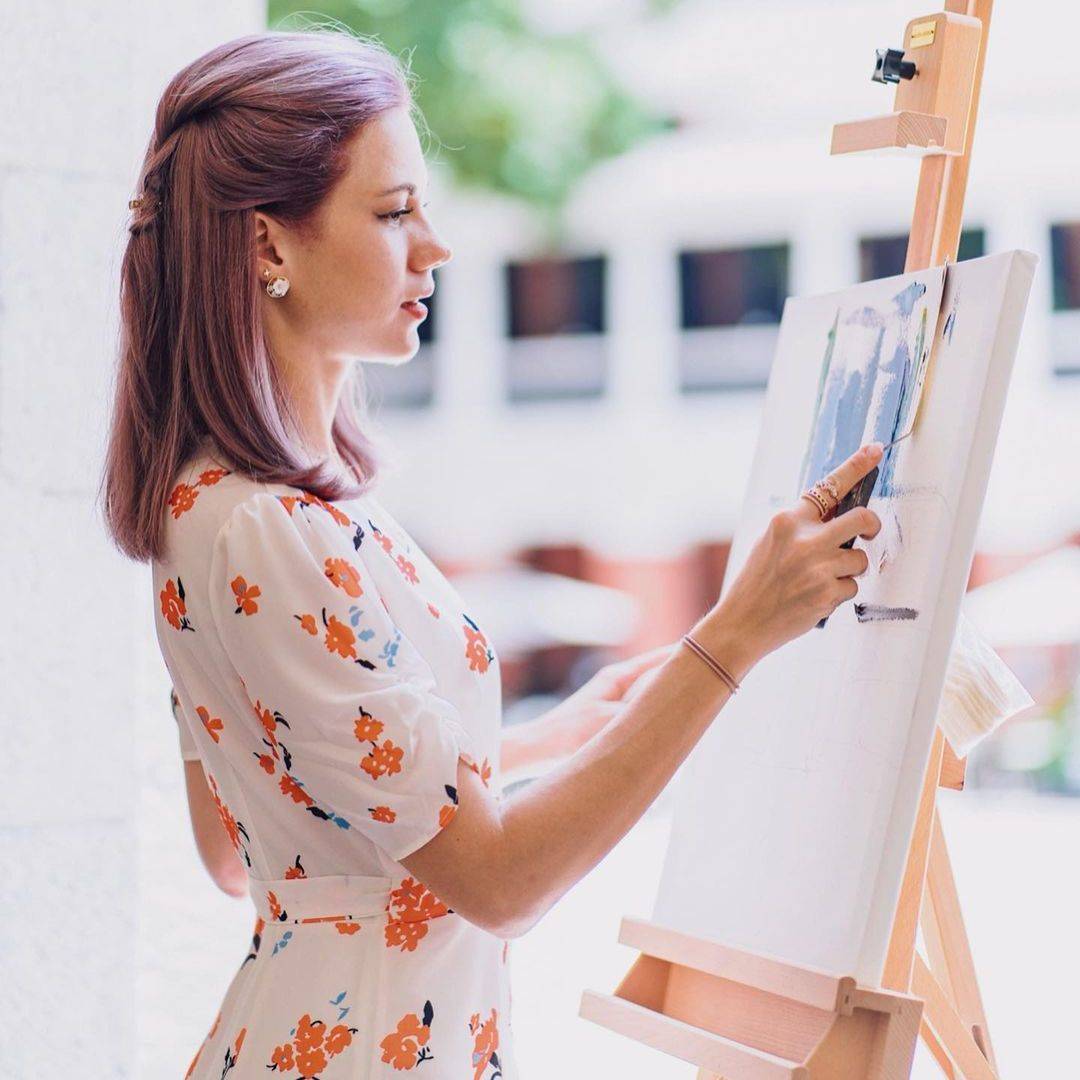 One of your projects revolves around old and new Hong Kong. What was the thought behind it and how did you juxtapose the two in an art map?
I wanted to portray diversity in Hong Kong through images. I studied the city's history and walked through my favourite streets. I tried to choose the most significant places and highlight the course of history. Eventually, I chose Kowloon as it is one of the most beautiful areas of Hong Kong and here you can enjoy the charms of a modern city and at the same time, that of an ancient place. Life doesn't stop here even for a second. Through 18 key points, I made an art map of the place to reflect what it means to me.
Tin Hau Temple (Yau Ma Tei)
Built in honour of Tin Hau, the Queen of Seas and protector of mariners and fishermen, the temple came into existence in the 19th century. An integral part of the Yung Shue Tau square, the temple was originally built closer to water. Shanghai street won't be the same without the subtle and sweet smell of incense which leads to the temple.
Mido Cafe
One of the oldest cafes in Hong Kong, the ambience of this place is fascinating. The eatery hasn't changed a bit since its existence and the bright windows on the second-floor are unmissable. An iconic institution like this which is synonymous to Hong Kong had to be a part of the map.
Chopping Boards
The path leading from Shek Lung Street to Hi Lung Street may be unusual but is an interesting area of Shanghai Street as there are several kitchenware stores located here. One can find different types of knives but what caught my attention was the wooding chopping boards. The moment I saw them, I decided to paint them in one of my paintings. The young generation isn't keen on wooden chopping boards as new tools have replaced them.
Red Brick House
Not far from Yau Ma Tei theatre on Shanghai Street, you can see a low building which is better known as the Red Brick Building. Perhaps not everyone knows but it once housed the engineering department of the old Water Pumping Station. This pumping station was built at the end of the 19th century and consisted of three buildings but over time, only this building remains.
Yau Ma Tei Theatre
Located at the junction of Waterloo Road and Reclamation Street, the theatre is classified as Grade II Historic Building. Built in the late 1920s, it is the only remaining pre-World War II theatre in Kowloon. Over the years, several movies had been showcased here and recently, it was converted into a venue for Cantonese Opera.
Street Food
After exploring the cultural heritage of Hong Kong, you can take a break and get acquainted with its cuisine and delicacies. The city can rightly be considered a world food fair. Here you can enjoy traditional street food or indulge in a sumptuous dinner at one of the restaurants. My attention was drawn to milk tea and egg tarts that are quite popular in Hong Kong. The combo is not only popular among the locals but the tourists as well.
Old House Street
The area contains a large number of old and residential buildings that have received some degree of significance as architectural monuments. The noisy street markets, getting accustomed to local traditions and the vibrancy of the place is what stands out for me.
Fish Market
Hong Kong has a separate market allocated for fishes and aquarium supplies. To be honest, I've never seen anything like this anywhere else in the world. The whole street is full of plastic bags and hundreds of small fishes watch you as you walk through the golden fish market. The natural bright colour of the fishes caught my attention.
Bird's Garden
Yuen Po Street Bird Garden or simply the Bird Garden was established at the end of the last century. The place is all about culture and traditions. The trees here create nice shadows where both humans and birds can hide from the sun. Apart from the birds, the garden serves as home to occasionally singing grasshoppers, crickets and cicadas.
Flower Market
The fragrance of the flower market spreads over several blocks and will guide you in the right direction if you seem to be lost. Here, you can find different types of plants and flowers from all over the world. Flowers remind us of kindness, beauty and hard work — essential qualities for growth.
Shanghai Street
A walk along Shanghai Street will take you back to the distant past. During its glory days, the street would be thronged by merchants as trade was blossoming. Its success was comparable only to Shanghai and that's how the street started being recognised. One can see Red taxi cars are constantly cruising along the street amid the daily hustle-bustle.
Fruit Market
If you are looking to purchase fresh fruits in Hong Kong, then the Kowloon Wholesale Fruit Market is nearby. Decades ago, the location of the market was close to the harbour and many small boats carrying fresh food used to arrive on a daily basis. Gradually, fruits became the only type of food sold here. The vibrant colours of fruits will surely catch your eye.
Broadway Cinematheque
Hong Kong's modern cinema finds its home at the Broadway Cinematheque. Various film festivals along with some of the great works of popular directors are screened here. The Yau Ma Tei Theatre isn't far from this place and one can see the blurry lines between the past and present.
Yau Ma Tei Police Station
The architecture of the police station attracts attention as one is curious to learn more about the style. The main block is built in Edwardian Free Style as indicated by the traditional open galleries that are semi-circle in shape. It also happens to be a popular landmark for local filmmakers.
Jade Market
Jade and Asian culture are closely connected. A cold stone quickly changes in the warm hands of its owner. Each detail of the decorative item has a certain meaning, including its colour and shape. It expresses the ideas of its creator and shows his/her skill. The mineral has as many faces like Asia itself. It's hard to stay indifferent when you see all this beauty around you, isn't it?
Pawnshop
To tell the truth, it was the bright outdoor sign that attracted my attention. The sign and its interesting shape. Signages like these are very common in Hong Kong. The yellowish-red emblem can be seen in almost every part of the city. People having financial issues would come to a pawnshop to lend their valuable items in lieu of money. There's a story with every item lent or bought.
Night Market
Mentioned in the top 10 coolest places in Hong Kong, the Temple Street Night Market is a must-visit on every traveller's list. What began as a Bazaar located on the square in front of Tinh Hau Temple more than 50 years ago, now houses over 600 registered merchants that sell various products. Even if you don't purchase anything, you'll still leave with pleasant memories that the place has to offer.
Neon Streets
I have visited many cities around the world and I can say for sure that every city has its character, recognisable appearance and soul. During the daytime in Hong Kong, I see a close interweaving of nature and industry, the past and the present. At night, the city transforms beyond recognition. From a bird's-eye view, it's millions of lights. They cut through the thick darkness of night as they strike with their brightness to attract my gaze and attention.
What pushed you to be an artist?
I think art chose me. As a kid, I was always thinking about creating something. I instantly fell in love with colours and by experimenting every day, I have now created my own style where I express my emotions through my works.
Who is your favourite artist or any movement that inspired you?
I can't name one particular artist because each artist has its impact. Works of Édouard Manet inspired me a lot. As for the movement, Parisian art has one of the richest art heritages. The way they give emphasis to detail and create emotions is what intrigues me. The art movement has its roots in Europe and probably that's why I am influenced by it as I was exposed to it during my stay in Italy and France. I saw a lot of paintings where the artists focussed on not painting real life but creating something new and unique. Modern art and the use of vibrant colours are something that is reflected in my works.
As an artist in Hong Kong, what do you think is lacking?
It is very difficult to find a gallery in Hong Kong. In order to exhibit your work, you have to improvise and find different ways to showcase art. Last year, I collaborated with several hotels and coffee shops to display my work. People can enjoy their coffees and at the same time, can glance through the walls that come to life with art.
What are your future plans?
I am expanding my knowledge about my technique and at the same time, teaching enthusiasts who want to learn more about the art form. I impart courses for Beginners, Average, Skilled, Advanced, Specialist and Expert groups. I have plans to set a base in Hong Kong and then reach out internationally to different parts of the world. I want to showcase my work in Russia… it will be my first time showing my art in my country.
What is your advice for Hong Kong artists who are trying to break stereotypes?
For an artist to create a masterpiece, it is important to understand one's working style and nuances. Only when you discover yourself, one should try to experiment with different styles. Also, it is important to showcase the works that you create. As an artist, you need an audience to admire or give any feedback for your work. So, it is important to let the world see what you are doing. Over the years, you'll evolve as an artist and with the right experience, you'll be able to undertake your journey.