Habibi, come to Dubai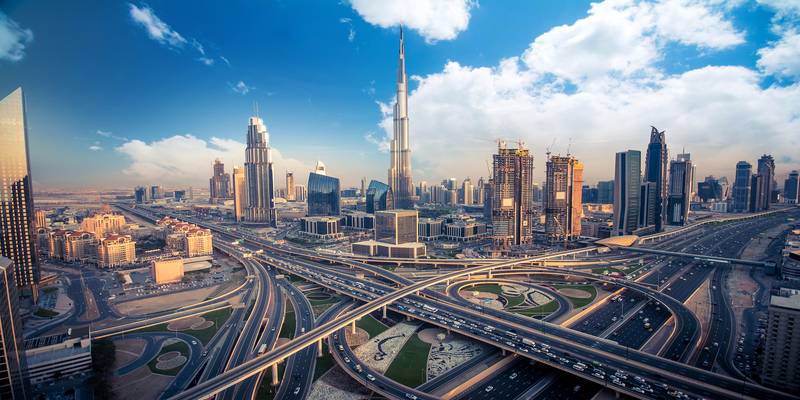 I don't know if you have been hearing "Habibi, come to Dubai!" on social media ever since the pandemic took place or not, but I certainly had been. And when Dubai calls, you answer! This year, I was fortunate to revisit Dubai — my first international trip post-pandemic, and to my surprise, be acquainted with a city I couldn't quite recognise. From being a highly conservative nation that wasn't a tourist-friendly destination to becoming a cosmopolitan and upscale city that is home to over 80% of expats and only 20% of Emiratis, Dubai sure has come a long way.
The year 2020 came as an iron gate fastening the seals of many borders shut, barring a few brave countries and cities that could sustain tourism despite the pandemic. Spearheading this list was Dubai, as they had opened their home to international tourists as early as 07 July 2020, to recover global tourism. Between rapid global marketing campaigns, celebrated events such as the Dubai Shopping Festival, Dubai Expo 2020, etc., and approximately 3.7 million overnight visitors being welcomed in the first 11 months of reopening itself, Dubai was ranked as the second-highest tourist-occupied city in 2021. Bested by Singapore ranking first.
An incredibly difficult feat to achieve, Dubai has managed to position itself on the map of 'IT Destinations to Visit', not only because of 2020 but for a multitude of reasons that makes this city a paradoxical paradise for all. I state the city to be a paradoxical paradise, owing to its ability to move at a sluggish pace with tourists walking languidly by the beach, rolling in the desert, and sashaying through old Arabian souks, while also capacious of running a mile a minute with its extravagant malls, ever emerging skyscrapers, and over the top luxurious lifestyle.
When I first visited Dubai back in 2006, the tallest building in the world, i.e. the Burj Khalifa was a marvellous work in progress. Fast forward 16 years and not only have I come into my own as an adult, but this city too has come of age. Like a labyrinth, Dubai has many layers to it that one must peel with patience, lest they be lost in the excitement of unleashing it all. Thus, enlisting a brief of all that I was able to cover in six days and nights in Dubai, and the places I missed but will keep an eye out for my next visit.
Leisure and hospitality
The first thing to look forward to in Dubai is experiencing the Emirati way of life — 'Living life Sheikh size!' Hub of all luxurious experiences, Dubai is home to some of the best hotels and restaurants in the world. I am fortunate to witness some of this oozing glamour first-hand this time, with our stay at two iconic hotels in Dubai — Caesars Palace Bluewaters and the FIVE Palm Jumeirah Hotel.
Chances of spotting renowned 5-star hotels in the streets of Downtown Dubai and Al Barsha are equivalent to those of spotting cows in New Delhi — pasted in every nook and corner. Bulgari Hotel & Resorts, Palazzo Versace, a one-of-a-kind Armani Hotel occupying 10 floors of Burj Khalifa, Atlantis The Palm, Burj Al Arab, and countless other 5- and 7-star hotels and resorts in line, make the two aforementioned districts the poshest areas in Dubai. For budget and pocket-friendly stays, Bur Dubai and Deira districts offer some great options such as Citymax Hotel Bur Dubai, Novotel Dubai Deira City Centre, and Coral Dubai Deira Hotel among others.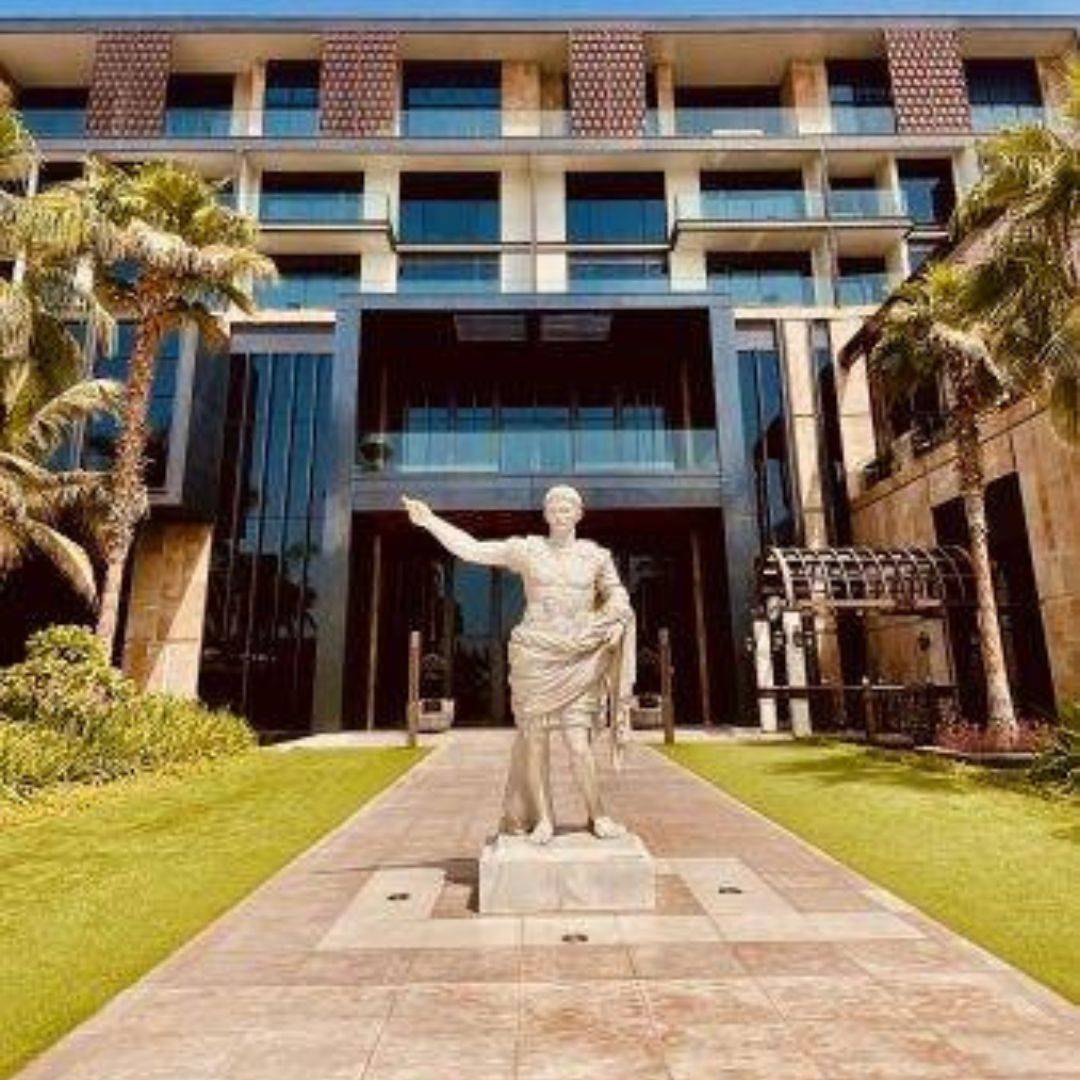 Restaurants
At the Caesars Palace Bluewaters, two restaurants, in particular, are noteworthy for being insanely famous Michelin-star restaurants and exorbitant ones at that. The first restaurant needs no introduction, when celebrity Masterchef Gordon Ramsay is concerned, it truly feels like you're entering the metaphoric Hell's Kitchen. The tasteful decor and delicious scents wafting throughout act as an invitation enough to commit sin! The highlight of the restaurant is when, kin to the show, the red and blue team battle it out every Saturday for brunch.
The second is Asia's most notorious chef Alvin Leung's curation of eccentric and theatrical Pan-Asian dishes at Demon Duck, his first restaurant in the middle east. At the FIVE Palm Jumeirah, we had a swell time tantalising our taste buds at a bevvy of restaurants, starting with yet another outstanding Chinese classic, Maiden Shanghai. Ranging from a kosher family restaurant offering to the uproarious poolside bars, and party central clubbing with a view of the Dubai skyline at The Penthouse — the dining experience at the premises is nothing short of spectacular.
While doling out must-visit restaurants names, let me not forget to mention that though I was unable to visit some of the current fan favourites such as Opa Dubai, Zuma, and CÉ LA VI, among others, I was, however, fortunate to chance upon the indelible 3BK restaurant in Burj Khalifa. Situated on the third floor of the world's tallest building, 3BK is a party of its own. A global selection of fine dining cuisine, eclectic music, and dance performances along with a distinctly impressive view of the Dubai Fountain Show below are some of the offerings at this hub.
Being a cosmopolitan city in its prime, Dubai caters to a variety of tastes and houses cuisines from all over the world. Indians and Pakistanis, in particular, shall have no trouble finding their dietary preferences here! From a range of delectable Indian restaurants such as Rang Mahal, Bombay Bungalow, etc., to Pakistani restaurants such as Pak Darbar, Little Lahore etc., desis don't miss anything about home.
Dining in Dubai is not just to experience food alone, but rather a feast that is curated with the right music, ambience, and most importantly, sheesha. The rules for alcohol consumption in Dubai are much stricter, with tourists permitted to consume liquor only in licensed restaurants, and/or acquire a temporary liquor license themselves. But with sheesha, the popular belief runs that an Arabic meal is incomplete without sheesha as an accompaniment. That is unless you are below 18.
Shopping
"It is a truth universally acknowledged, that a woman in possession of money, must be in want of Dubai to shop!" an inspiring quote by yours truly. Indeed, a shopaholic's scene of crime, Dubai is lined with charming little stores, wholesale stores, handicraft centres, designer boutiques, world-renowned luxury brands, and the world's largest shopping mall — Dubai Mall.
With a state-of-the-art landscape, the mall stretches for 12 million square feet. It features over 1200 retail stores, a separate fashion avenue for haute couture and is replete with cafes, a Gold Souk, and various entertainment zones (such as the Dubai Aquarium and Underwater Zoo, the Dubai Ice Rink, etc.,) to curate a magical experience for all. With close proximity to Burj Khalifa and a distinct view of the unmissable Dubai Fountain show from various standpoints, it is no wonder then that a million people visit the mall on average each year, shopaholic or not.
The second-most famous mall to shop at in the city is the Mall of the Emirates. With over 560 stores of both homegrown and foreign luxury brands, it is home to several mid to high-fashion stores, cafes, a cinema hall, and an indoor ski resort — Ski Dubai. For a more authentic shopping experience, head to Bur Dubai Souk or the Old Souk as it is also known. Here, in addition to spices and souvenirs, various fabrics and textiles are on display — some rustic, some vintage and some indigenous to the UAE. Indian sarees, Kashmiri pashminas, and Persian rugs find their way to popularity in the selling list. You can put your bargaining skills to good use here.
If you wish to buy high-end brand products on a budget then Outlet Mall and Outlet Village are your best bet. The Outlet Village is your one-stop shopping arcade, with an open, Tuscan-inspired facade that has brands like Ermenegildo Zegna, Burberry, Balmain, Diesel, Aigner and more, offering its products at factory prices and alluring discounts. Apart from the above-mentioned, there are various other malls and city centres in Dubai for shopping, such as the Deira City Centre, BurJuman Centre, Ibn Battuta Mall, etc., for great deals. I personally visited only a couple of the above-mentioned malls and was seriously worn out by these alone. Shopping in Dubai is no easy feat, so be sure to have your feet in comfortable shoes for all the 10,000 steps you'll be averaging each day.
Pro tip: Some of the best souvenirs to buy from Dubai are gold and diamond jewellery, oud and Arabic attars, camel milk chocolates, Arabian coffee and coffee pots, and 'Dubai Special' sheesha flavours.
Adventures to have, sights to behold
The oldest and the most famous sight to see in Dubai is the Lahbab Desert via a thrilling desert safari. Since we had already covered this on our first visit, we gave the desert a miss this time. For those travelling for the first time, this is one sight no one should miss out on. From a monstrous ride of the four-wheelers rolling on the red dunes to a camel ride, snowboarding and quad-bike ride, you will never be devoid of an adventurous time here.
Second, to almost none, is the magnificent sight to behold 'At The Top' of Burj Khalifa. The sun setting over a panoramic view of the emirate enveloped in golden hues is the most photographed memory in Dubai. Towering at a height of 2,722 feet, Burj Khalifa has its entry permitted to tourists and the general public via tickets only on two floors — 124th and 125th — where the observation deck is. Reaching the floors is an experience in itself with the world's fastest elevator delivering you to the peak within a matter of seconds.
Furthermore, Dubai's Museum of the Future is on everyone's radar to visit now, owing to the juxtaposition of a museum telling the story of what the future holds and how the world will look 50 years from now. With varied imaginative concepts and plans of what the city might look like in 2071, the museum is a good visit, but on the must-pre-book tickets list, as they get booked to capacity swiftly during peak tourism season.
For Oceanids like me, there are a range of activities to partake in. You could visit pristine beaches in Dubai such as The Open Beach at the Jumeirah Beach Residence, La Mer, Smoky Beach, Palm Jumeirah, Kite beach etc., all of which are exquisite for swimming, varied watersports, and simply revelling in beachy fun. You could go cruising on a day or night yacht from the Dubai Marina — an activity which is immensely popular not just for tourists but also for locals celebrating/partying now and then.
On the adventure side of things are trips to the Dubai Aquarium and Underwater Zoo, fun waterparks such as the Atlantis Aquaventure Waterpark. Whether it's swimming with the sharks in a cage underwater in the former, or sliding through shark-filled lagoon rides in the latter, you would not return home bored. Again, be sure to book your tickets in advance here and survey online for the latest developments for tourists, as some of the slides and activities in waterparks remain closed due to COVID-19 restrictions.
And the list doesn't just end here —
Tandem Skydiving Dubai beckons all adrenaline junkies to experience a free fall like never before.
Anthophiles must find their way to the world's largest garden, Dubai Miracle Garden and witness the largest Emirates aircraft, curated
entirely with flowers.
Children are drawn to mega-adventure parks like Legoland Dubai and so much more that makes Dubai, like I said, a paradoxical paradise for all.
Juggling to see it all in one go, is setting yourself up for assured failure. I too (with much dismay) could not make the most of my six days here and had to miss out on so many sights and activities. But that's what second servings are for, right? Dubai has mastered the art of seduction and is deft in leaving its tourists wanting more. So, book your tickets, pack your bags, and get going Habibi!